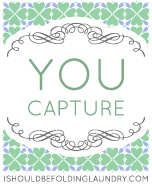 I'm figuring I might have had this challenge a bit easier than some, because we have a lovely fruit orchard nearby where we always walk the dog. So yesterday, I grabbed my camera as we were leaving and took some shots along the way. I'm almost surprised that I didn't wait until the last minute to take these!
I even briefly thought about taking my camera into the local market stand with me, but they already think I'm a bit strange because I'm talking in English — no need to make them wonder why I want to photograph their produce as well!
If you'd like to join in the fun of You Capture challenges, all you need to do is pop over to Beth's blog, I Should Be Folding Laundry, and find out the challenge for the week. Trust me, you're going to thoroughly enjoy it!
I played around more with shooting without looking through the viewfinder and grabbing different perspectives of things. All but one of these shots are SOOC (straight outta the camera) which just goes to show you that overcast, dreary days can rock.
This is (probably obviously) the image I edited, but I liked the way the plums which are just starting to ripen stand out a bit more with the edits. I also felt this fruit was just a bit too far out of reach which I liked the idea of.
These lovely little cherries are actually only about one-third of the size of regular cherries. These are quite sour and take longer to mature, hence they are still on the trees here while the other cherries are all pretty much long gone.
And speaking of fallen cherries, how about some fruit from another perspective?
Naturally, no ground shot is complete without Ayla or Mack getting in there too. 🙂
I don't mention it enough, but man do I love my Tamron 17-50mm lens. It is just so crisp and awesome. My husband must really, really like me a lot! 😉 Thank you, honey.
0