Those reading NOH for a while know that Stefan's car was stolen from in front of our house nearly one year ago. About a month later, when he was fed up with the inconvenient train schedules and the longer commute, Stefan started looking for a new car. He really wanted a 7-series to replace the one that was stolen, but there just weren't any on the market in the price range we wanted. So he ended up with this:
The Porsche Cayenne is a nice sport SUV, but it would never compare to the BMW…and unfortunately it's about the least economical car/truck we've ever owned. Not only does it guzzle gas, but it also costs a fortune to insure (about 25% more than the 7-series and nearly twice as much as my Defender)…and there's always the fear of it being vandalized due to its status as a luxury car (even though the BMW was far more luxurious.)
Ever since we bought the Porsche, Stefan has been dreaming of getting another 7-series. Except that none has come our way yet that really compared to the old one.
But lately, he's been giving some thought of going in a slightly different direction with a practical, economical and still stylish crosssover SUV: a Subaru Forester.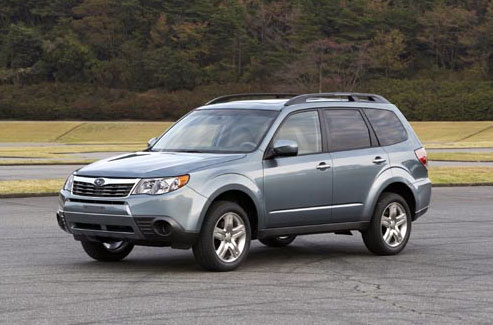 It's still an SUV but more in the crossover direction, and the costs of ownership is far less than the Porsche.
Positives for the Forester
A new 2012 Forester costs about the same as our used Porsche Cayenne
The Forester uses about 7 liters diesel to drive 100km — while the Porsche is upwards of 20 liters when we travel on the highway, and 14-15 liters in the city. We know the gas mileage is pretty accurate because Stefan's dad has been driving a Forester for the last few years.
The Forester would be a diesel, which for now is still a bit cheaper than unleaded gas.
Another major plus is cheap car insurance. For the Forester, we'll be looking at about half the yearly insurance rate versus the Porsche.
Better acceleration. It's hard to imagine, but the Forester actually has more get-up-and-go with its Boxer engine than the Porsche. Obviously if it was  a Turbo Cayenne, that would be another story. But a Turbo would also guzzle even more gas.
Lower to the ground, making it easier for Ayla to get in. She's not getting any younger and a high SUV like my Defender will some day require a ramp. But at least for now it makes life easier for her.
Similarities
4-Wheel Drive — with our winters getting progressively colder and worse, it's never a bad idea to have a reliable automobile that can get you where you need to go, whether that's just home from work, or from the other side of the country.
Cargo space — both don't have nearly as much space as my Defender, but we have seen on multiple occasions just how much will fit in the back of a Forester.
Cons for the Forester
No built in navigation system. But I have a portable Tom Tom for my Defender which I rarely use as well. So on the days when Stefan needs to travel somewhere other than work, he can just borrow it…especially since I seldom venture out somewhere that I'm not familiar with.
I'm sure I'm missing something…but those are the important points for us so far. Now we just have to look into selling the Porsche when things settle down a bit.
What do you look for when you're considering buying a new/used car?
0