Stefan and I have talked about sending Christmas cards to our family and friends nearly every year that we've celebrated Christmas together. And some years we came very close. A few years we managed to write a Christmas letter and send it out via email…but that was back before everyone we knew was actually even online. And then there were other years when we managed to get cards but putting together the lists of addresses here and in Germany seemed daunting. And even when we had most of them together, other things got in the way and we just never managed to get our act together until it was too late.
So this year, when everyone started talking about Christmas cards, I made a leap and decided we were ordering well before the rush. Just how early were we, you ask? Our order was placed October 18th. Yep, before Halloween had even passed.
Tiny Prints was having a great sale and I used the last day of their sale as an excuse to get all of our photos and ideas together. In some way, I probably figured that if we didn't order before that sale was finished, we might not get around to it again with Thanksgiving being just around the corner…and since we're over in Germany, the mail needs just a bit longer to actually make it to where it needs to go.
When I started the ordering process, I noticed that they offer a really cool service where they will address and send out your cards for you. It's a bit pricey if you want the cards marked with return address also, but in general you can have this done for just the price of postage. They offer this on big orders of cards, as well as individual cards. Because they also sell single cards which means you can have them send birthday cards or a quick "get well soon" card out to friends and family with hardly any hassle.
In the case of Christmas cards, they can usually even split up the order so you get any extras left over in case you think of anyone you want to send a card to at the last minute. Thinking this would be an awesome service for people living overseas with friends in both Europe and America, I was intrigued. So I used their chat service to ask a few questions.
I found the service person to be very knowledgeable and helpful…but unfortunately the answers they gave me didn't help make our Christmas card dilemma any easier. The cards get sent out to people in the address book as soon as the cards finish printing…and I figured October was still a tiny bit early to be sending out Christmas cards. And since we're in Germany, I could either have all the cards sent to us here or have the cards sent to friends in the US and the other part to our US mailing address…but not a combo of Europe and the US. Bummer.
At any rate, I still really liked the card template we found so I went ahead and placed an order, having all the cards sent to us in Germany. We're still working out the rest of the logistics on sending the cards to loved ones in the US. I've never used one of these online card creation sites before but I found it to be incredibly easy at Tiny Prints. I'm sure that the others like Shutterfly are similar. I'm pretty web savvy anyway so I've rarely been stumped by a website. But things really have progressed vastly versus the last time I considered ordering cards online from someone like vistaprint.
Not only can you upload up to 20 photos in your own personal gallery to drop into any card template you like, you can also turn the images black & white or sepia, rotate them, zoom in/out or move them. So you don't even have to worry about editing them too much yourself beforehand unless you actually want to. There are also guidelines to make sure you upload high enough quality images to use so your cards come out looking professional.
When we submitted our cards, they were providing free proofs and proofreading. This usually costs about $3. The proofing process was very simple and the editing team made a little suggestion with a comma that I was wondering if I needed anyway. I read the card text about 10 times before I submitted it anyway, but it's nice to know that someone will be there to watch your back when you need them to. Of course they can't help you when you put the wrong month on your child's birth announcements like we did here in Germany. Apparently fathers also get maternity brains at times. I swear I still have mine…and I'm going with the theory that you continue to have a lack of brain until your kids are old enough to think for themselves.
At any rate, Tiny Prints has over 2000 templates to choose from and we found several that we liked right off the bat, but what I thought was really cool is that you can edit most of those cards within each style. So if you want fewer photos or more, you can easily change things. And most of them allow you to insert all your own text so it's truly your own card, representing whatever you want to say. Some of them even have different color schemes to choose from and you can also go with matte or glossy finish. We chose to not only have an extra photo inside the card, but also one on the back with our little family letter. And none of these extra photos or text cost extra, which I really love.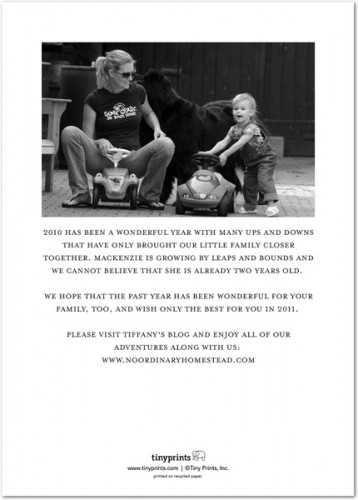 The cards arrived quickly and well within the advised 7-10 day time frame with regular post. We could hardly wait to tear into the package and check them out. And despite proofing everything over and over, I still read that card with great care, checking every single letter to make sure we hadn't made some big error. Thankfully, everything looks great and the cards are really nice quality. We selected the matte finish and they are really nice and heavy. The free envelopes that come with the cards are also really nice and heavy stock so I really couldn't be more pleased with the results.
Now I just need to get cracking with updating our address book and then it's time to start addressing. The week after Thanksgiving is going to be filled with chocolate making, card addressing, decorating and other gift-related stuff. I'm sure there will be plenty to share with you…probably even more than I can manage to write about!
If you've found the perfect holiday cards for your family at Tiny Prints, make sure to take advantage of their 20% off 2-day sale. Order today or tomorrow (until 11.59pm PT) and use the code 2DAYS20 to save. Once I made the approval of the changes online via their easy process, they got the printing started. And because I'm in Germany, they were able to use their newer European printing facilty to get the job done which meant my shipping fees were minimal and no customs charges. Big win!
By the way, if you miss this sale, there will probably be others. And they always feature their current coupon codes at the top of the page so you don't miss out! No hiding them and making them difficult to find like some other sites.
Please know that this is not a sponsored post and Tiny Prints has in no way compensated me for this review. The coupon code I used was available to all of their customers at the time.