Although I love to read, I generally find myself picking up things that will help me to achieve something before I will take time to read something for entertainment. So our house is full of books about the home, natural health, our Newfie, parenting, cooking, travel and so on.
But I also I love me a good suspense, mystery and intrigue book, and David Baldacci is a master when it comes to drawing you into the story and making you want to finish the whole 400 page book in one night.
A few months ago, my husband was traveling and picked up Hell's Corner by David Baldacci at the airport. When we went on vacation to Florida, I knew that was finally going to be my opportunity to read the book, which he said was quite good.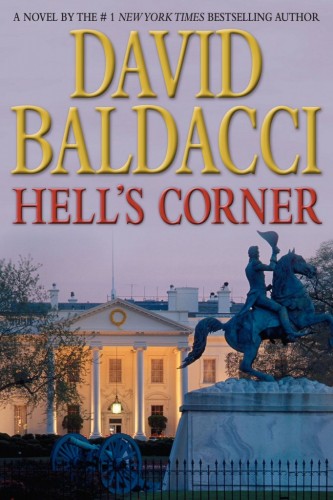 I was able to get about half way through the book by the time we arrived (which was a miracle that anyone who's ever flown with a 3-year-old for 11.5 hours one-way will confirm) and I was totally hooked. Funny enough, my father-in-law was actually reading the same book when we arrived, but he had way more time to devote to finish it. I just barely managed to finish it before we got on the plane back to Germany 2 weeks later. Ugh.
So what can you expect if you read this? There's a lot of suspense and changing directions in the novel. Basically, someone sets off a bomb in Lafayette Park (across from the White House) and it's up to one man named Oliver Stone to figure out who did it and why. There's a whole lot of chasing people down, people getting killed, people totally surprising you and that sort of thing.
This book is #5 in the Camel Club series and it takes place in and around Washington, D.C. Since I lived up that way for 4 years (while in high school), it was kinda fun to read about certain places and actually being familiar with them. The characters are pretty well developed, although I'm sure if you've read any of the other books in the series, you'll know a lot more about Stone and why he's like he is. But honestly, it's not really crucial for you to understand the plot of this book and what is going on.
There was a nice twist towards the end and I actually liked the final outcome quite a bit — but obviously I'm not going to go and spoil it all for you. 😉
Overall I really enjoyed Hell's Corner (as I do most Baldacci books) but compared to one of his others books I'm reading now, it's not his greatest work. But it is a good read that will keep you wanting to read more, even though you're supposed to be working, sleeping, feeding your children or folding laundry. But who really wants to do any of those things anyway?
Intelligence boosting factor: 3 (you get to learn a bit about nanotechnology)
Suspense factor: 4
Characters: 4
Overall rating: 4
0