In the next couple of months, I'm going to be reviewing a few of the items we bought and used during Mackenzie's first 3 years of life. I cannot even believe that she's already that old! Hopefully some of you who are expecting children, have young ones or know others with youngin's will find the information useful for your future purchases. And if not, come back tomorrow where I'm sure to have something else going on. 😉
The Why
Shortly after Mackenzie's birth, we bought a Baby Bjorn Synergy carrier, which was one of the best investments ever! During those first 12-13 months when I could carry her in there, I was able to walk the dog, clean the house and go shopping without needing to worry about pushing along a stroller. Plus, in the really cold weather when Ayla still needed to be walked, I could just bundle Mack up in my own jacket with me and we were on our way. SO practical. (I can't believe I never wrote an official review about that product but clearly I should. )
At any rate, I was really enjoying babywearing, so I decided to check out other options for when Mackenzie got a bit bigger. After months of researching and learning, we determined that the best thing on the market was the Deuter Kid Comfort 2. It was fairly new at that point and just super practical. But instead of wearing Mack on front of me, she'd be in a backpack-like contraption on my back.
The Product
Now in theory, this thing is awesome. It has all sorts of extra pockets and tons of padding on the straps. It's just that at 5'11" and 130 pounds, I don't have that much core strength to carry both Mack and this pack. Plus I felt rather uncomfortable in it (or maybe I'm just not used to the feeling of a true backpack like this) because it hit across my lower back a bit strangely.
So it became something that only Stefan used on occasion. We got nowhere near as much use of out this as we did the Baby Bjorn, but you're talking about carrying a child that is more than double the size of an infant, so I'm sure if we were more substantial people or working out all the time, we may have used the Deuter more often. But when we did use it, we loved it!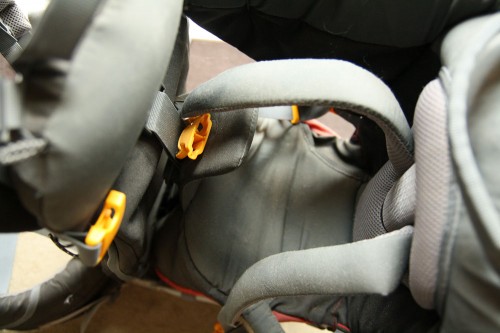 I cannot argue with the convenience factor of one of these. If you are going somewhere with crowds and lots of people, you don't have to worry about fighting your way through with a stroller (although I think some enjoy attacking people at the ankles like that). And the child sitting in the back can always see what is going on, which is another huge bonus over a stroller. We actually took Mackenzie to Oktoberfest in this backpack and it was really ideal, from riding on the subway to walking around the area.
One thing that makes it easier to remove is a kickstand. You just prop out the stand and have the ability to set the backpack down more easily, and your child will remain sitting in the pack on the ground. To be honest, this is really best done with two people, just to make sure your child doesn't get wild and tip themselves over. And the first few times of taking it on and off can be quite a challenge. You always want to have your child suited up and inside the pack before you put it on…otherwise, it just becomes far too complicated.
Plus the Deuter comes with all sorts of nice extras like a rain cover, a wind protector and even a little bear to make your kiddo feel comfortable in her new environment. Plus it's quite easy to adjust the sizing when you're out on the go with the Vari Quick system, that basically only requires you to loosen a few straps.
Mackenzie always really loved riding in the Deuter. And as she got too big for us to carry her, she'd notice this sitting around and often ask for us to give her a ride…or just try to sit in it while it was on the floor. So I think that speaks for it's comfort level.
Another great thing about this particular product is that it holds its retail value quite well. We bought ours new and sold it earlier this year (which was about 2 years later and after another new model was released) and made almost all of our money back. Personally, I am a huge fan of products I can use then pass on to someone else for further torture — but still get a lot of my initial investment out of it.
The Verdict
Overall, I'm pretty sure we would buy this again if we had the choice. The quality was awesome and the product itself is really cool — plus for those guys who feel a bit too feminine with a Baby Bjorn strapped to their chest, this backpack will totally make up for that. I carried her during her first year of life (plus womb time), so Stefan got the second year! We loved the convenience factor and although it's fairly large, you can still fold it to be a bit more compact — and it's still way smaller than a stroller.
Have you ever or are you now a babywearer? What's your favorite aspect of babywearing? I always loved not only the closeness, but just the sheer convenience of having your child nearby but both hands free!
Note: The opinions expressed in this review are entirely my own and in no way influenced by any sponsors. I bought my own Deuter back in 2009 and just wanted to share my thoughts about it for others who may be thinking about getting one.