You may have read last week that I'm one of the newest in a very short list of Evernote Ambassadors around the globe. As a small business ambassador, I not only get to meet other cool and interesting small business owners all over the place, but I also get to talk to people about how much I think Evernote rocks so they can hopefully make their own lives better. And I get all kinds of cool Evernote swag!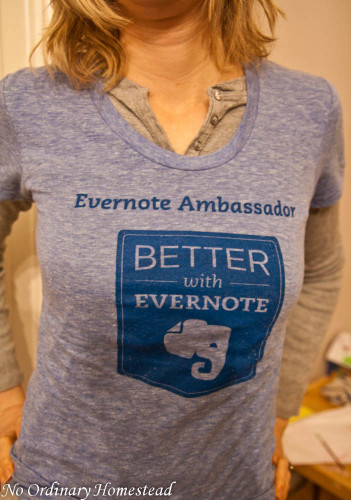 For example — these shirts. Only the ambassadors get them and I love the blue. Plus I actually do believe my life is better (or at least way more organized and has less paper in it) thanks to Evernote. Of course since it's been pretty darn cold in Berlin lately, I'm totally into the layer look. Actually, the shirts I usually do my layering with are in the laundry pile as we speak, so I would normally have done this with a regular long sleeved t-shirt, but sometimes you just have to make things work with what you have.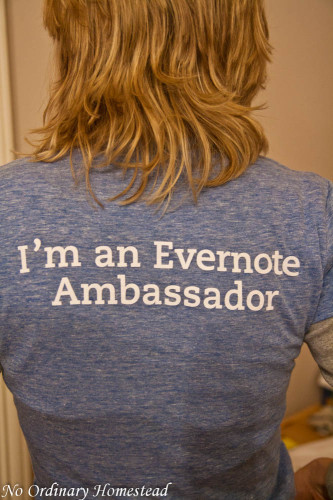 I've also gotten a few more Evernote t-shirts lately and I totally love the colors on them. Plus they are some of the softest t-shirts I have ever owned. Seriously.
And they actually bring a bit more color into my wardrobe, which to be honest was mostly composed of gray, white, black and that's about it for the majority of the time we've lived in Germany. Maybe the appearance of color in my closet is some sort of indication that I'm finally happy in Germany? Who knows — don't read too much into that folks!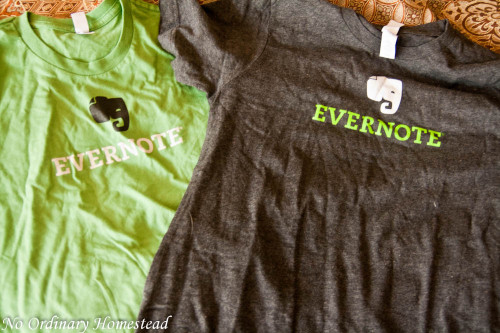 By the way, if you have questions about Evernote, getting started with it, how to use it better, how I use it, the new Evernote Business or anything else Evernote related, feel free to leave a comment below or send me an email! I'm happy to talk about it and help you get going with Evernote! (Apparently I'm way more of a geek than I let even myself believe sometimes… 🙂 )
Do you have any t-shirts you've gotten for free that became favorites even though you buck commercialism and being a walking billboard? 😉
Linking up at:
0