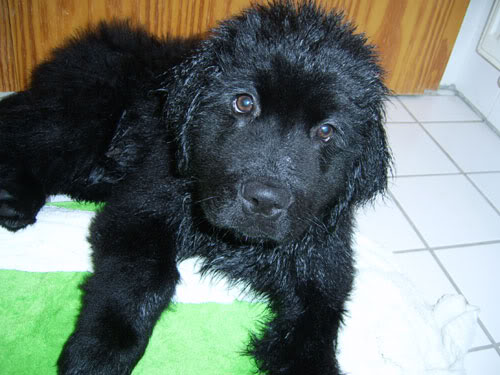 Today was Ayla's very first bath. One would think that since Newf's are supposed to be water loving dogs that they would also enjoy a bath in nice warm water…but apparently that is not the case. Maybe something for us to work towards? lol
We got out the doggy shampoo and headed into the spare bathroom downstairs which has a stall shower. This seemed to be the easiest solution for us since we didn't really want to carry her upstairs to the only bathtub in our house…and getting her downstairs all wet again would also not be ideal. Once we got the water started, it became apparent that she wasn't going to make this as easy on us as we'd hoped. Of course she was not interested in staying in the shower stall and made every attempt to flee. Thankfully we still had her collar on her or that bathroom would have been beyond soaked. It's truly amazing how much water Newfie fur can hold.

Seeing that this plan of ours was not working, I went in search of the leash…and then I recalled another trick I had read about online. I saw someone talking about grooming her Newf on a forum and she used peanut butter on the fridge to distract the dog. Personally I thought this was an excellent idea and I already know she loves it since I give it to her in kongs from time to time. So armed with leash and peanut butter, I went back into the bathroom and smeared a spatula full of peanut butter on the shower wall while DH (dear husband for those not in the know lol) clipped her leash on. With these distractions working for us, we were able to finish up relatively smoothly. We probably could have benefited from a bit more peanut butter distraction but we were nearly done when she started to lose interest so I figured why waste something that is such a valuable commodity here and that I actually import from the US (yes, I have a peanut butter addiction and I am not afraid to admit it lol).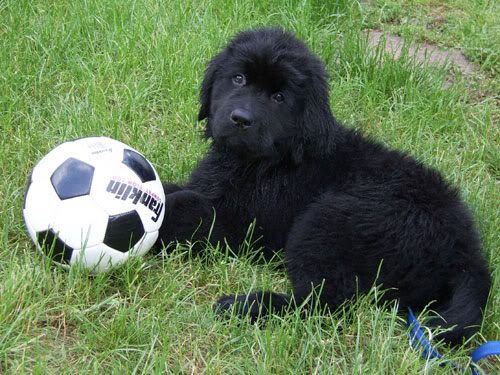 When we finished up and were mostly soaked ourselves, I got to see a doggy action that I haven't seen in a very long time. When I was growing up I had a Cocker Spaniel and after she had a bath, she always went crazy. She would run around the house from one room to the next, as fast as she could and without any real goal in mind it seemed. I guess the feeling of the wind through her wet fur was something too good to pass up…and clearly something we'll never understand. When we let Ayla out of the bathroom, she started this crazy running through the house which brought back all the memories of my dog doing it so long ago…and since she was running at quite a pace, we figured one of the best places for her to burn up all that excitement energy was outside. Thankfully our yard actually still has grass in it (no, she hasn't managed to kill all of it yet…actually most of it is still growing quite well) and she didn't get dirty at all. That's when we were able to snap another picture of her with her soccer ball which she no longer trips over and carries around quite well. Now if only we could get her to fetch and drop the ball so we could play with her we would be on a roll…
0