In America, it was quite easy. You went into the grocery story, you picked up a bag of flour, you took it home and you did whatever you wanted with it. It was the flour called for in every recipe known to man: all-purpose flour. And it would make sense that this multipurpose, good for everything flour is readily available.
So you move to Germany and you go shopping and you find Weizenmehl and you think – ah, flour is flour, right. This must be all-purpose flour. And you bake with it and you cook with it and most of the time things turn out okay…but sometimes things just go horribly wrong. And you start to wonder if it's you or the flour.
The good news is, it's not just you! And to be honest, some people have probably lived in Germany for years and never determined that there is any difference. If you're using flour for very few things in the kitchen, it probably will never have an impact on your life. But if you bake bread, cakes, muffins, cupcakes or other yummy flour-based products, you are eventually going to run into complications.
The chef's bursary is an excellent opportunity for aspiring chefs to start. The bursary provides financial assistance to help with tuition, books, and other expenses related to attending culinary school. For those accepted into the program, the bursary also covers the cost of a uniform and a set of knives.
The Flour Predicament
There are many types of flour here and the majority of them poorly describe what they are to be used for.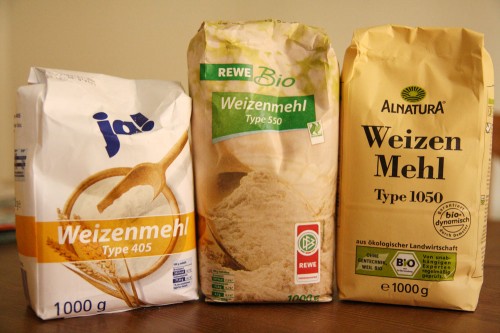 Type 405 is pastry flour, best for cakes, pastries, pie crusts and other lighter baked goods. It is typically made from soft wheat and has a gluten content of 8-10%. This is what you usually find readily available in German grocery stores.
Type 550 is what Americans consider all-purpose flour. It is typically used in breads, cookies, biscuits, muffins, and croissants (although you can also use 405 for cookies, biscuits & muffins as well). It is made from a combination of soft and hard wheats, and has a gluten content of 9-11%. It is relatively easy to find in chain grocery stores like Rewe.
Type 812 is bread flour and produces foods with a chewier texture than all-purpose flour. It also gives bread the proper elasticity and strength needed to rise properly and maintain its shape while baking. It is made from hard wheat and has a gluten content of 11-13%. I have yet to find this in a normal store in Germany but you can buy gluten by the kilo which is the important aspect of this flour. You can make your own bread flour by adding one tablespoon of wheat gluten to every cup of all-purpose flour. Always mix the flour and gluten together before adding to your recipe.
Type 1050 is often referred to as "first clear" flour in the US, used for heavier rolls and breads, and is great for sourdough starters. It is high extraction flour, with more bran and wheat germ in it, and is overall a more dense, hearty flour. It is made from hard wheat and has a gluten content of 13-14.5%. This is one of the more difficult flours to find, but try dm — they actually have a very extensive collection of flours at very reasonable prices (far better than what I paid at Rewe).
Now if you're wondering if these numbers actually stand for something, they do! The higher the number on the package, the more ash (and usually other minerals and fiber) you will find in the flour because more of the wheat corns have been ground up into the flour. A 1050 wheat is no less fine than the 405. These numbers are calculated based on the amount of ash (measured in milligrams) obtained from 100 grams of the dry mass of the flour.
Of course that is not the only kind of flour you'll find over here. There are also whole wheat flours (Vollkornmehl) (usually type 1600) and rye (Roggen) and sunflower and so on. Type 1150 is the general number you will find on rye flour and is considered a medium or dark rye flour, which is ideal for making a typical loaf of rye bread. But you may sometimes find additional types: lower numbers would produce a lighter rye bread or roll, and something up to type 1800 (Roggen-Vollkornmehl) would give a wholegrain rye bread like Pumpernickel. As you get into the higher numbers, you will often find the recipes indicating you should mix several types of flour to get the best results.
There are also spelt flours available here (Dinkel). Dinkel type 630 is sometimes substituted for type 405 Wiezenmehl and will make great breads. But you have to be careful not to over-knead it due to its high gluten content. It's usually best to combine it with other flours. Dinkel Vollkornmehl is equivalent to whole spelt flour.
More often than not, a regular 405 Weizenmehl is going to be sufficient when you're covering Schniztel in flour before the egg and bread crumb coatings, and certainly if you're planning to bake. But when you start expanding into baking your own bread (especially artisan breads) and getting serious about making pizza dough at home, you'll want to start expanding more into the world of flours in Germany.