Welcome to the very first installment of the Garden Life Link up!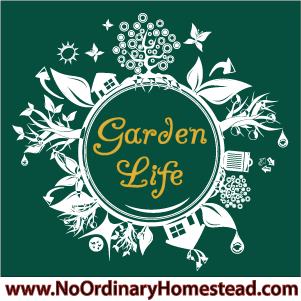 I know that a lot of you reading this blog have your own blogs –and your own gardens. So I thought it would be fun to start a link up that will be posted every Friday right here on No Ordinary Homestead. You can post a link to your own blog (or even Flickr or other photo account — at least I think that should work) and show us all how your garden is growing, what you've been doing to create a garden, favorite recipes for garden fresh veggies, share canning recipes, include your garden projects or anything else garden related.
I actually took these photos a few days ago and I cannot believe how much everything has grown since then. It's insanity! The plants are loving this cooler, wetter weather! And the best part is that we're growing all of this in about 10 m² (100 sq ft) of space right in our courtyard. It's right under our noses so we see it all the time and take care of it. And we're realized that we can make a nice relaxing area out of our garden at some point since gardening back there has been nothing but problems. We will still have some bigger stuff growing back there, though, and a bigger aquaponics system with gold fish in the greenhouse. But more on all that much later.
So here's what's exciting in our garden right now…by the way, the hand in the photos is my garden model, Mackenzie. She did a wonderful job holding the biggest fruit on each vine so I could photograph everything. 😉
The goose neck squash are growing like crazy! Actually they've probably doubled in size since last week. We bought this as a small plant already and it is just taking over the end of the bed where it is. Next year I've got to find a way to put these in the back garden, with plenty of slug deterrents around them so they survive. They're just too huge for our courtyard garden!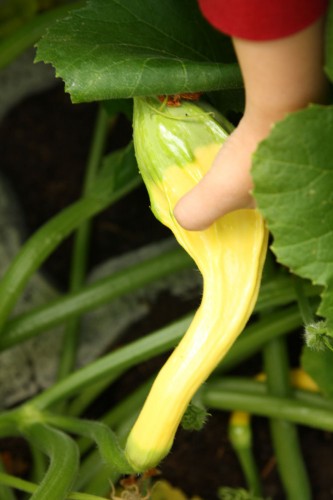 Our turban squash are also growing like crazy. You're not going to believe how much this thing has grown when I share photos next week. Although I have always considered these to be decorative, you can actually eat them. So we'll be seeing what they taste like later on this year.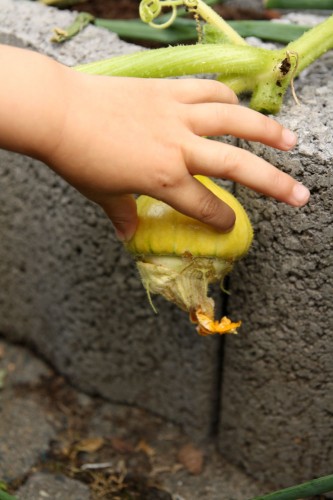 The bumble bees and yellow jackets have been ALL OVER that turban squash plant. There are usually two bees to every flower on there. Apparently the pollen and nectar is especially good on that vine!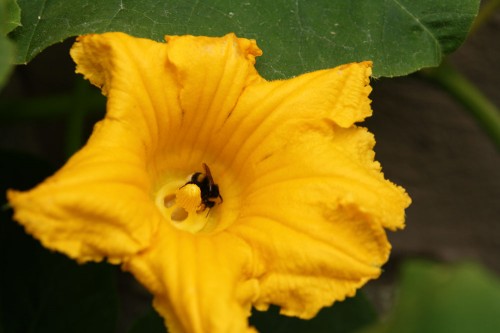 Our onions are also doing pretty well. I don't think they're going to be huge, but one or two of them are starting to bloom already. It's our first time growing onions so it's been a fun experience — and little onions are meal-size which I love!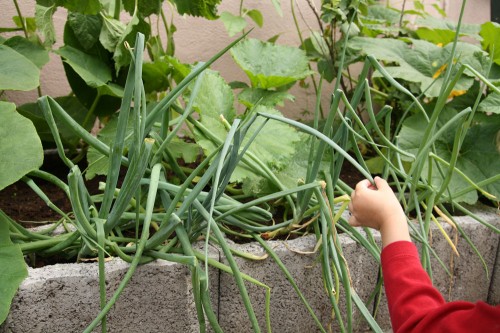 Last year (or the year before) someone recommended I grow salad burnett because we love cucumbers. So I bought some seeds but never got anything in the ground last year due to the accident. So since we had all these little spaces this year in our courtyard garden, that was one of the first herbs I planted, and it's doing pretty well. I would have never imagined that an herb could really taste so much like fresh cucumbers, but it really, really does. Delicious!
Our stevia is also doing very nicely. The one outside is doing the best although it looked pretty sick shortly after we got it. Now one of them inside is looking a bit rough, so I may just move the pot I have indoors with 3 plants outside somewhere while the weather is nice. Have been able to harvest a few leaves (I seem to recall from two years ago that the leaves should be about 1 inch across when you harvest) but the plants are going pretty well so we should be able to get more off soon. We'll definitely need a whole field of these things to be able to use stevia to sweeten our iced tea full time, though.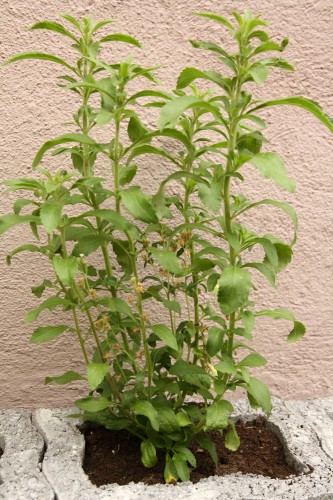 Our second sage plant is absolutely exploding in this bed. Look at the leaves compared to Mack's hand. And she might be small, but some of these leaves are almost as long as my had! I am going to have to divide it or something because it's just taking over the world! That's our second sage plant, and honestly I have no idea what we're going to do with all of it. Maybe I can sell it to the farmer's market down the street…they charge a fortune for fresh herbs in bunches. To the left of it, you can see the leaves of our biggest eggplant plant — which has it's first baby fruit as of today. We've had some trouble getting it to pollinate so I started doing it by hand which is working out pretty well so far. Must talk to those bees that are all over the squash plant about that…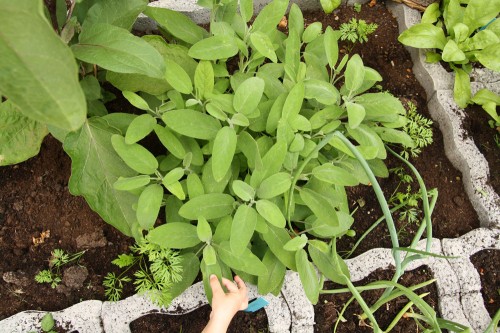 Our carrots are also coming along slowly. Mackenzie just loves pointing out to me that they are carrots…and I love that they are growing in random spaces in the garden so there's no empty dirt.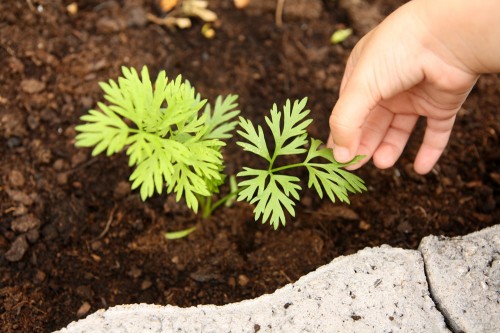 Our Romaine lettuce is also starting to come along nicely although it was slow to get started. Our other lettuce growing in our little random beds is also doing pretty well although the heat has been tough on it.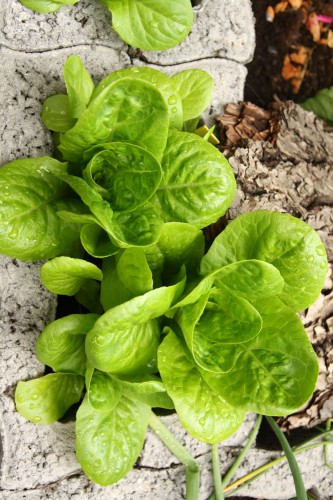 Decorative indian corn that I just had to try growing. Next year I will be taking the advice of more experienced gardeners (thanks Charlie) and growing a cluster of corn in the backyard instead of up here. Again, I will have to be vigilant about the snails and slugs!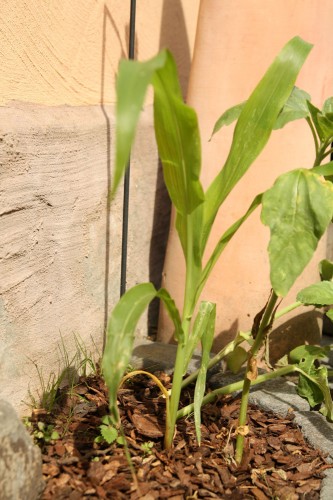 Ah tomatoes. We have 4 large tomato plants that are just loaded with tomatoes. And this year I actually wasn't afraid to cut them back a bit. So looking forward to tomatoes this year…and it seems our plan to have them under the roof of the guesthouse was a good one so far.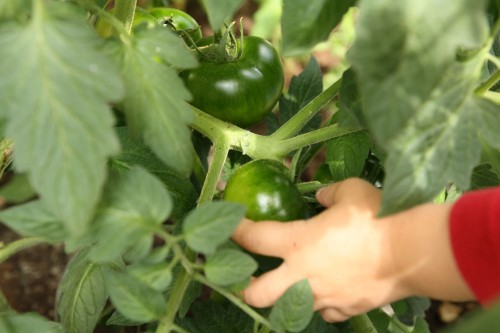 The strawberries are also delightful. We need about 100 more plants to satisfy Mackenzie's picking urges. She can barely wait for them to turn red before plucking them off of the plants.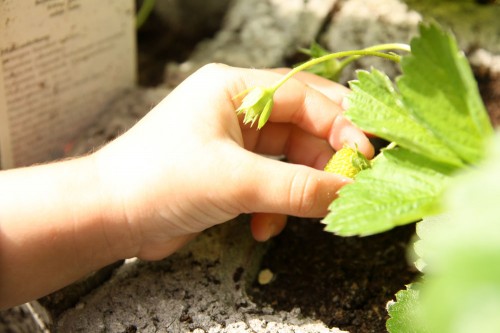 Little pumpkins are also coming along nicely. In fact, this one is quite a bit larger now and dark green, so I think it will be done in a few weeks…The card with the plant said they would get to be about the size of tennis balls…but they're more like the size of a softball right now (just not in this picture).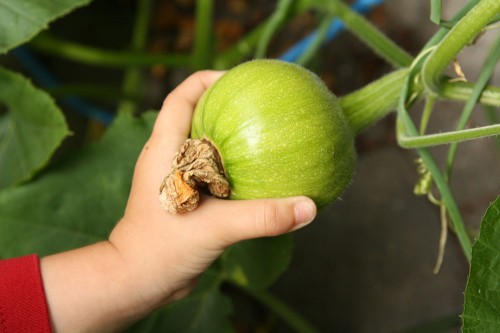 This cucumber has actually been harvested now and halfway eaten…it's heavenly! It weighed in at 340grams and there are a couple more on the other plants that are nearly as big now.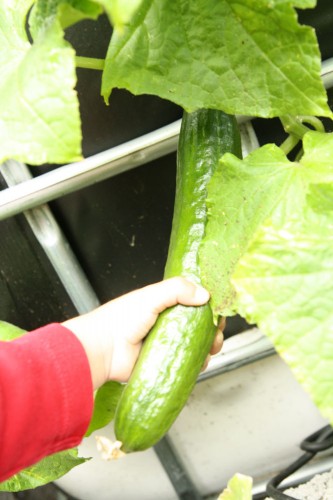 And finally, the grapes…which are looking beautful right now. But I know that in a couple of weeks they are probably going to look all moldy again. This year, we are going to try to find the right chemical (ugh I hate to even say it) or sulfer (I seem to recall reading that somewhere) that will kill the mold and allow us to feast on these fresh or in wine. That would also require covering them but I'm not afraid of getting up on the guesthouse roof — which is thankfully the flattest roof we have!
dsd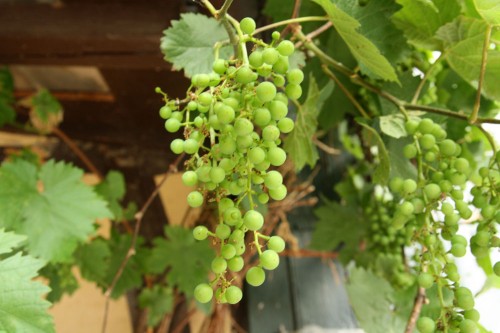 Now I'm off to figure out what the ghost flies things are all over half of our plants and how I get rid of them and that funky white, powdery mildew. Ugh
Share your garden with us by linking up below! A link back to NOH is highly appreciated and you're free to grab the image above as well.
Just copy and paste this code or save and upload the image to your blog:
<a href="https://www.noordinaryhomestead.com/garden-life-link-up/"><img title="garden-life-300″ src="https://www.noordinaryhomestead.com/wp-content/uploads/2011/07/garden-life-300.gif" alt="garden link up" width="301″ height="301″ /></a>
[include_HTML: /wp-content/js/week1.php]