I had the great pleasure of meeting Emily Meyer from Tea Collection not too long ago at The Hive European Bloggers Conference. We had a great time getting to know each other and I was instantly enthralled with her great attitude and her business savvy. So I asked if she'd be willing to sit down and answer a few questions here at NOH.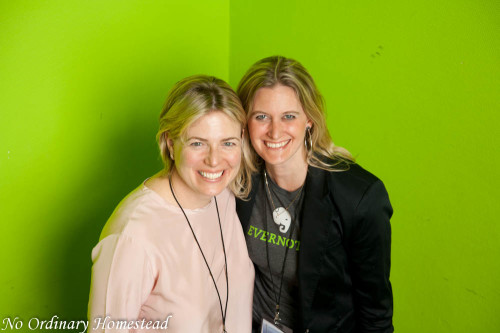 What motivated you to start your own business?
About 12 years ago I started thinking about a clothing brand that incorporated my love for travel and beauty of world cultures. I just spent an inordinate amount of time searching for baby clothes for my newborn niece that felt modern and sophisticated…not covered in bunny-themed pink fabric.  So, I designed a sweater, and through that process Tea Collection came to life.
I called it Tea, because tea the drink is something shared by all cultures. It evokes warmth, wisdom and timelessness—values that I wanted for the collection.
It sounds like you've truly managed to create a job for yourself that you love and turn it into something amazing. Do you have a business idol that has helped you make your dreams reality?
My business partner, Leigh. I'm grateful every day that the Universe brought us together. I couldn't be more honored to work with someone who has such high integrity and sincerity about people and business practices all while driving the organization forward for growth.
If you met someone who was just starting out in the business world, what advice would you offer them to help them succeed? 
Start small and keep it real [operationally]. We started Tea Collection with three baby sweaters. A dear friend believed in my idea for a different kind of clothing company and helped to get us started as our first investor. Those three sweaters sold well enough to attract more investors.
Dream big and believe in yourself. I didn't have a job when we started Tea, so I didn't have much to lose and everything to gain. It is human to worry about failing, but once you get over that initial fear you realize that you can accomplish what you put your mind to.
Know what you want. Be sure you are your own North Star while navigating all the choices before you.
Have you ever faced any challenges in your business that helped you learn along the way?
Of course. Every day.  As the company grows and morphs, which is every season, there is always something new we're considering and evolving. The catalog. The product. The people.
We all learn a lot from our failures. What have you learned from failing?
My usual lesson comes from trying too hard, or overworking it, and realizing that everything has its natural path. There are so many analogies to raising a child…the company cannot not grow, we're here to shepherd it along. Fear usually gets in the way. Just recognize it and let it be.
All of us set goals and think about the future. What are your future plans for Tea Collection? 
For Tea, I hope we continue to grow and offer all sorts of products that evoke mindfulness and awareness of the global community.
We all have our favorite places we like to learn from. What is a resource that you've benefited from and recommend to others? 
Fast Company, the magazine and the website (especially the website) always has great insights and stories.
As a mompreneur, what are your tips for making work, family and more seamlessly together?
I think whether you work for yourself or work for someone else, you are always looking to find balance for both parents. To me, every parent who works should juggle to some extent. It comes with the territory. I do think about work all of the time, but I cherish my time spent with family and make a conscious effort to cut off actual work when I am present with my family. I commute every day to and from work and make the best use of that time. The key members of my team are on speed dial!
What inspires you?
My husband and my kids.
If you could change one thing in this world to make a difference, what would it be?
Global awareness at a younger age, instilling kindness and love for all cultures and people–the realization that we are all the same.
What are 3 things we may not know about you?
Landscape design is a current passion.
My absolute favorite vintage piece is this great lightweight graphic coat that is an awesome statement piece with black pants.
My guilty pleasure is Pinterest.
What women isn't totally sucked in by Pinterest? 😉 Will you please leave us with a favorite quote of yours?
"Seeing is believing." That's more of a mantra.
0