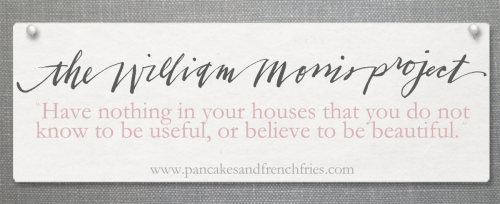 After moving from the farm into our apartment here in Berlin, there are a few areas where we haven't quite found perfect harmony.
Like the laundry room. Actually it's just the dryer closet since our washing machine is in the bathroom (where I actually rather like it and it's just around the corner).
Now don't be scared…this next picture is a doozy!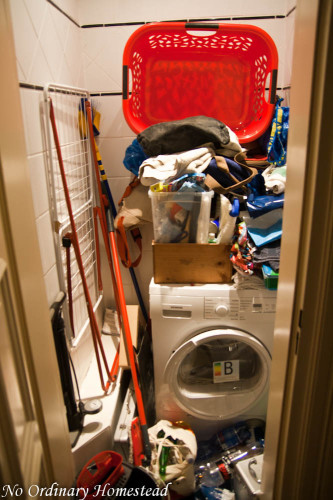 That was the state of our dryer room until a few weeks ago. Then I got sick of the chaos and I made some very small improvements. It looked better to me personally, but when I showed it Stefan, he didn't see a change. So I knew we were going to have to take more drastic measures.
My ideal vision included shelving above the dryer. And I was fairly certain that we had a shelf in our basement that would do the trick. Unfortunately, the basement was also still a bit of a store spot…until this past weekend.
So my lovely husband managed to get this shelf out and brought it upstairs. And it did indeed fit in the space…except for at the bottom where there is a strange step to the left. Whoever built the thing must have worked on our old farmhouse in the past because it is the most crooked shelf-lette I have ever seen. But we made it work for now (and will be checking out other alternatives eventually like a metal shelf so more light gets down to the bottom).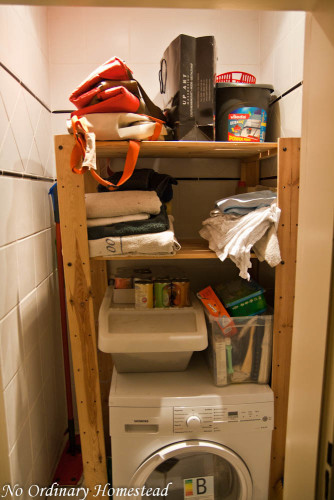 I have to say that I am ecstatic about the shelving. My goal was to organize everything in there better and have space for our dog food container — and that has totally been achieved. We have a bunch of dog towels that I am going to go through, as well as other random towels that we likely don't need so many of. And I am going to Stefan to pretty please drill some new holes in between the wall tile for a few more things to be hung.
But the person who lived here before did put quite a few holes in things for us already, and I had a bunch of hooks laying around that fit in there, so I already have things like our shopping bags hanging and easy to grab when we go out. Hiding inside this bag are a bunch of other cloth shopping bags…don't you just love shopping bags you can resuse? I know they're a relatively new concept in the US, but here in Germany (and most of Europe) the stores actually charge you for plastic shopping bags…so you almost always bring your own! Gotta love that green thinking. 😉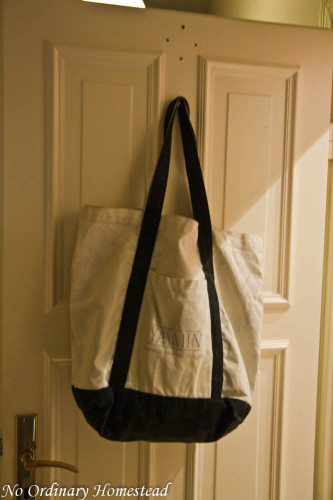 6 Smart Laundry Room Ideas
Put in shelves, above and/or below the appliances — You might want them to be open or closed, but either way, storage is always your best friend. So the more of it you can add in the room the better. You might want to put your laundry baskets in there, cleaning supplies or just use it for other storage. Plus, having the washer and dryer off the floor keeps you from having to bend over all the time which is way better for your back!
Keep small cleaning products & bottles in bins — There's nothing worse than things falling off your appliances or behind shelves. So keep them contained in bins and you'll not only keep track of them, but be able to pull the bin out to search inside better — or take the whole bin with you if you have a serious cleaning emergency.
Use wall / ceiling hooks for mops, brooms, etc — Long, flat hooks with a tiny tip on them are more practical than a regular hook for hanging mops and brooms, but you can make the others work if you have a bunch of them laying around. Then, not only do you keep them from falling all over the place, but you can let your mop dry out while already hidden away. If you've got a tall cabinet door, you can also put them inside the door or in the closet.

Use a big bag for laundry piles instead of baskets — As you may have noticed in the first scary photo above, we have a big red laundry basket. But I really am not fond of it. It doesn't fit under the dryer door so I have to move it in after opening it. And it's super bulky. Plus I really only use it to move dry clothes into the dining room to fold them — or the bedroom. And stuff ends up sitting in there for a day or two sometimes. So since we have a few of those huge extra IKEA bags laying around, I've started to use that for laundry instead. It folds up nicely and can be hung out of the way on the wall and spreads out nicely under the dryer door so nothing escapes.
Take it up — If you have a really small space for your laundry, why not stack your dryer on top of the washing machine? Or split them up. As I mentioned, we have our washer in the bathroom and the dryer around the corner in its own room. But if there had been a water hookup in the dryer room, we certainly would have stacked them. It's a very practical way to save space, and you can fit them all over, from the kitchen to your closet (as long as you eliminate humidity issues) depending on what is most beneficial for you.
Build in a space for ironing & a drying rack — If we had a slightly larger room, I would probably put an ironing board on the door and some sort of drying rack. For now, we have a folding drying rack that fits beside the dryer and it's also very effective for all those things you don't want to dry. But it also isn't all that pretty and has to be hidden away if I'm drying something and company pops by. Check out this one below which is made from an old play pin. Love it!

Make it more functional — I know a lot of people have their laundry room double as a rear entry (our house was like that when I was growing up) and it becomes a catch all space. Perhaps it would be a good place to create a mud room area or hooks for things like jackets, purses and backpacks — plus a designated space for keys, wallets and the like.
Get more laundry room ideas on my Pinterest board
How's your laundry room looking? 😉