The second weekend in August we'll be gone so we can attend the wedding of Stefan's best friend, Steffen, who also happens to be one of Mackenzie's godfathers. The guys have been friends for about 18 years (sorry for the correct info lol) and Stefan is one of the best men so we'll be attending both their civil ceremony in the courthouse and their formal wedding in the church. Since all of this is taking place in Bavaria, they've decided to wear traditional dress (or "tracht" as they say in German) for the courthouse ceremony. That meant we needed to do a little shopping for Mackenzie.
Since we live in Hessen where people don't wear traditional outfits like this (please don't call them costumes!!), Stefan's parents volunteered to find Mackenzie's first "dirndl" (or dress.) They came to visit us for about 2 days last week and brought it with them. What do you think?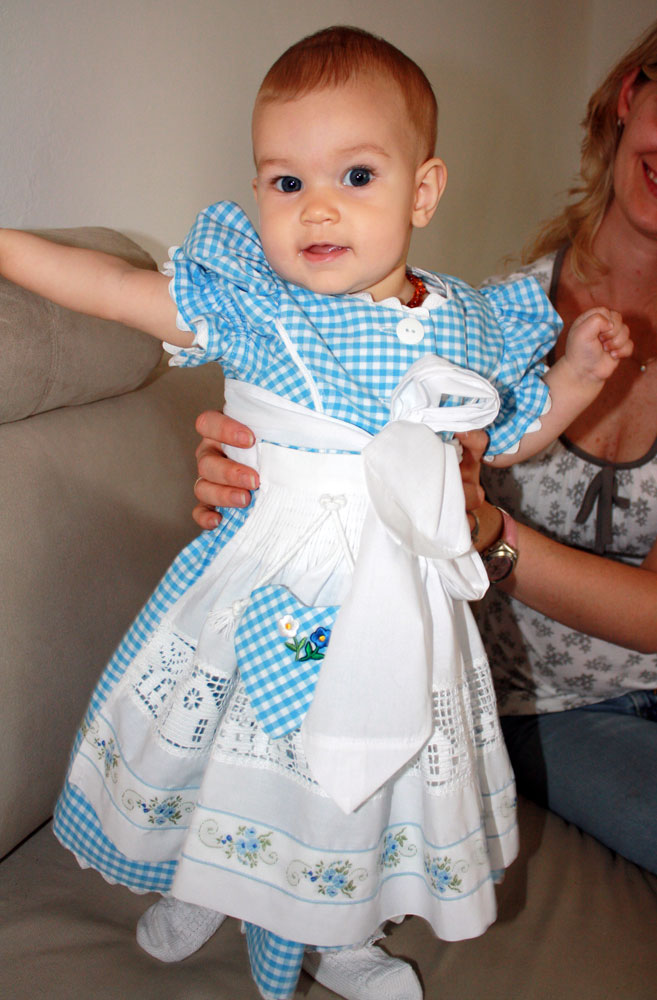 Looks like Mackenzie seems to find it cute as well. And the great thing about it is that it can grow with her for the next year or so. Which is extremely good since these clothes are not cheap! There are places were you can let out seams to make the dress longer and the body bigger – it's all quite ingenious really.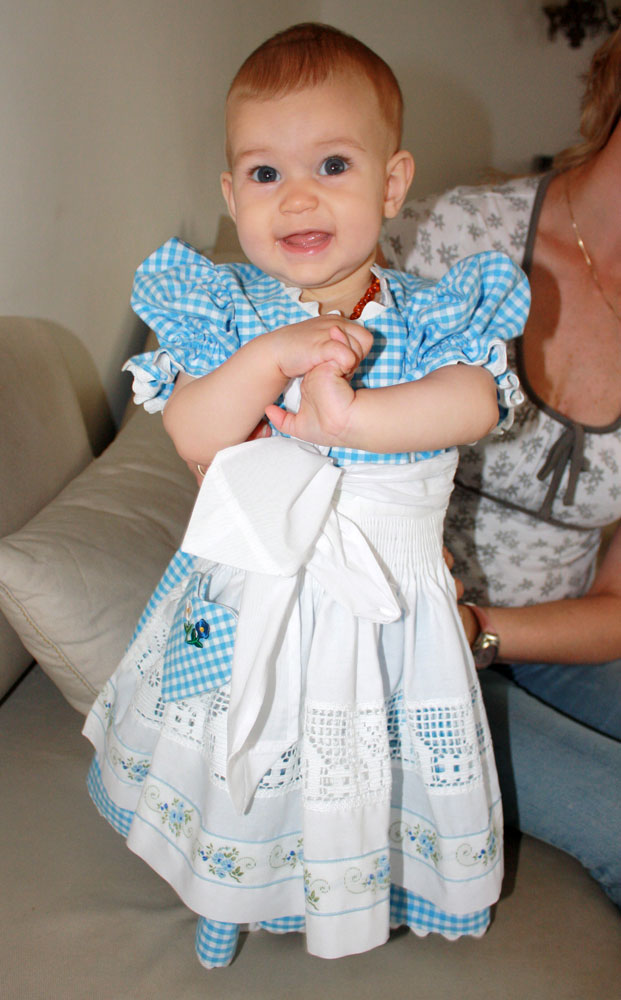 We got her a size 80 (about 9 months) which is the perfect fit for her upper body. She's been growing like crazy the last couple weeks so hopefully she'll still fit in there in two weeks. 😉 But at least we'll be seeing her grandma before the wedding and she knows where all the seams are. I think it should still fit by then, though!
The shop where they got the dirndl is called Christina Zeder, Kindermode im Rathaus. They're located at Marienplatz 8, with the entrance on Dienerstrasse in Munich. Visit their website: http://www.christine-zeder.de/ This particular "grow with you" dirndl was €155.