You probably thought you'd be seeing some photos soon of our progress in the courtyard, with our new pavers in place and the growing beds being filled up with dirt. But even though the stones are here and waiting for us to start using them…we're in absolutely no shape to start doing anything at all with them.
On Tuesday, we were completely looking forward to meeting some lovely people who have been following my blog for a while and happen to have a fachwerk house like our own not too far from us. They live in America most of the year but do their best to make several trips to Germany throughout the year. After missing them the last several times they were here, we finally set up a meeting. Unfortunately, that didn't get to happen quite as planned.
Shortly before we were to arrive at their home, Stefan, Mackenzie and I were involved in a rather bad car accident. As we crossed through a partially wooded intersection, a black station wagon came from our right side and plowed into the passenger side of Stefan's Freelander (LR2 for those of you in America). Our SUV rolled between 1 and 3 times (we can't remember but police and bystanders estimate this figure) and came to land on its roof. But thanks to what must have been an entire flock of guardian angels around us, all of us were able to walk from the car. Mack and I were on the side of the car where the other car made impact.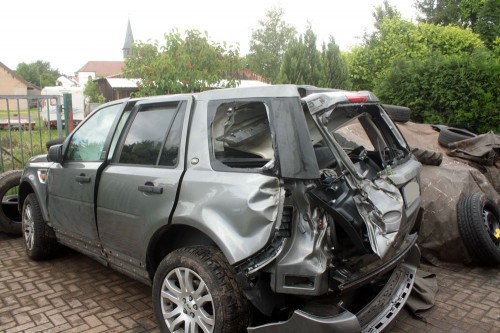 Ok, maybe "walk" is a bit of an overstatement when it comes to my condition. I had to be assisted from the car by several wonderful passers-by who stopped to help us. My left arm is broken, in addition to several right ribs. I also have a few other bumps and bruises. Stefan is also a bit banged up around the ribs and has a few nasty abrasions on his arms. And thanks to her amazing car seat (which will be getting a very special post all of its own) Mackenzie walked away with very few bumps or bruises at all.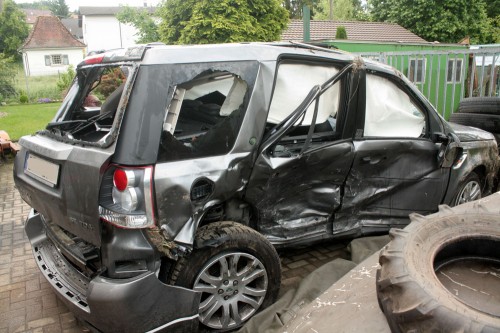 We all spent some time in the hospital, and I actually just arrived home on Saturday morning. It's been an emotional and stressful week for all of us but we are SO thankful to be alive and back together at home. We've been told on several occasions that the fact that any of us survived is a miracle. I can assure you that we have said many words of thanks and praise to God for saving us…apparently there must be some incredible things in store for all of us since we feel like we've cheated death more than once over the last 10 years.
We have been absolutely touched by the outpouring of support and compassion by our family and friends. At the drop of a hat, our neighbors came to get Ayla and took care of her until Stefan's parents arrived for backup. Stefan's parents were absolutely essential in the saved sanity of us all, especially since Stefan and Mackenzie went to separate trauma center for children 45 minutes away from my own hospital.
So instead of a bunch of gardening posts, you get to hear about my wonderful hospital staff, Mack's expensive but totally worth it car seat, the essential oil remedies we've been using to help get ourselves healed up faster and more as we reflect on all that has happened and put it behind us.
If you take nothing else from all that I share here in the coming weeks, please remember to slow down and drive more carefully. Fatal accidents happen every day and we always think it won't happen to us…until it does. On the Armed Forces Network (military radio station which happens to be the only one we get in English over here), they have a commercial which preaches to people the importance of driving safety. Their motto: "Drive to arrive." Sometimes you just really can't be too careful. And with all the distractions that our cars contain these days (from the navigation system to your iPod to your cell phone), one just has to slow down and remember to focus on the road.
Oh, and we're no longer considering adding a Smart to our line-up. After this accident, we're thinking either another Freelander (since considering what happened this car still definitely held up pretty well) or a BMW X3.
1