Planning a party over a festive period is one of the most exciting and creative times of year. For example, in the lead up to Easter any party for children or adults means you can have so much fun with party food. It is the perfect time to let your imagination run away with you and be as innovative as you want to be. Where do you get the inspiration from? There are a lot of places on the Internet from social media to recipe sites that will give you an entirely new outlook on party food ideas.
One of the first places to look, if you do not have that inspiring idea to kick start your party ideas, are recipe websites; articles like these Easter desserts from Kraft can really provide a creative vision for your party planning. Another fantastic resource is Pinterest; searching for Easter party food brings in such an array of culinary treats that will literally wow any party guests and once you have that bright spark idea, the rest is history. It is entirely possible to get carried away with party food ideas. A party for children is great as the possibilities are endless but a party for adults may need to be toned down to a few wow items.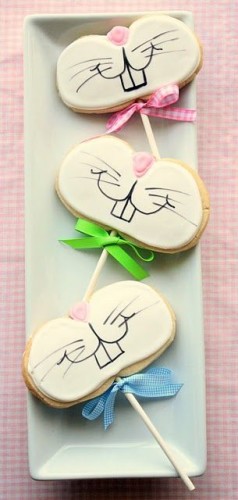 For adult parties, it is almost inferred that you want to create sophisticated party food, but if you are having the party at Easter, why not have a little creativity to the feast? This cake that looks like a carrot growing in soil is absolutely brilliant, it would wow the guests and it looks really great on the dessert tray.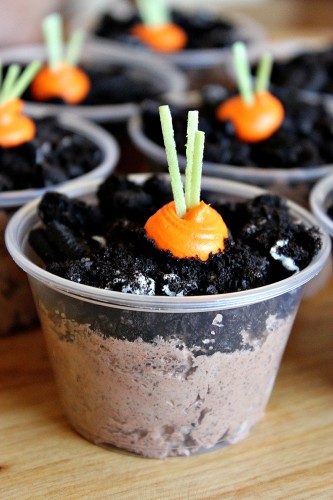 The use of color and having a specific color theme can be useful when planning a party, if you are using all of the colors you can make fantastic rainbow colored kebabs for example. Or if you are planning a yellow theme have pineapple and cheese kebabs. Having a little thought about a 'theme' will help you to develop your ideas on the party food and will also help you to look in the right direction for more motivation.
For children's parties it gets a lot more fun, once you have a theme that you want to roll with the world is your oyster. Making delicious cupcakes with colored buttercream and little decorations are just a simple way to jazz up the party bags. Decorating marshmallows and inserting them onto kebab sticks is another quick way to make party treats. You can use melted white chocolate with food coloring to cover anything you want – for example dipping a strawberry into orange colored white chocolate, could make it look like a carrot – that will surprise the little guests. Easter is a great time to have fun with the party food, do a little research with an idea or theme and soon you will have an 'eggs-cellent' party spread!
---
This article was produced by Lara Anderson, an accomplished and experienced Australian freelance writer who has featured in a number of high profile publications. Follow her here: @LaraCAnderson