Currywurst is a staple of German fast food. Nearly anywhere you go, you'll find a currywurst stand. And no matter what city or nationality of the owner, the currywurst always tastes pretty much the same. It's a sure thing. Your choice of sides are usually French fries or a Kaiser roll (or something similar). But there are also some places who have not only made currywurst gourmet, but also turned it into a nationally known franchise (like the beloved Best Worscht dealer of Frankfurt) which people will drive for hours to taste. Mind you, they have to stand in line for another hour once they get there, because an hour wait is pretty standard. If it's a really busy day, prepare to wait up to 3. It's just a kiosk trailer by the way, with a few stand up tables nearby. Really. Nothing fancy. But the currywurst is legend…wait for it….dary.
While I would love to get my hands on his spice mixes so I can have his Pirate style with "lemon & jambalya" flavorings + wild garlic at home without the long wait, I haven't been working on his recipes yet. Stefan did once find a rather gourmet version of currywurst that tasted awesome, but we never printed the recipe and have no idea what website it came from so there's no chance of making that one again in the near future.
But if you'd like to try out a simple, basic currywurst recipe, you've come to the right place. Mack even likes the sauce on fries…but not on her sausage. Apparently sausage is just ruined if you put anything on it, including ketchup. And believe me, she LOVES ketchup. 🙂
As you'll notice, she also really LOVES French fries ("Fren-fries"). Good thing I have a fast lens now or I never would have caught those little grabbing fingers. Of course since I take a lot of my food shots on the floor in front of the window (to get the good natural light), Mack was the least of my worries. Ayla was hovering around like she expected me to leave the plate there for her. As if.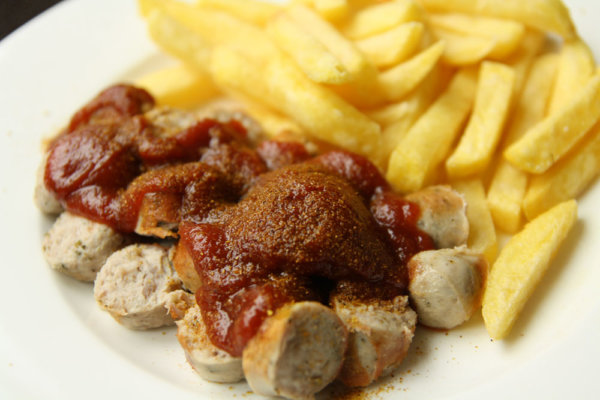 | | |
| --- | --- |
| | |
Heat vegetable oil in a skillet and cook sausages until brown outside and heated through, turning periodically.

Pour ketchup into a small saucepan and add sugar, chili sauce, pepper, onion salt, paprika and curry.

Remove sausages from heat once fully cooked and slice into 1/4-1/2 inch thick pieces. Place on a plate and spoon sauce over top.

Garnish with additional paprika (if desired) and curry.
This makes plenty of sauce so if you don't want your sausages swimming in sauce, use it to dip your fries or roll in, or save it for another time. **This recipe was featured in the Mouthwatering Mondays link up at A Southern Fairytale.