One thing you learn quickly when living in Berlin is that layers are necessary almost all year round. It's just the thickness and warmth level of the layers that changes! And I have a mentioned that Berliners are quite fashionable??
When we moved here, it became apparent to me that I wasn't going to get by anymore with my outdoorsy LL Bean jackets all the time. Don't get me wrong — when it's well below freezing and I'm out and about, I'm definitely putting on my huge LL Bean parka for sub-arctic weather and probably my fleece-lined pants too (even though I look like a grandma in them.) But at this stage, when it's in the 40's and 50's, I'm trying to keep myself from overdressing just so I don't become an icicle when the really cold weather sets in…and we all know it will!
So when we went to TK Maxx a while back, I also looked around for a new winter jacket for myself. I have a dress jacket that I bought a few years ago for about €30 from H&M and it looks nice, but it has zero insulation and you nearly freeze to death wearing it in anything under 50°F. So when I found a jacket which was both stylish AND lined with fake lamb's wool, I was thrilled. It is super warm and I don't look like I just came back from hiking in the woods. And I know it's gray and muted (which really is my basic style) but this weekend, we began to add some new color to our wardrobes!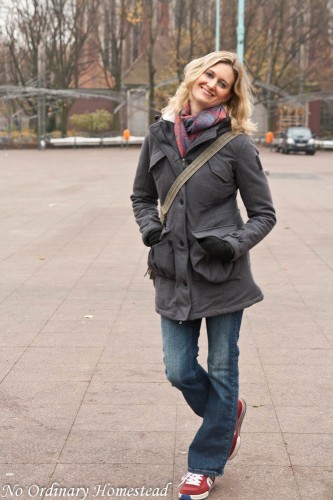 Believe it or not, I have never really been much of a fan of scarves. I had some and I wore a basic black fleece scarf for the last few years which I got for 5 dollars at Old Navy's closeout. We have them in three colors and they are all super warm — but really nothing special when it comes to style. So when we were at the weekend market at Winterfeldplatz this weekend, we decided it was time to get with the program and buy some scarves. There are many vendors there with beautiful scarves that I've admired since we started going to that market. But we always had so much going on and there were so many other people around, that we never stopped to look. Until this past weekend when we were there a bit earlier than usual — and we had the market almost completely to ourselves!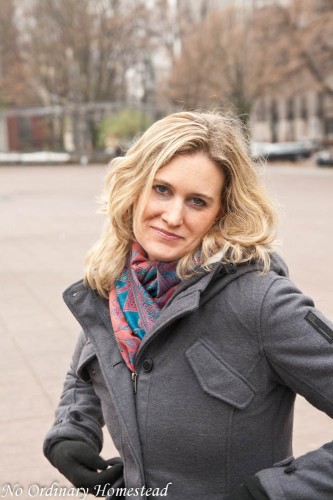 I ended up with two scarves which are reversible — one aqua and pink and the other a paler aqua and cream. As it turns out, they both go with my winter hat from Columbia. BTW, the hat from Columbia I highly recommend — it's not only cute but also very warm because it has a thermal fabric strip around the head where your ears are, keeping the ears super warm and toasty. LOVE it!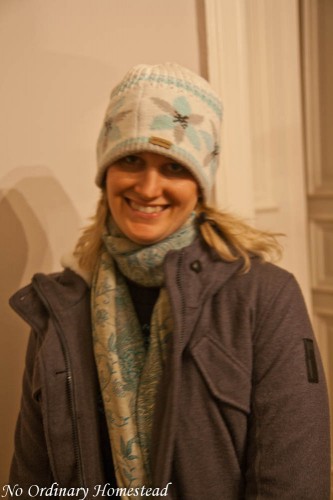 Next I might have to look into some new gloves. We have lots of hardcore snow gloves that are water resistant — but those are often a bit bulky and uncomfortable for holding a dog leash. I bought some great gloves at the Columbia outlet store when we were in Florida last Christmas (it must have looked strange to the sales people in there that we were loading up on winter gear and flip flops when it was 85 degrees out lol) but I lost one shortly after we brought them home (ugh — go me, right?) There are glove vendors at the market also with lots of leather ones, lined with knits and fleece in every color imaginable — but I'm just not sure what I want yet at this point.
What are your winter essentials in your closet and the gear you just couldn't live without?
Linking up at:
0