Fra Diavolo, which actually means "Brother Devil" in Italian, is typically a flavorful pasta dish with a tomato base (although some Fra Diavolo recipes have no tomatoes) and a healthy kick of chili peppers. You'll probably never find it being served in Italy since it's more an American-Italian thing. But it is absolutely delicious and very versatile. You can change the ingredients based on what you have, adding chicken instead of shrimp, leaving out the protein altogether, substituting in other herbs, and more — but one ingredient you are not supposed to forget are the fiery peppers. Now obviously, if you just can't take it hot, you can make the dish without them — and it will still taste incredible. But if you're making a dish with "devil" in the name, you have to expect it to cause some sort of turmoil in your mouth or it's just got to be called something else!
We used to eat a pasta dish like this on a regular basis, but we somehow started to forget that it existed a few years ago, and haven't visited the dish again. Until we discovered some of the most wonderful little pieces of tomato heaven on earth: date tomatoes (known as "pomodori datterini" in Italian).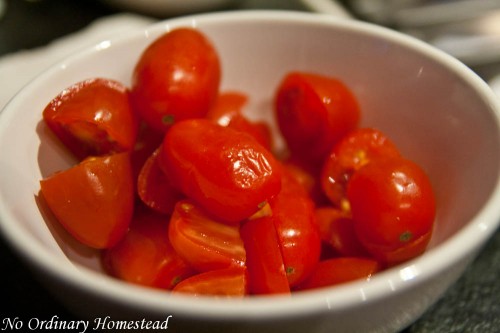 Date tomatoes look like small versions of Roma tomatoes and they are PACKED with flavor. They have an inherent sweetness to them, a bit like fresh-from-the-vine cherry tomatoes. We have never really seen them anywhere in the past, but one stand at the Winterfeld farmers' market has only one kind of tomato — and it is these. We will definitely be going to them every week for the next few weeks just to get more of them. We've paired them up with buffalo mozzarella and put them in other dishes, and every time they are just a delicious flavor explosion. When the season on these tomatoes passes, I think I might cry!
The quality of the ingredients you use will determine what the ultimate outcome is. You can use canned tomatoes if you just can't get any good fresh ones; but if you have some wonderful tomatoes you just harvested from your garden or picked up from the market, you will not regret making this one bit.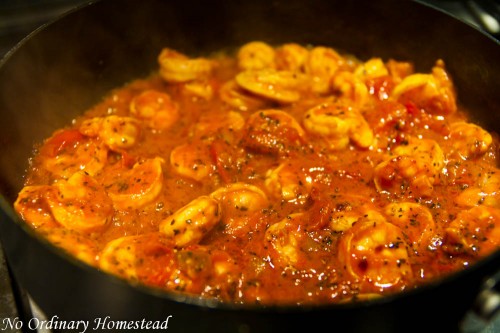 Shrimp Fra Diavolo is great for a quick weeknight dinner, but has enough pizzazz to be a main dish at a dinner party as well, especially with the right fresh ingredients. If you want to break down the prep time a bit (which mostly just involves a bit of prepping and chopping onions, garlic and tomatoes, plus peeling shrimp) cut up the onions, peel the garlic and peel the shrimp ahead of time. Then you'll be able to get the meal on the table in 10-15 minutes.
Wine Suggestion for Shrimp Fra Diavolo
Since we had around 200 bottles of wine in our cellar when we moved, we have vowed to actually start drinking a bottle of wine on a regular basis. It's a rough job, but someone has to do it. What's the point in having all this wine on hand otherwise?? We only have a small sampling of our wine here right now, because we ended up with way more stuff than the mover's estimated — but that's how life goes. Thankfully, we brought a bit with us when we went back to the farm for Laternfest.
(Before I talk more about the wine, I am not a wine aficionado nor do I claim to be one. We enjoy a good wine, and to me "good" classifies as a wine with a nice full flavor that I will happily drink — not something I have to choke down. So any notes here about wine are just my own opinions and are in no way meant to be a professional recommendation.)
We pulled a bottle of 2006 Anthony's Garage No. 6 out of our sampler box and it paired up perfectly with the dish. The sweet flavor of the tomatoes really balances out the sting of the peppers — and this dry, fruity white wine brought all the flavors together. Garage No. 6 is made from Riesling grapes with a floral undertone and just a hint of sweetness. It's easy to drink with a nice flavor, which can make it dangerous if you have several bottles in the fridge at once. 😉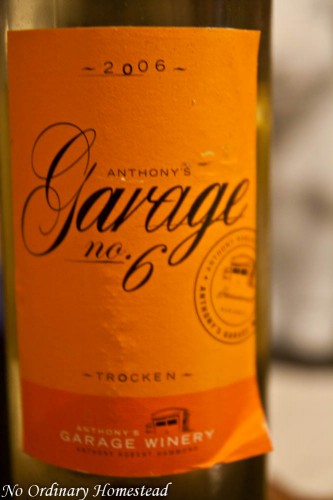 This particular wine was bought directly from a small vineyard called Garage Winery in the Rheingau area that we discovered a few years ago, and I dare to say that they are not your typical run of the mill vintners. Everything about the winery is a bit more edgy and hip; but the wine they produce is first class. They also "cork" the wine with bottle caps (and were definitely some of the first doing that in the Rheingau) which means your chances of an older bottle actually corking are very low. But it's usually best to drink a Riesling within 3-4 years of bottling. But thankfully, both bottles that we've had of it lately were just as good as they were when we first tried them!
And now, on with the recipe!
This Shrimp Fra Diavolo is a fiery, tomato based pasta dish which draws its flavor from the best fresh ingredients. It's a quick, simple and easy pasta dish that can be throw together during the week or to impress friends at a dinner party.
Ingredients
16 ounces pasta (penne or small shells work well)
1 tablespoon olive oil
1 medium red onion, chopped
1 large cloves garlic
2 tablespoons tomato paste
1 1/2 cup tomatoes, coarse chopped into 1-inch chunks
1 pound shrimp, peeled and de-veined
2 teaspoons dried basil
Salt & freshly ground pepper, to taste
1 fresh or canned cayenne, Thai chili or other very spicy pepper (or to taste); chopped
Freshly grated Parmesan cheese
Instructions
Cook pasta according to package instructions, until al dente.
Heat olive oil at medium in large frying pan.
Add red onion and saute until clear. Add garlic and saute until fragrant (30-60 seconds).
Add tomato paste and tomatoes to frying pan and combine with onions and garlic in pan. Continue cooking at medium until tomatoes slightly soften (about 3-5 minutes).
Add shrimp and cook until opaque.
Season with basil, salt and pepper. Add chili pepper.
Portion out pasta to dishes and top with half of Shrimp Fra Diavolo mixture. Top with Parmesan cheese.
Notes
One pound of chicken can be substituted for the shrimp.
https://www.noordinaryhomestead.com/shrimp-fra-diavolo-2/
Find more delicious recipes at the Mouthwatering Mondays linkup.
0