We took a trip to IKEA today. It wasn't so bad. The store was fairly empty and we got some really good ideas for the house. We have quite a few rooms that will be getting a makeover, mostly because we have to make some space for Mackenzie. Her room (currently our guest room/catch-all room) is mostly our closet right now and obviously that has to change. We also have an extra sofa in there which we had in the theatre room at our old house.
So here's the plan…
The sofa will eventually go into our living room. The leather sofa in there now has sadly come to the end of its life. Not only does it need to be recovered but it would need new supports and padding in places so we're just going to say goodbye and transition to the other one. But we will be keeping the chair for Ayla since we don't want her taking over one of the new pieces instead. Obviously I'm not able to help move that so it will stay in Mack's room until Stefan's parents come to visit at the end of September.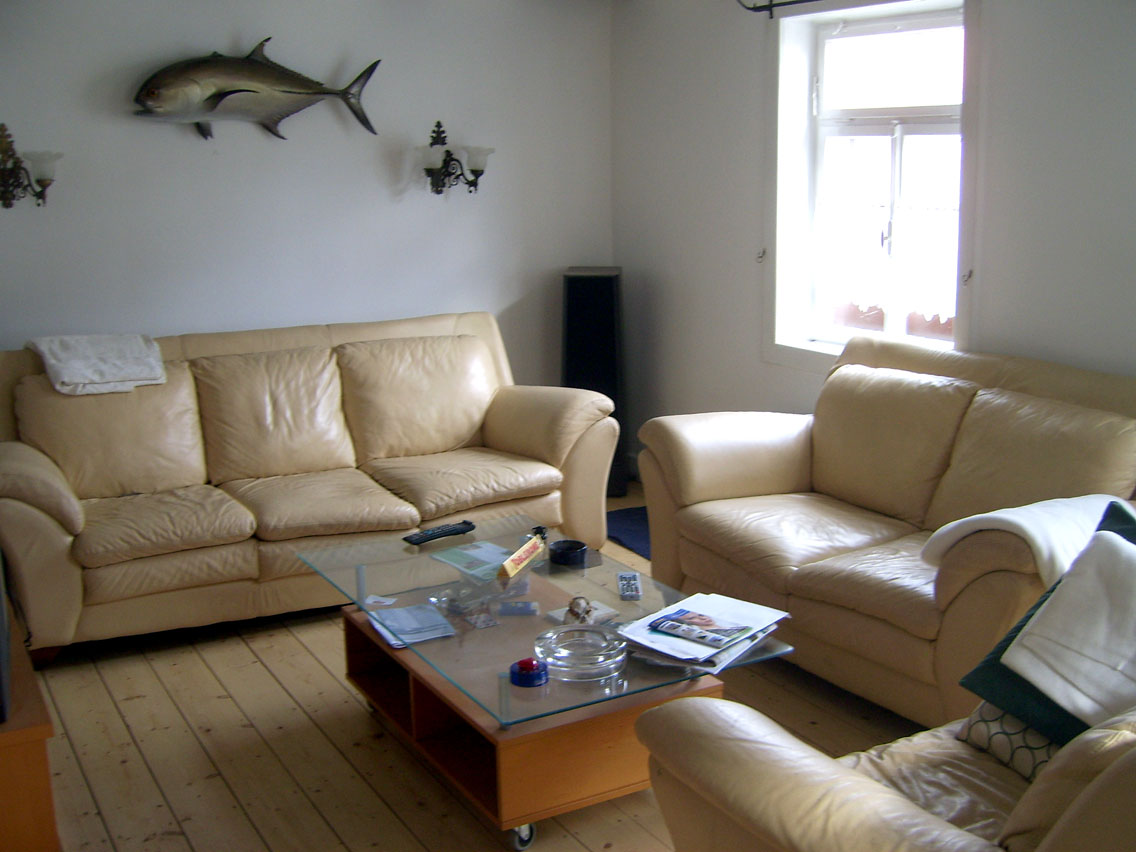 The DVD's will be moved to small shelves running along the far wall (under the fish and two lamps) and Stefan is going to take on the task of digitizing our entire CD collection so we don't need to find a place for them in here. The TV is going to be moved between the windows and the sofa will be arranged somehow once everything else is in place, facing the windows. We bought some drapes for this room today also which should keep things a bit cooler in here and look a little nicer. We'll see how they look a bit later.
Our bedroom will get an almost complete makeover. We are going to put almost floor to ceiling closets along the wall as you walk into our bedroom and into the corner for hanging clothes. This will require moving two lights or using some floor lamps somehow but we're still figuring that out. Along the far wall we're going to put a row of 4-drawer dressers. These two areas should then give us enough space for all our clothing currently in Mackenzie's room. We're also hoping to get a new headboard and bed but aren't sure if it will work with our current mattress or not…so we have to work a few more things out there. But it should be a nice little oasis in there when we get finished.
Mackenzie is going to inherit a dresser and chest of drawers from our bedroom which should go pretty well with the baby bed and changing table we picked out. Along with the built in cabinets already in the room, she'll have enough closet space to start her own store.
Which brings me back to IKEA. As I said, it was a mostly uneventul trip…until we were standing in the check-out line. The people in front of us were buying some wildly tasteless stuff and had their little flatbed shopping cart precariously packed. As we stood there putting our own things on the conveyor belt, the cashier pulled their cart forward and a box fell off the back. It banged into my arm and side…but didn't actually hurt me. Tragically, the people in front of us never apologized for it happening. They asked if "something had happened" but never said, "Hey, sorry for being dumb and just stacking stuff on my cart without a thought in my head." Excuse me but if I dropped a box on a pregnant woman, I'd definitely make sure I apologize…but I guess common courtesy is too much to ask for.
0