Long-time readers of No Ordinary Homestead have probably heard me talking about this company in the past. In fact, it is one of my favorite creative partners which make super cute, extra useful calendars. Now that 2013 is quickly winding down, it's the perfect time of year to start thinking about what you will use to keep yourself organized and on top of all your appointments. So in case you haven't heard of them already, I would like to introduce you to Prinz Apfel.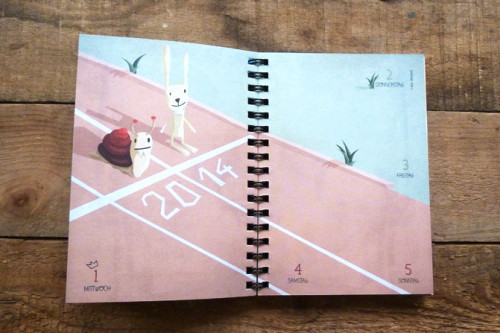 Based in Berlin, the name "Prince Apple" was actually given to the company's first product, a pocket calendar which stood a proud 5 inches high. Now 7 years old, the product line has grown a bit each year, and Prinz Apfel now includes several calendar sizes including wall and standing versions, along with cloth shopping bags and postcards which all feature the happy and unique graphics of the Prinz Apfel team. As the team told me a few years ago, "It's made to bring fun into everybody's life."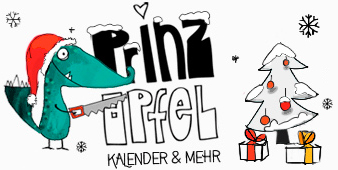 With more than half of the year spent on creating the artwork which fills the pages of each Prinz Apfel calendar, it's truly a labor of love that designers and artists Birgit, Jasmin and Mathias work on when they're not working their "real" jobs. It's that true entrepreneurial spirit and determination that shines through clearly in their calendar year-after-year, making each one just a little bit better than the year before.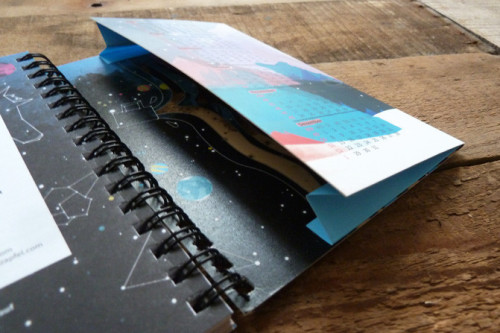 But you don't have to take my word for it. This week, you get the chance to win one of three 2014 Prinz Apfel calendars all for yourself! (Scroll down to enter). And until they arrive, be sure to head over to the Prinz Apfel website for more photos. I personally love the new year images, the Dachshunds in love, the lightening bug and the giraffe (just to name a few). But I also love how the images loosely flow with the holidays and seasons as the calendar year passes.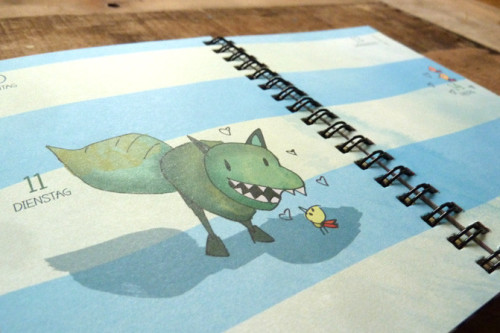 This year, Prinz Apfel has just released a special family calendar which provides a monthly overview that provides extra space for family members to add in their own appointments, events and special dates. It's a great way for family's to keep up with busy schedules and make sure everyone knows what is going on at home and elsewhere.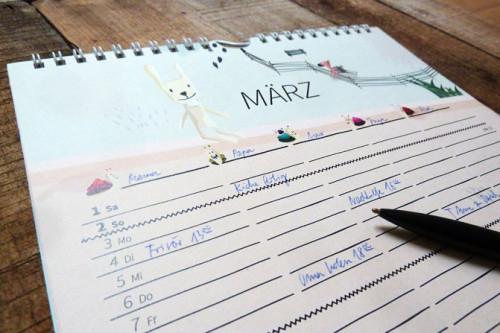 The Giveaway
NOH is giving away THREE Prinz Apfel pocket calendars (DIN A5 Format (5.8 in × 8.3 in / 14,8 cm x 21 cm). Two lucky winners will selected at random in Europe and one in the rest of the world.
Main entry (required)
With the start of 2014 just around the corner, everyone is gearing up for the new year.
So why do you want to win one of these calendars? What events of your life are you trying to keep track of?
Residents outside of Europe, remember to leave your location in at least one entry. If you do not leave a location, I will assume you are in the Europe.

Additional Entries
Become friends with Prinz Apfel on Facebook. Leave a comment.
Visit Prinz Apfel's website and have a closer look at their calendars & postcards. What style or product is your favorite? Leave a comment below with your answer.
Subscribe to (and confirm your subscription to) the NOH newsletter (right side of blog). Leave a comment.
Tweet about this giveaway (please use @t_muehlbauer  in your tweet) and leave a comment below. – You can retweet this daily until the contest ends, but please remember to leave a comment each day to receive your extra enries. For example, "I'm hoping to #win the cutest time planner ever! Thanks @t_muehlbauer! http://bit.ly/1by3oZe Enter until 12/15 #Giveaway"
Follow NOH (@t_muehlbauer) on Twitter . Leave a comment below.
"Like" this giveaway on Facebook (you must first "like" NOH on Facebook, then click "Like" on the post about this giveaway). Leave a comment below.
If you already follow, "like", subscribe, etc. you can still count these as extra entries…you do not need to subscribe again or refollow. Just leave your comment for each entry below.
The contest will be open until midnight EST, Sunday, December 15th, 2013.

Winner Selection
Three winners will be chosen via the WordPress plugin And the Winner Is…, one in the US and two in Europe.
Once the winner is announced, you will be contacted via email and have 48 hours to respond. If you do not respond, another winner will be drawn.
Note: I received a calendar from Prinz Apfel for review but was in no way paid for this giveaway or to express my opinion. The thoughts are my own and have in no way been influenced by outside parties.
0