This past Sunday was the marathon in Berlin, and since Stefan had a few friends running in it, we went out to cheer them on.
One in particular, Timo, is a really nice guy and an amazing runner who definitely falls into the professional category. But to be honest, his real passion for running lies in running ultra marathons — like Mongolia Sunrise to Sunset " the worlds most beautiful 100km Run" on August 3rd, 2011 where he was the overall WINNER with a time of 10h55min…or the  Al Andalus Ultimate Trail, with a length of 230km over 5 days, which he also won in 2012. For the last few years, he's been running to support the cause Shoe4Africa and I'm sure he'd love for you to stop by and pledge your support as well!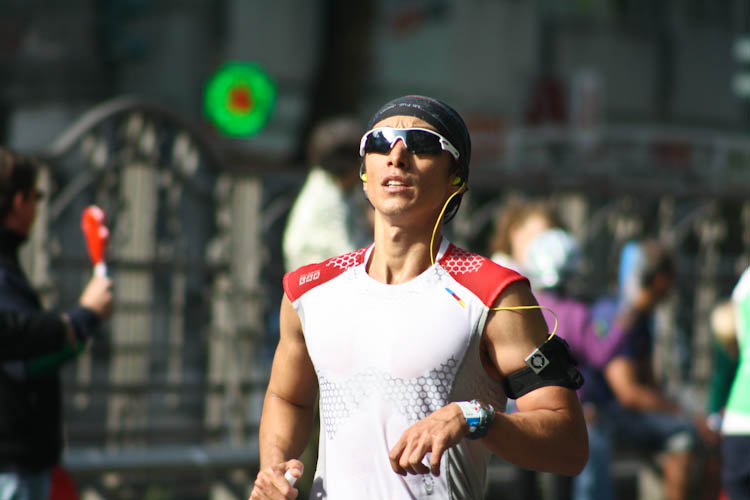 As we stood there, clapping and hooting, watching the amazingly fast, professional runners go by and then the "regular" folks, Stefan looks over at me and says, "I want to do this next year."
Now to be honest, this is far from the first time that Stefan has talked about starting to run on a regular basis — or even about running the Berlin Marathon. A few months ago, before we moved to Berlin, Stefan was talking to a friend (let's call him J) who was visiting us in Frankfurt. J has been a runner off and on for years, mostly because of his active duty in the military, and he started running again while at our place to work off some of the weight he'd gained by eating and drinking his way through Europe for several months.
As the guys talked and Stefan reminisced about his days of running just a few short years ago, before he went running on a sandy beach in Italy and messed up his leg, the two of them talked about running the Berlin marathon together since we'd soon be living there — and new it was a pretty big deal that shuts down half the streets in Berlin. They invited me to join, and I of course declined, making lame excuses about someone needing to watch our daughter Mackenzie and so forth.
So yesterday, when Stefan started talking about training to run the Berlin Marathon in 2013, he was probably a bit shocked when I just said, "Okay, let's do it."
I'm not a runner. And I don't think I even like running. But considering I've got all the shoes, clothing and other equipment for it, I better finally start doing it or get rid of all that stuff. Stefan and I have talked about starting to run together several times in the past — but with a little kid at home and him working long hours, it just never panned out.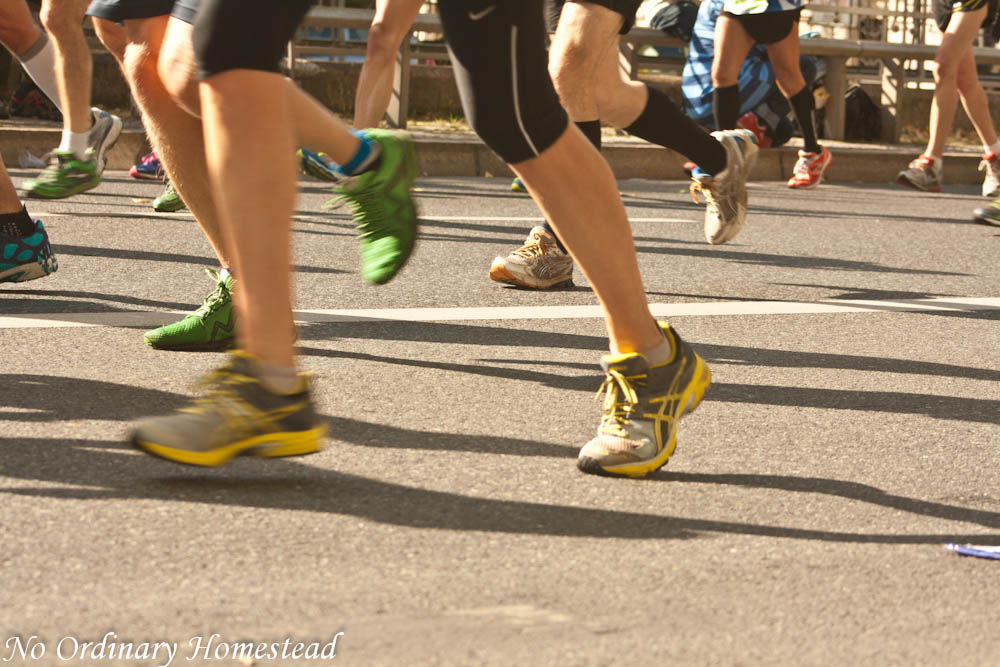 What is different this time
Why do I have faith in us already?
For starters, we have a plan. We have a workout / running plan for the next four weeks, and have already signed up for our first 4.5k fun run, taking place on October 27th.
I have always shied away from anything involving running, but I want to get in better shape than I am now — and we said Berlin would be the place where we started to take better care of ourselves. In the last 10 weeks, that hasn't started to happen automatically, so now it's time to take action.
Actually, that's not true. Moving to Berlin was healthier for us because we started walking more, we have to climb 60 stairs up to our apartment door at least once every day, we are eating more "real" food and less fried stuff — and our first few weeks here, I lost 10 pounds just from those adjustments.
So I'm lean, I've always been mean, and now I'm really to get into shape. And running just seems like a great way to do that, plus it's said to motivate people, get them more focused, relieve stress and make you healthier in general.
The purpose of the 5k, 10k and half-marathon we have selected for ourselves over the next year are all planned to help us accomplish various milestones throughout the year which will prepare us for the main event — the Berlin Marathon.
Looking Forward
Last night was our first run and it was easy going and pretty fun, so I'm hoping the ramp up schedule we've selected for ourselves will work out great. We're basically starting at week 3 of this beginning runners routine but substituting in the No Gear Here and Lean Machine strength training workouts from the following weeks of the plan so we do the same thing all 4 weeks. Our Bosu Balance Trainer is already on its way and we thankfully already had dumbbells, so we're ready to go. 🙂
I was thinking about putting all of this on a different blog, but I'm pretty sure I'll be using other types of tracking software to detail individual daily feelings and progress. So since it really is a part of my daily life now, I figure I'll just put some occasional updates on here (unless you guys want to hear more!?) So in the coming weeks and months, you'll get to read more about all of our experiences, the up and downs of our running routine and how we end up doing at our events!
Below are the four events which we intend to complete during 2012 and 2012 as we lead up to and participate in the Berlin Marathon. These are strategically set to help us achieve specific milestones, and give us plenty of time to train for the "main event" in the meantime. Our actual running times and training schedules will change after each of these events as we focus on the next milestone ahead.
As you'll notice, all the events are in Berlin, which is not only because we live here, but also because it's quite flat here, meaning that the running is not as challenging as if you were in a place like Colorado. So it's perfect for beginners who are looking to get their feet wet…or sweaty. 😉 Check out this website to find out more about upcoming running events in Berlin.
October 27, 2012 – Berlin Cross Country Fun Run (4.5k)
Website: www.berliner-crosslauf.de
This will be the only cross country, trail run we are planning to participate in, but it's just at the right time of year for us to get started — plus it's said that beginners should run on trails and softer surfaces first anyway. This is one of the amusing runs that has a bizarre price, which happens to be a pineapple. For those that don't find running through the woods "extreme" enough — you can go on the 28th to Cross Challenge which is 12 or 24km through mud, over and through obstacles and so forth. It doesn't seem as extreme as some of the obstacle runs I've seen online lately, but it does take place where the Bundeswehr train.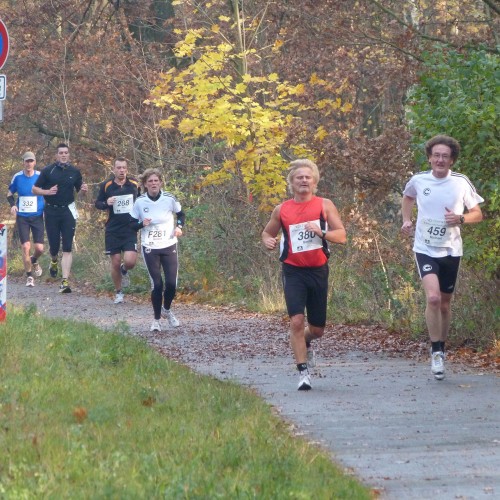 December 31, 2012  – 37th Berlin New Year's Run "The Pancake" (1ok)
Website: www.berliner-silvesterlauf.de
A quick little 10 k run to celebrate the end of 2012. There's also a run happening on January 1st — but we figure we're not going to be in any state to complete that! 😉 It's called "The Pancake" because everyone who finishes gets a pancake — and the winner actually gets a giant pancake. That's my kind of prize!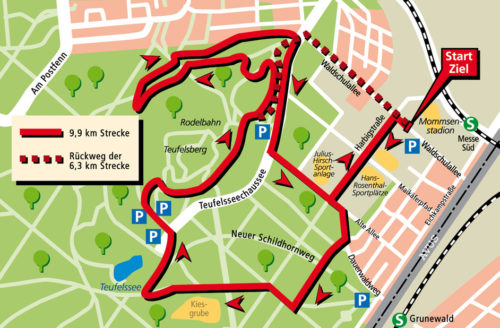 April 7, 2013 – Berlin Half Marathon (21k)
Website: www.berliner-halbmarathon.de
By this point, things are starting to get a bit more serious, but this half-marathon has a great route which allows you to run right through the middle of Berlin — an experience that is seldom easy considering all the traffic crossings and people milling around.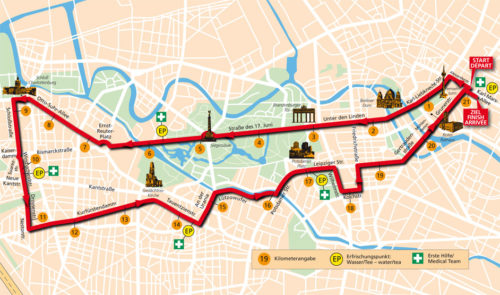 end of September, 2013 – 40th Berlin Marathon (42.3k)
Website: www.bmw-berlin-marathon.com
And finally, the big one! The run that we will have been working all year for! Also a very awesome route through many areas of Berlin, the route is fairly easy as far as marathons go since there are few changes in elevation. One other really cool thing they do during the run is to have a music marathon, so every 500m or so, there is a band of some sort playing music for the runners and cheering them along. How's that for motivation?
Are you a runner? What are your words of encouragement and the best tips you can give us as we get started?.
0