I went to IKEA last week with my mom because she wanted to pick up a few goodies that she noticed us using around the house. Two of the things on her list are items that I use all the time and absolutely love: the KONCIS garlic press and the CHARM (now CHOSIGT) cheese grater containers (below). The garlic press has proved to be nearly indestructible, even with the huge garlic cloves we put in it. And the graters are great because you can put the shreds right into the bowls…and have a lid to cover them with later if you don't use everything.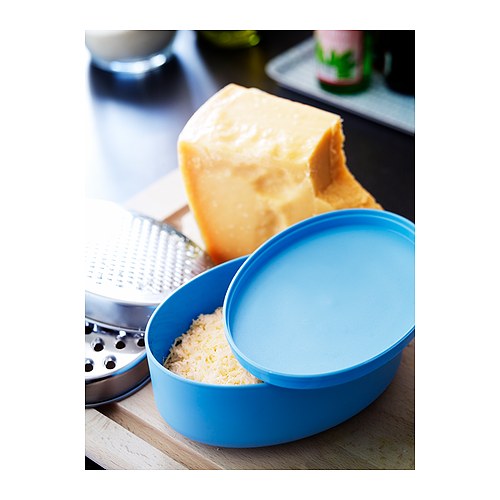 We also needed to pick up another package of the plumbing fixtures for the kitchen sink since one piece of the old one went haywire and water started gushing out from under the sink. Not good.
As with any trip I make to that store, I can't come out with only the things I went in for. Recovering shopping addicts must have nightmares about IKEA. Impulse buys lurk on every corner and everything is so cheap you just toss it in the cart. Then you get to the checkout and your jaw drops because you've just spent a couple hundreds bucks on essentially nothing.
Anywho, some of my finds this time included their new silicon ADMETE pot holders and MAGNIFIK pads for hot plates. I was extremely skeptical about them so I tried out the pot holder as quickly as possible. I have to say that I love it. You feel no heat at all, they are designed to make things fairly easy to pick up, and you can easily clean them off without needing to throw them in the laundry (the latter of which is where mine really find problems).
I also picked up a KVANNE blanket for only €11.99 which is perfect for protecting the couch from the Newfie. It's a little bit quilted so it holds the dirt in and off the sofa. And it's huge and black which matches Ayla too. In fact, we've almost lost her in its blackness already.
0