We had a lot of work ahead of us this weekend. Thankfully we are IKEA building pros so the stack of boxes laying in Mackenzie's future room wasn't all that daunting…but actually figuring out how we planned to arrange all the new closets with our current furniture was making us scratch our heads a bit.
Below are a few before photos of our bedroom. Please try to ignore the dirty room – I took a few photos before we started moving things but they came out terrible so you get to see these which were taken shortly after we moved in.
As you can see, the room had no flair, flavor or style. When we moved here two years, we just put our furniture in and that was that. We didn't have the time then to improve things because there were so many other projects going on…and sadly had not found the motivation until now to do anything about it. This was the view of the room when standing by the door…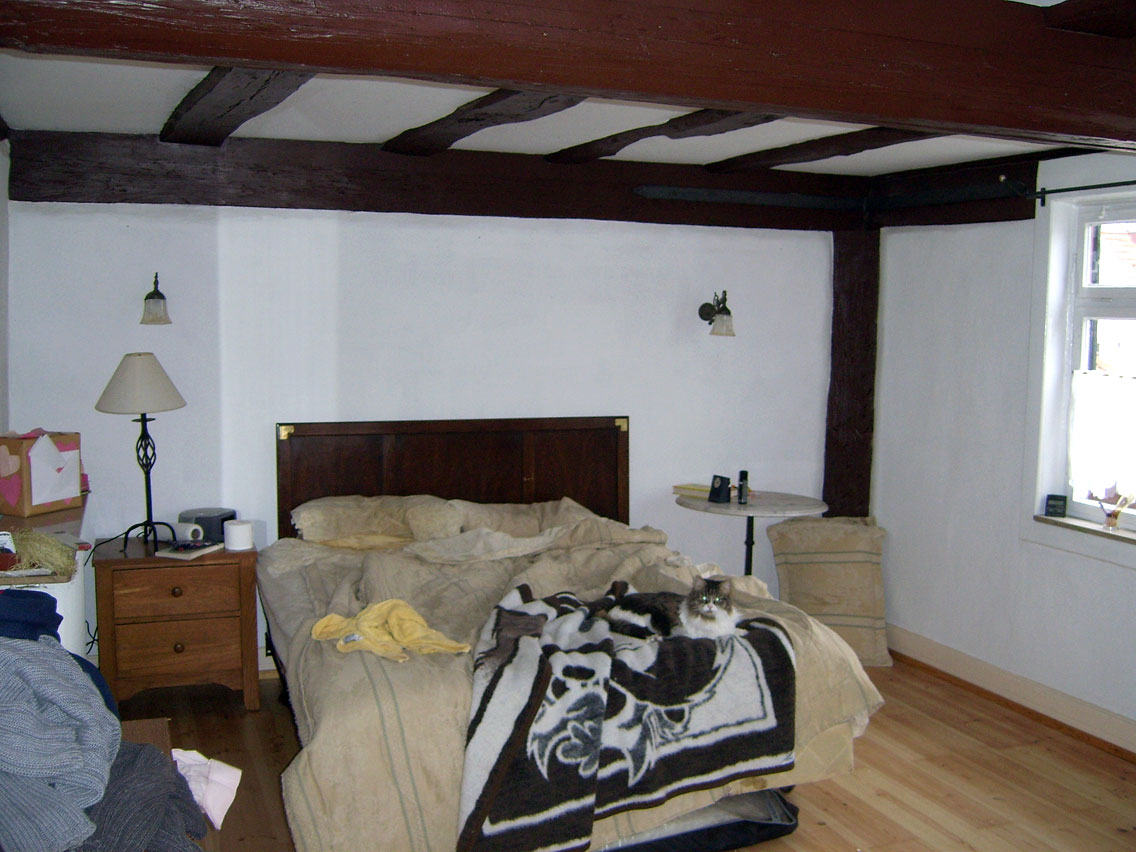 And looking in the other direction you see our IKEA KARLSKRONA chaise lounges that we've sat in all of, I don't know, 10 times in the 3+ years we've owned them. We bought them for the winter garden in our old rental house (where they were mostly just decoration) then moved them into our bedroom for lack of a better place. Now we'll have to see if we can't find something useful to do with them before they end up on eBay.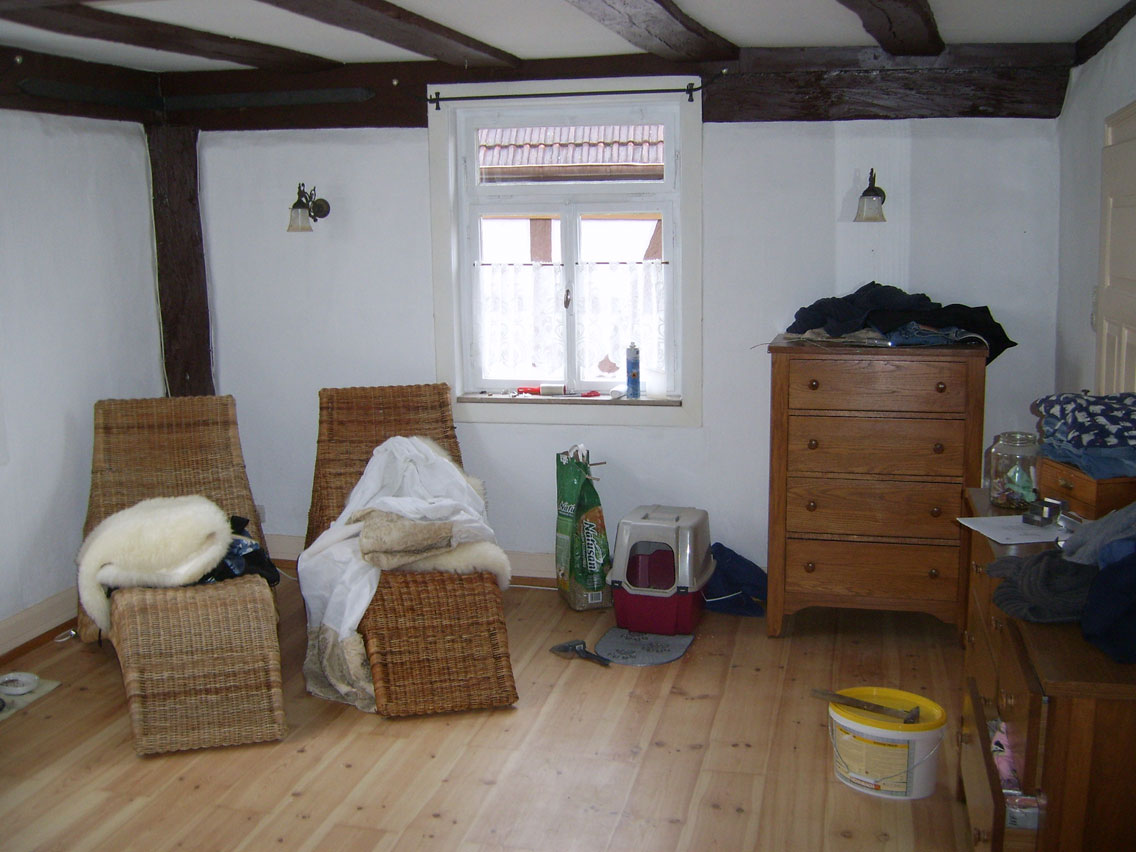 Here's another view of my dresser (covered in clothes as usual) and at the corner of the photo you can glimpse the white dresser which we stole from our guest house, along with the huge flat screen TV. Why? For starters, we rarely have guests out there and had some trouble getting the cable and such hooked up for that room. And the room really was a bit too small for all that furniture and such a gigantic TV.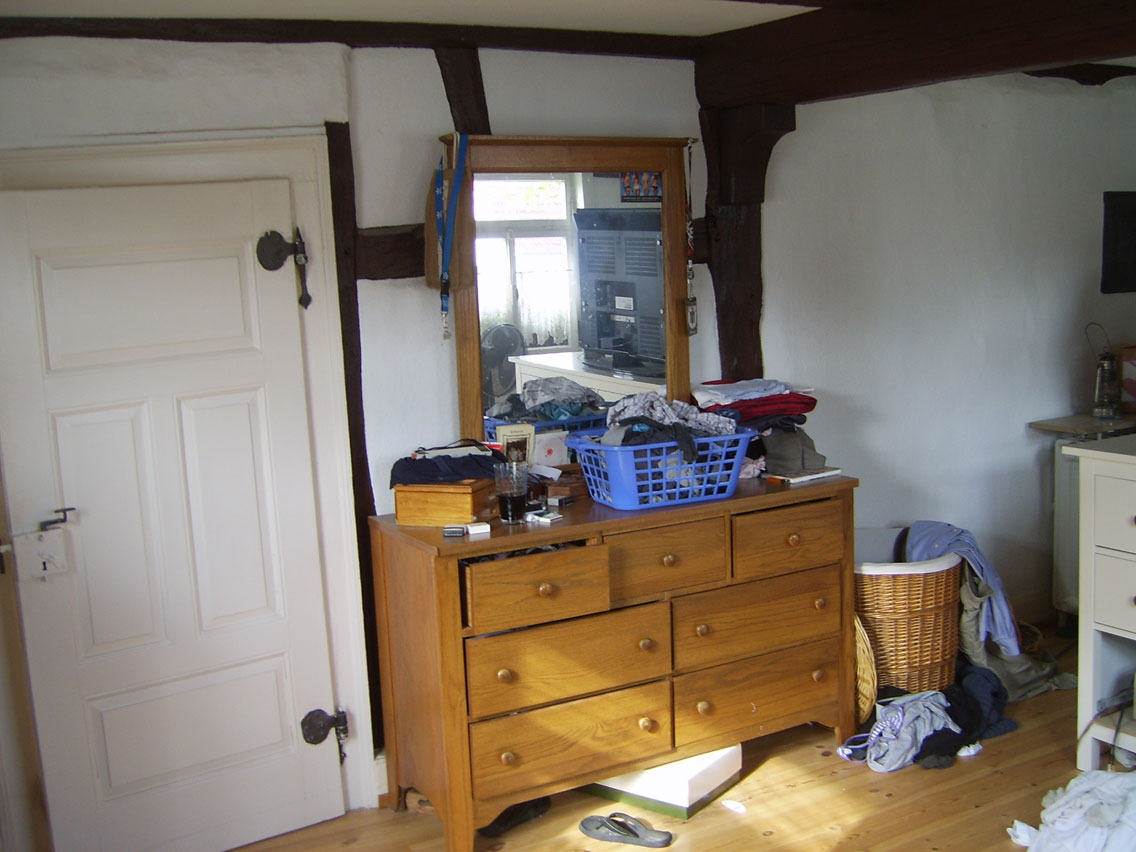 Now that you've seen just how sad it was looking in our bedroom, here is the new room!
Our wall of PAX closets from IKEA. We could have filled a couple more I think (especially me with my shoes which I am clearly going to need to go through) but this was all the wall permitted. We're very happy with the results, especially since going with white closets prevented the room from feeling any smaller.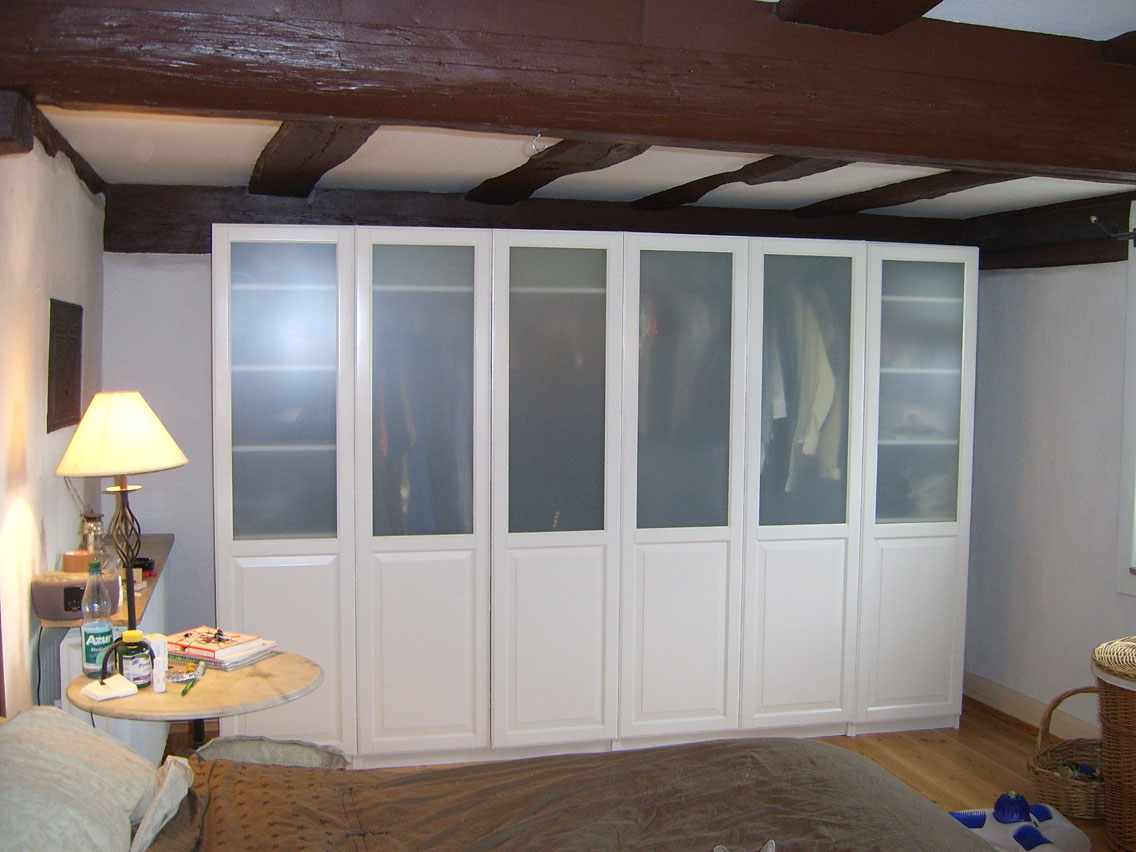 Now I know the room is not perfectly clean yet so please excuse the small bit of chaos still – but you have to admit it's a whole lot better than the before photos! Here's a glimpse of our tiny TV 🙂 …and we decided to corner the other dresser for now which gives us a whole lot of drawer space (a very good thing!)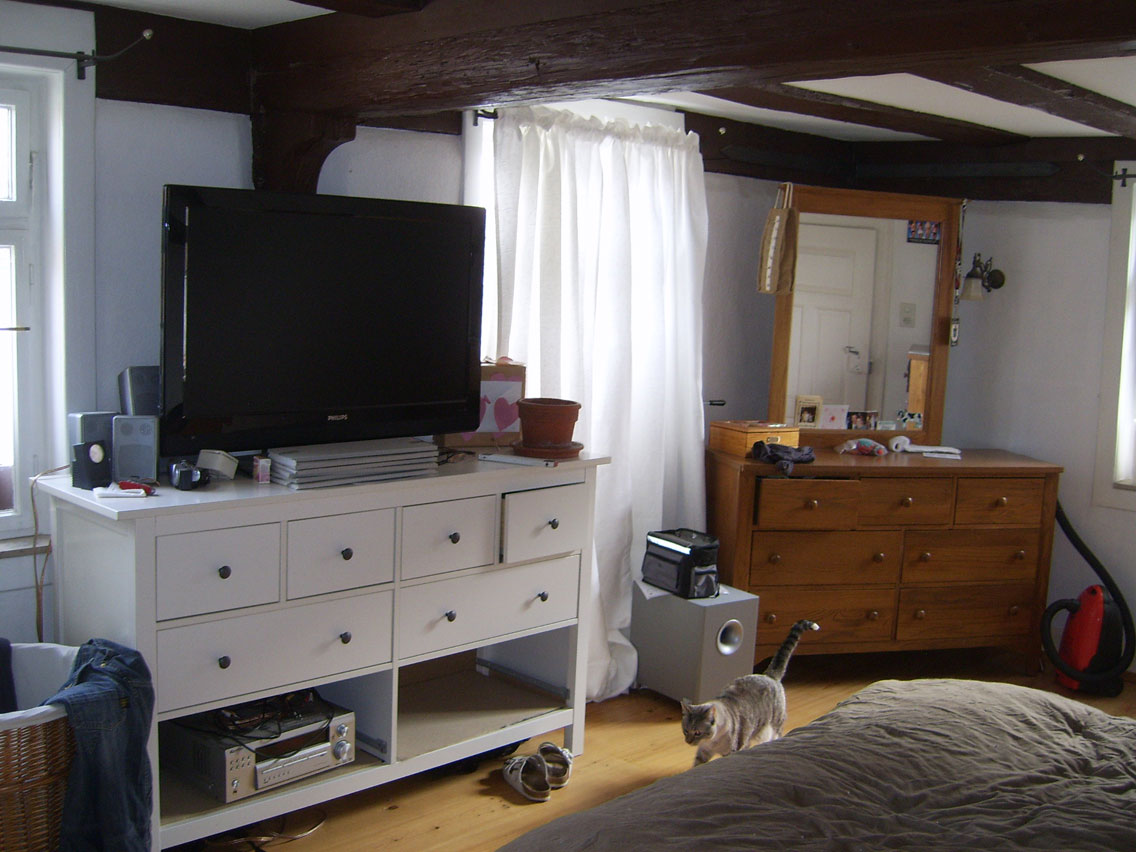 And if you continue to pan around the room, this is the final view of Stefan's dresser, the bed, etc. Now we just need to buy the rest of the drapes for this room and find a bit of art for the walls…and then we'll never want to leave the bed!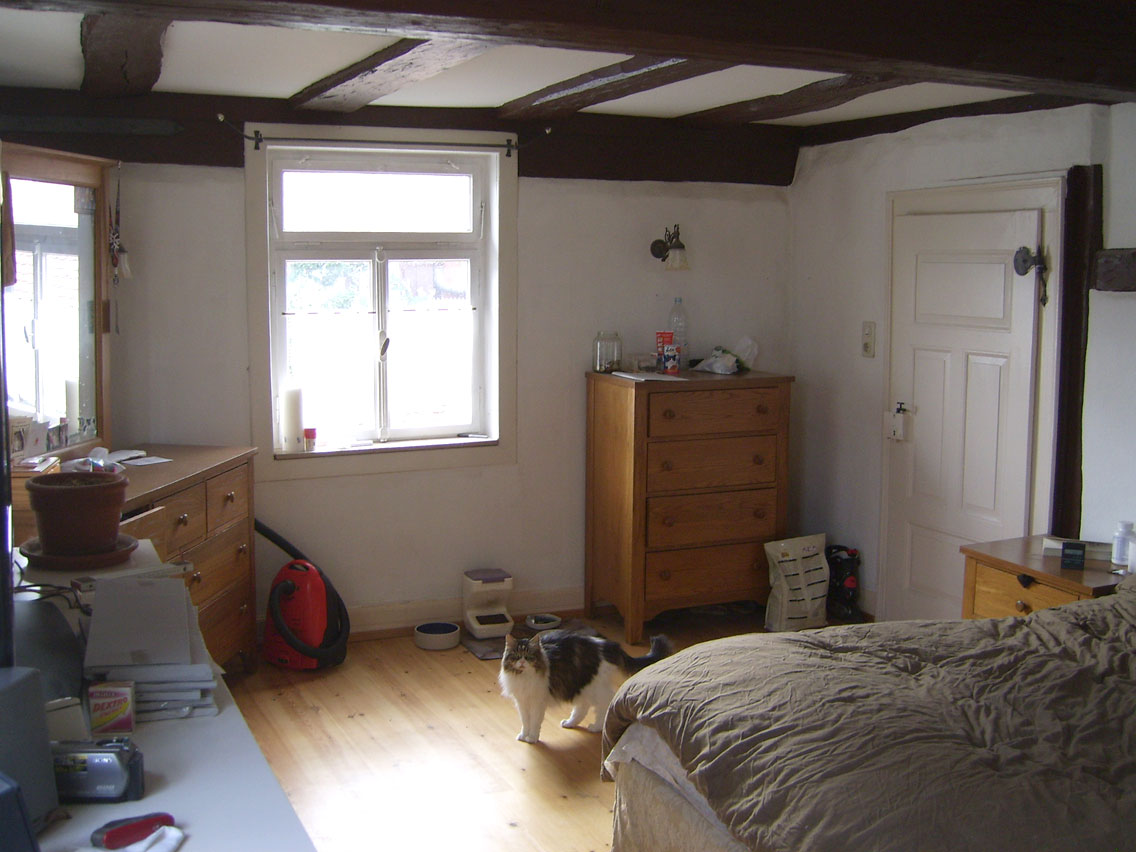 You may have glimpsed them in the two photos above but here are a few better pictures of the two kitties who let us share this room with them:
Princess (who is constantly plotting world domination)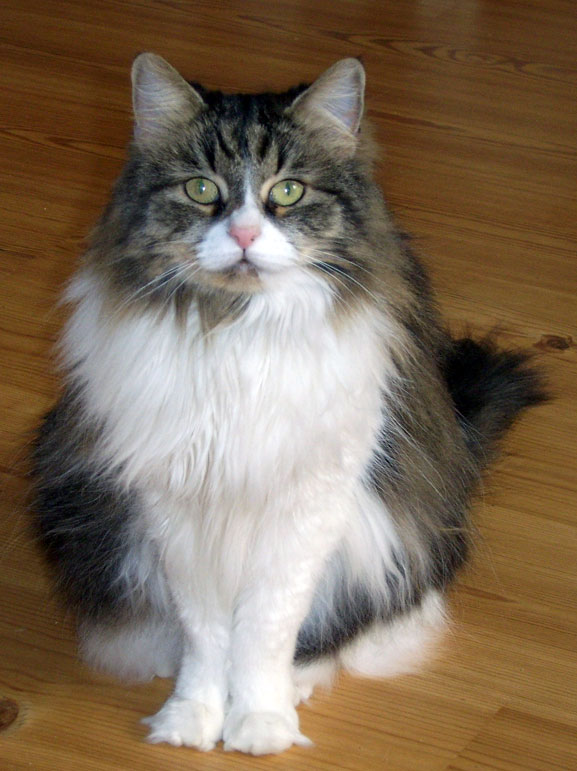 and Marilyn (who would follow along with Princess' plan if she understood it)
0