If you are already living a sustainable life or have aspirations of one day owning your own piece of land that you can live off of, I'm certain you've heard about The Encyclopedia of Country Living by Carla Emery. It is without a doubt one of the most comprehensive manuals for getting a basic understanding of many essential homesteading skills, like raising livestock of all shapes and sizes, how to garden and what to do with your harvest, how to rely on yourself for basic renovations and improvements around your farm and on your tools and so much more. When we first bought our farm 6 years ago, this was one of the first books I purchased because I heard so many great things about it.
This one-of-a-kind encyclopedia contains complete information about growing, processing, cooking and preserving homegrown foods that you get out of your garden, orchard, barn or field, regardless of whether you live in the country or not. Tested through the years, this book has become a reliable source of practical, step-by-step advice on being self-sufficiently skilled in cultivating gardens or any form of land, baking bread, raising farm animals, milking cows or goats and many other skills.
The 1st edition of the book was written in the 1960s but through the years it has undergone many revision and has been updated and expanded to become an exhaustive reference containing thousands of recipes and other very useful information. It contains the author's personal take on different things, advices, reflections, anecdotes and is very detailed and diverse making it of great use to households. And just this month, the 40th Anniversary edition of the Encyclopedia of Country Living was released! And I can't tell you how excited I am to be able to give you a copy of your very own!!!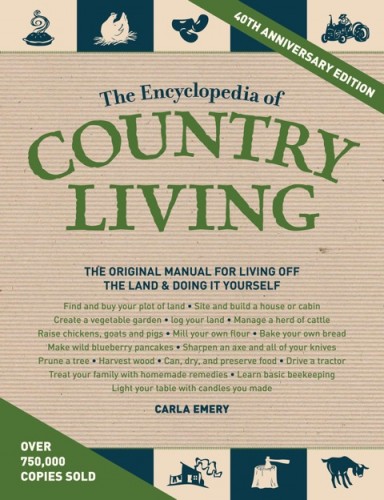 There is no denying that There is The Encyclopedia of Country Living is PACKED with wisdom. Just heaving up this huge book, which is nearly 1000 pages long, will show you that as well.  All the advice is given from real people who have been living the life you desire, and it's completely practical advice collected over decades, making it virtually invaluable. You might have an old grandmother- or grandfather-type person around who could share a  lot of this information with you as well — but you'd never get the same thoroughness as you do in this manual. It's a great book to just read through random sections when you have a bit of spare time and is a truly essential reference source.
As with many other books about homesteading, there are rarely options that are all encompassing and explain everything there is to know about everything. The author, Carla Emery, does a great job of getting you the really important data, though, and the rest you can pick up along the way or research further as needed. Because let's be honest; few of us are going to start renovating a house, start a 1/2-acre garden and introduce cows, pigs and chickens to their farm in one go. It's not only a huge risk for your farm, but also for your sanity. 😉
To gain further insight into the book, have a look at the Encyclopedia of Country Living Blog!
Now are you ready to win your own copy??
How to Enter
US & Canada residents only.
This giveaway is powered by Rafflecoptor. If you are confused about how to enter, please read this post, leave a comment with your questions or send me an email at tiffany at noordinaryhomestead.com.
0