With our moving deadline of July 17th drawing closer by the day, we have been scouring the apartment ads online for weeks now. If you've ever looked for a new place to live, you know it can get confusing, stressful and just downright crazy. Our plan is to see about 20 apartments in 2 1/2 days…so needless to say, things are going to get all jumbled in our brains really quickly. To be honest, I even have trouble keeping them separated in my head right now. And there's only about 10 of them that we're really focusing on.
Being that the analyst gene is deeply ingrained in Stefan, and we both have a mild case of OCD, we decided it was time to bring some organization to all the chaos and started putting things together in Excel & Evernote. We even went so far as to map them all out in Google Earth, then started adding a few key places nearby like farmers' markets so we had yet another way to analyze things.
Then we started getting really serious.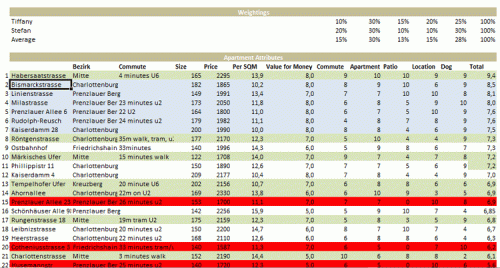 Excel came into play and we entered the basic information about all the apartments just to get an overview. Then we created several points we wanted to rank the apartments on, based on things that are important to us. Since virtually every corner in Berlin has a kindergarten on it, that didn't pop up on our list. But things like how we like the apartment overall, the location and what is around it (or how easy it is to get to places where life is happening since we'll mostly be going by foot or public transport), if there is a decent place to walk Ayla nearby, what the commute is like for Stefan, and so on. Then Stefan and I both gave the attributes weightings, based on what was most important to us.
So once that completely anal part of the sheet was complete, we went through each apartment and carefully looked at it's floor plan, photos online, Google maps info and any other thing we could gather about the places, and put gave a ranking from 1 to 10 for each of the attributes. And finally we calculated a value based upon the average of our weightings and all the attribute ranks combined. I guess we could have gotten really wild and done something to compare energy prices or other local costs. But most of the time, we had a "warm rent" cost in there (or a best guess when they didn't give an indication of what the rent is including heating and all side costs). So we figured that was good enough.
Oh yes, we are totally Monica and Chandler.
So that gave us a great list of apartments to make appointments for, which we knew would most likely fit our requirements. Obviously things may appear different in person, and we plan to take the spreadsheet with us on my laptop to make last minute adjustments.
But that didn't actually help us to remember much about what we'd actually be seeing or give us a place to make notes about what we'd seen and might still be interested in — to help us with the final decision.
And that's where our beloved Evernote steps in. First we made a general folder for our househunting trip. Then we made an overview itinerary which has information about our hotel stay, all the apartments we plant to see at what time, etc. We put the property listing details about every place we had an appointment for into it's own note in the househunting folder which included all the photos from the listing as well (viewing and copying the print-friendly version of the webpage usually works great for stuff like this). And of course, then each note for the listing is linked in the itinerary so it's easy to find.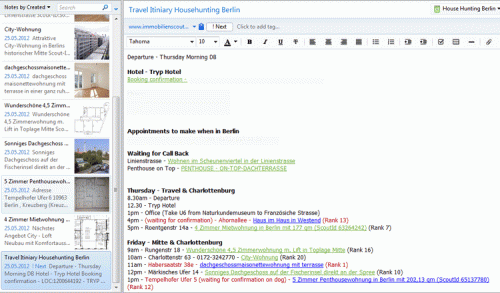 Now we can carry all the info we need to know about the places right on the iPad, make a few notes after each showing and by the end of the trip, and have a really good idea of what place we want to put under contract as our new home in Berlin. Some might think that all this is overkill since we're only going to be there for a few days. But basically we have to find an apartment during this trip that works for us because Stefan starts work on August 1st. So our goal is to make this quest as smooth and easy as possible so we can find the best place for us at the best price and with the best features. The only way to make sure that happens is to make and take detailed notes!
Do you have a proceedure when you go house hunting? Or something you just absolutely have to make sure that you have nearby in your new place? 
0