A little while back, I was approached by Skyhorse Publishing, regarding an opportunity to write a review of any book on their website. I have to admit, there were about 50 books I would love to read on their website, and it took me a lot of time to select one that I thought would be just right to review on NOH. In fact, after I received the book and started reading it, I don't think there is another book that would have been more perfect.
The Joy of Hobby Farming: Grow Food, Raise Animals, and Enjoy a Sustainable Life by Michael and Audrey Levatino is not your typical self-sufficient living handbook. It is specifically geared for those wanted to get started with a hobby farming lifestyle without getting too wrapped up in all overly technical stuff. That does not mean that the book is not full of details and helpful advice. It's just not a textbook manual as some sustainable living books try to be.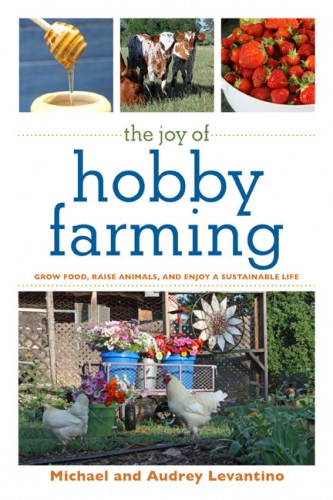 By now, you may be wondering what exactly a hobby farm is. Well, to put it simply, a hobby farm is farm where you "enjoy the bounty of the land without making economic demands on it (or yourself) that would degrade its natural sustainability." Essentially, you garden, raise livestock, keep bees, can, and so on, simply because you want to; not because you are trying to make a living from it. Of course being able to make some income from it to keep yourself going is a plus, and it's always worthwhile to contribute to your local economy. But you don't expect that your farming practices will be your sole source of income for many years to come.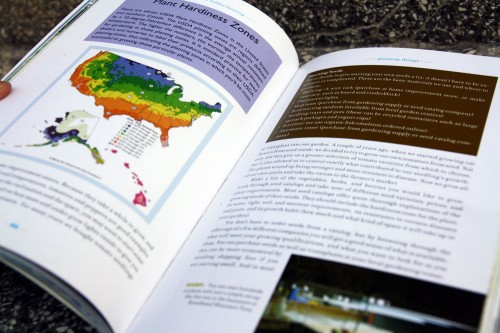 The Joy of Hobby Farming covers essentially all the major components of starting your own hobby farm, from how to select a piece of land, to building and maintaining the features you want on the land, purchasing basic farming equipment, starting your garden, caring for animals and creating a business from your overage. There is also a special section for growing a flower garden because that is actually the way the Levantino family partially supports their hobby farm.
What I really liked about this book was the compact format it is printed in, as well as the ample use of photos, subset text to educate you quickly and orderly layout of the book overall. The book doesn't go overboard with trying to explain things, because you and I both know that someone else has probably already been there and done that. They keep the gardening information to your basic crops but still give you plenty of information to allow you to get your hands dirty. There's also a nice collection of resources in the back.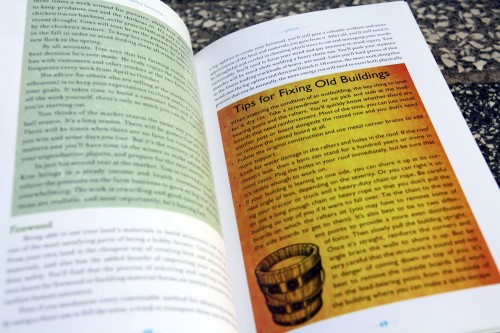 I really felt like the writers knew what they were talking about because they'd already been there and done that. I appreciated the images detailing how to do things like wood splitting (yeah, I pretty much knew that already) and cutting down a tree (I mostly would have figured that out — not that we plan on doing that anytime soon!)
If you're an experienced hobby farmer or have been living a sustainable life for many years, there's not much that this book is going to teach you. It's really more practical for the beginner, and especially for those who are just starting to look for their first piece of property to get their dream started. If you're looking for something to explain exactly how to go into business with your wares or on raising particular kinds of livestock, I'd recommend looking for blogs, articles and books which target those topics specifically.
I would recommend the book to anyone just getting started on this path of life who is serious about getting involved in their local farmers' market quickly as well as for the advice given about selecting land, equipment, building things and maintaining it all. It's entertaining to read and filled with colorful things to grab your attention, even if you don't have a lot of time to devote to reading a whole book right now.
If you want to learn more about The Joy of Hobby Farming pop over to Amazon where you can find a few scans of the interior pages. Or get a sneak peek into the book before you buy via the Levantino's website/blog, Ted's Last Stand.
 *Note: Some links included in this post are affiliate links and I will receive a few pennies off the sale of this book if you happen to buy via my Amazon link. I received a copy of this book for free to review, but all opinions expressed in this post are my own.