Although you may be blogging for fun and view it as a simple hobby, there are several reasons why bloggers have to think like small businesses to avoid problems and find success. From the tax implications to your public reputation, the way you approach your blog is crucial. You can improve your blog by adopting strategies from small business owners.
Your Blog's Income
There are 5.71 million small businesses in the U.S., and bloggers are part of this figure. If you earn money from your blog, then it is one of several factors that can categorize it as a business. Advertising is not the only source of money for most bloggers, so you do not want to forget about the review items and sponsored posts you receive.
Taxes and Your Blog
Although you want to consult your lawyer and accountant, NOLO points out that your blog may be considered a business for tax purposes. If you are blogging to make money, then you have a small business. In addition, you do not have to show a profit from your blog for it to meet the business requirements.
Many bloggers are shocked that their posts about dinner recipes and small advertising income can affect their taxes at the end of the year. Even if you think of your blog as a side hobby, the IRS may look at it differently. This is why it is crucial to track all of your expenses and income, so you are aware of the tax implications.
Public Awareness
Small businesses try to pay attention to every mention of their brand online or in print publications. They know that their reputation depends on monitoring the public's opinion. However, bloggers are often surprised to discover that other people are discussing them and shocked to learn that some of the comments are derogatory. Unfortunately, your reputation online can be destroyed quickly, so as a blogger you cannot afford to ignore it.
There are multiple tools you can use to keep track of your blog and who mentions it online. You can use IFTTT to set up alerts, or sign up for Google Alerts to track specific blog posts and names. Mention is another option that helps you find who is discussing you on social media and other parts of the web.
Blog Success
Each blogger measures success in a different way, but thinking of your blog as a business helps the process. Successful bloggers cultivate relationships, track their spending and create realistic goals. Likewise, small businesses follow the same steps and focus on finding a balance between their dreams and their audience's needs. Bloggers and small business owners understand that patience and persistence are key components of success.
Blogging can be a profitable and fun adventure, but you will have an easier journey if you think of your blog as a business. You will be able to make smart decisions that sustain your blog and help it grow while enjoying its success.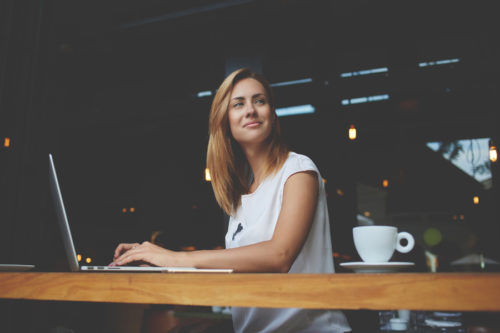 0