Yesterday, the last day of 2012, was the 37th Berliner Silvesterlauf aka "Der Pfannkuchenlauf". This New Year's Eve run was hosted by SCC Events (as was the cross country run) and it was an interesting one (to say the least.)
This is what the 9.9km track looked like: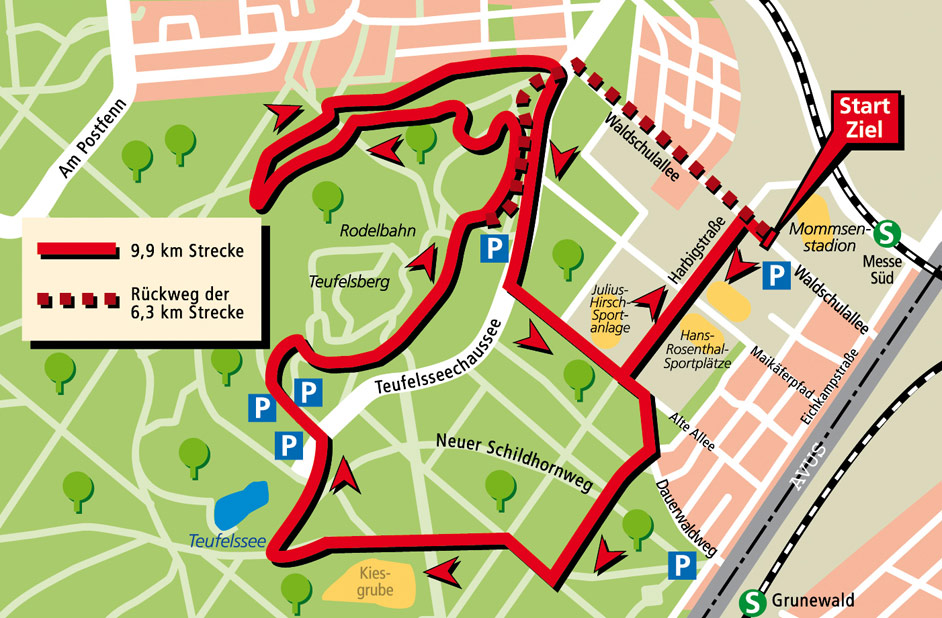 Unfortunately, they didn't quite tell us that we'd be looking at an elevation change of about 170 meters. And for Stefan and myself, who typically run with 0-3 meters elevation change, that was a huge deal. 🙂
Race day was a bit windy but about 50 degrees F so definitely warmer than we thought it might end up being. Apparently two years ago it was very cold and icy, which would have been extremely unpleasant and demoralizing for a race of this length. I decided to wear my new running jacket which has a light fleece backing and is great at stopping wind – along with my lighter weight pants. I had on a short-sleeved asics shirt (also a Christmas present) underneath. It's a pretty good combination for that sort of weather when you're running flat — but up these hills, the sweat was pouring off of me.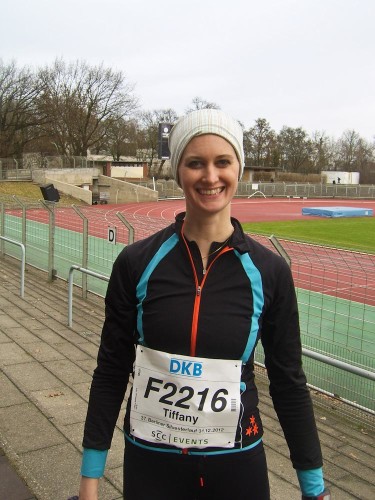 Nerves were a bit high before the race, but with about 1,000 people running our 10k race, there was a great energy in the air. The sports "Verein" (club) that organizes these events usually does a rather good job, and this particular event was held where they seem to have their actual headquarters in the area, so it was a rather nice facility. Behind the main building was a real track for running laps (which I think is actually open to the public much of the time) and there were full shower and locker room facilities to change in after the race. That was immensely better than the shower tent and port-a-potties at the last event in the woods. 🙂
Just beside the start/finish spot (in a large parking lot), there is a big building and the track is located behind it. Through the building and on the track is where you could pick up your starting numbers. I'm mentioning it because things weren't very well labeled and if/when we run this again, it's useful to know!
Unfortunately, the website failed to mention that parking here is a beast if you arrive less than an hour before the race — but if you hang a right before the s bahn station (basically the first right off the main street when you head toward the event), you may find some free spaces available!
The race was tough and basically took us up and down the Teufelsberg  (which means Devil's Mountain in German). It's one of the highest points around Berlin, which is otherwise a very flat city, and the mountain is a huge pile of rubble on top of Nazi military college that the Allied Forces couldn't manage to blow up. (Check out the wikipedia article for more on that.)
Everything started off ok in the run… until about 3 km in… when the real hill climbing started. We climbed up about 80m (262 ft) in 1km. And then there was a fairly steep decent, which I really should have let myself run down faster to use up the momentum of the hill instead of breaking. Especially when I discovered there was another hill coming up that was about 50 meters high. And then nearly another 5 km to run. Ugh and double ugh.

It was rough. I didn't even read up much on hill running before we went either, so I am definitely going to put some focus into that soon as well.
I do wish that the distances on the race had been marked more clearly. I was running with Stefan's Garmin watch so I was able to see exactly how much further I had to go. But otherwise, it would have been agonizing to have no idea where we were along this unknown track.
But I loved that there were people running that were dressed up in all sorts of crazy costumes. It really made it fun to pick out your pacemakers in a crowd of clowns, Red Riding Hood, and guys in tuxedos.
The finish felt awesome — and it was definitely a great challenge. I would actually look forward to running it again (call me crazy) but with more hill training beforehand. The area is actually quite nice, and I think we could have some fun family picnics out there…combined with some hill training of course. 😉
My final time was 1 hour 2 minutes and 24 seconds. I finished 24th in my age bracket, which was just about in the middle. We had been shooting for a time under 1 hour — but we neglected to account for the terrain. So we still did well in the end.
At the end of the race, everyone was given a "Pfannkuchen" or Krapfen/Berliner — which is  jelly-filled donut. Hence the name of the run. It's kinda funny because outside of Berlin, a "Pfannkuchen is actually what Americans call a pancake. But here, pancakes are instead called "Eierküchen". At any rate, our friend who was also running the race said the Pfannkuchen weren't all that good so we skipped it and bought donuts at Dunkin Donuts today instead. 😉
What we learned at this race
Check out the track before you race — We learned this last time already but still failed to actually do it since it was cold and rather wet on the day we had planned to run out there. If we had done so, we would have know that there would be some serious hills and we were going to get our butts kicked a bit by them.
Train for various types of terrain on a regular basis — After these last two races, it's become apparent that training for many different elements of a race is never a bad idea. We're going to start adding in runs on this particular hill about once a month in the future when the weather is nice because it's fairly close to our apartment here in Berlin.
We need a pre-race checklist — We forgot our power gel, didn't put on chapstick and were just otherwise a bit disorganized right before we started this race. I think it had something to do with the fact that it took a while to find a parking space so we were a bit short on time. But for exactly that reason, it would have been smart to know that we had everything ready to go.
The next schedule run
The next run that we are signed up for is the 33rd Berlin Half-Marathon on April 7th. It is one of two half-marathons that we are running in 2013.
I have to say that I am still a little bit scared about the first half-marathon. I know it's only 21 kilometers and I've run nearly 13km at once as part of our usual training runs…and it will actually be on a flat surface for a change which will actually correspond with the training we do on a regular basis. Which should make it a dream. But the distance still intimidates me a bit at times. But I know that once we get on with our training of running 4 times a week, those fears are likely going to subside quickly.