The Oktoberfest is a big deal for most people in Germany, especially those living in Bavaria. We unfortunately don't live in Bavaria but it's still a big deal to us. The first year I had the privilege of attending was in 2000 when Stefan and I flew over from Miami for a four day weekend. It sounds a bit crazy but it was totally worth it. And we continued going year after year until 2005 when other things started to make it hard for us to go. First came Ayla, then the farm, and now Mackenzie…but she is actually one of the main reasons that we got ourselves to go back this year. Every little half-Bavarian girl should attend her first Oktoberfest as early as possible. She's already got the right dress and everything!
We already had plans to be in Bavaria during the first weekend of Oktoberfest so we arranged to leave Ayla with Stefan's parents on Sunday. For practical reasons, dogs are not allowed at Oktoberfest. I would love to take her to one of the outdoor seating areas sometime just to watch the people going crazy over her, but that's just not going to happen any time soon.
The Sunday of the first Oktoberfest weekend also happens to be the tracht parade when hundreds of people march along the streets of Munich in their finest traditional attire. Clubs are formed for each style and many of the groups wear styles that date back hundreds of years. Not only are the outfits themselves expensive but they also accessorize with hundreds and even thousands of Euros worth of hats, knives, jewelry and other trinkets. You might think to yourself that it sounds like a pointless and expensive hobby but these people are preserving a little part of history.
So since the parade was going on when we expected to arrive, we decided to take advantage of the Park & Ride system from the FC Bayern Allianz stadium. We bought a daily ticket for the three of us for the public transportation system (subway, trams, buses) for just €9 and only paid €1 for parking. Not a bad deal at all and it was only about 20 minutes by subway to the gates of Oktoberfest (with one change in the middle). It was Mackenzie's first ride on the subway outside of my stomach and she seemed to enjoy it.
Oktoberfest had 5.7 million visitors this year, slightly less than the 6 million they were expecting. But they did manage to sell 6.5 million liters of beer so that should be some consolation. Despite the incredibly great weather all during Oktoberfest (which usually would have made attendance records soar), many people didn't attend the event because of increased security and terrorist threats that abounded. They even went so far as to close off the airspace around Munich and would not let any cars or trucks near the fairgrounds that didn't belong to residents. Apparently the final weekend of Oktoberfest was so empty that one could get tables in almost all of the beer tents with hardly any wait. Let me assure you that most people reserve tables a year in advance so being able to walk up to the doors of a tent and get a table in the reserved section truly is something special.
I have to admit that police presence was very apparent even during the first weekend before all the warnings had really come out. Figures say there were 450 police on patrol at Oktoberfest. It somehow seems like a small amount when you're talking about hundreds of thousands of people wandering around the fairgrounds but each of the tents also had a force of security guards who were making sure people stayed in line. Despite the seemingly low number, there was seldom a time when we couldn't see police as we were walking around.
So let's get on with the happy stuff! As we were making our initial pass through the fairgrounds, we got to see the Paulaner Clydesdales. I don't think I've ever seen horses as big as those. The pictures really don't do them justice. Each foot is bigger than a human head…they're just monsterous. And just 6 horses can pull this cart which is loaded with about 30 kegs of beer. I suppose they could just be empty kegs for show, but I kinda doubt it.
Most of the tents at Oktoberfest look like old houses or have a classic feeling to them, except for this thing which is without a doubt the biggest eyesore of Wies'n. They sell pastries and Kaiserschmarrn (a bit like a funnel cake) so I see where they were going with the gingerbread castle…but ick. I don't think anyone but the tourists would be seen in this place, regardless of how good the food is.
We decided to take Mackenzie to our favorite tent, Fischer Vroni, because it is also one of the smallest and most family friendly tents. It only holds about 2700 people (the larger ones hold about 6000) and they have very good security personelle. The security guys are extremely professional and somehow manage to keep an eye on everything even though there are only about 10 of them on the floor at a time.
Fischer Vroni literally means Fisherman Vroni (Vroni being the last name of a person) and you may notice that the stage in the picture below is shaped like the front of a boat. This tent is special because they serve smoked fish on a stick (mackerel, salmon trout, sea bass) among other fish specialties. We were sitting about in the middle of the tent so you can see that it's really not all that large.
In the spirit of Oktoberfest, you will always find something interesting going on if you look around you. While we were sitting and having a beer, this guy popped up in the middle of the crowd. It's hard to see but he was actually standing on a beer bench which his friends lifted into the air. Somehow he managed to remain standing while they lifted him, he chugged about 500ml of beer and then they lowered him down again. Pretty impressive really.
Here you can see to the back of the tent from where we were sitting. As I said, not a huge tent. Mackenzie seemed to have a great time and she was definitely the youngest kid I saw in the tent while we were there. You get mixed reactions when you take a baby to an event like this, especially in the beer tents. There were plenty of people walking around outside with small babies in strollers. But I guess some people feel small children do not belong in beer tents, regardless of whether they have their own kids with them under 5 or what time of day it is. A couple with their son who was maybe 4 years old at a neighboring table scowled at us for about 30 minutes before they left the tent. Perhaps it would have been more rewarding for them if they'd come over to express their concern.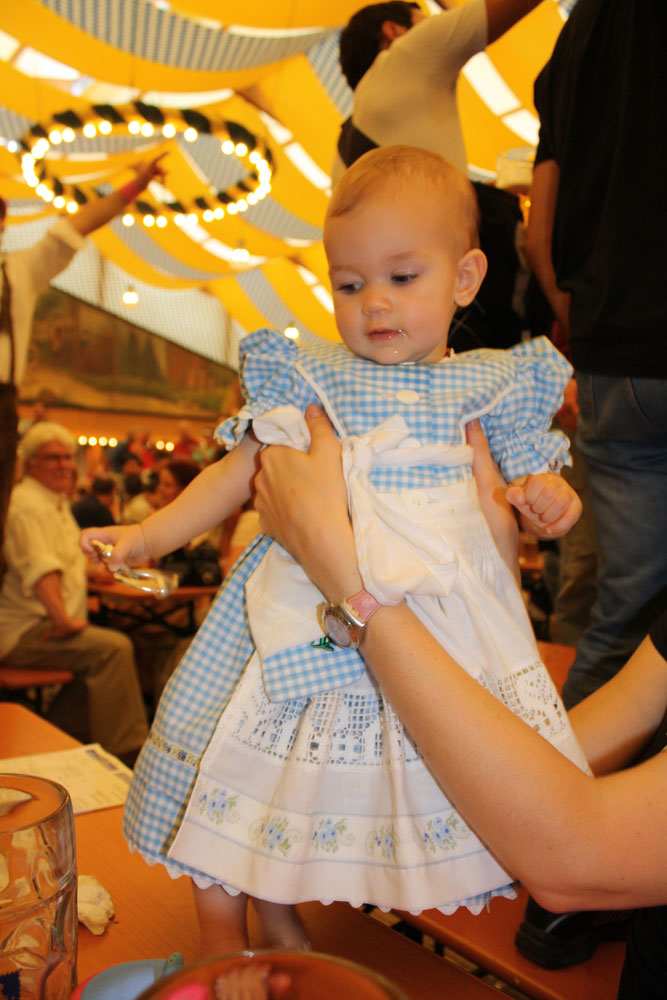 It's not that I don't see the safety concerns for small children in these tents. People start drinking, they fall off of benches, vomit all over the place, recreational drugs appear, things just get out of hand. I've been in the tents after 6pm, I know first hand how crazy things get when the beer is flowing like wine. And if a parent chooses to drink themselves into a stupor and turns their back on their child for just a few moments, huge disasters can occur. We're talking about toddlers being trampled or crushed, consuming alcohol, and otherwise wandering aimlessly around Oktoberfest which doesn't seem safe in any way.
To show just how great the security in this tent is, and how well they watch over things, at about 5:30pm the guards were making their rounds and they noticed us sitting there with Mackenzie. One of the guards mentioned that it was getting late and we would need to leave with her. Since we had recently ordered beers and already planned to leave as soon as we were finished with them, the guard told us it was no problem as long as we were gone by 6pm. A few minutes later, a second group of guards came through and apparently they hadn't gotten the memo yet that we were ok. So one of them started to do his best to kick us out immediately despite our arguments that we were leaving in less than 30 minutes anyway. The head guard came over (describing him that way makes it sound like we were in prison but these guys could hold their own as a prison guards, no doubt about that) and told the guys that we were indeed ok to remain there until 6. And after that discussion, none of the other guards even remotely looked in our direction as they walked around because they'd clearly already gotten the memo. Every year we've been in that tent we've been impressed with their level headed and efficient guards. They are by far one of the most organized tents at Oktoberfest–which is why we keep going back.
After our departure from Fischer Vroni, we were starved so we went over to the Ochsenbraterei (the Ox Roaster I guess it would translate to). If you're craving ox meat, this is the place to be. This year they sold the meat of 110 oxen over the course of Oktoberfest. That's a lot of meat! Below is a photo I shot as we walked through the tent (whose security did not bat an eye about us having a small child). Perhaps you can tell that it's a much larger tent than Fischer Vroni ands seats about 5900 people.
We were after the famed ox sandwiches which I somehow have never had before. I guess we were more concerned with some of the other delicious foods you can get at Oktoberfest (such as those smoked fish on a stick I was talking about before–YUM!) Let me just say that these sandwiches are melt-in-your-mouth good. It's a bit like a pulled pork sandwich but the rolls are just heaven…and the sauce–just perfect.
I'm already looking forward to next year and hope we'll be able to squeeze in another visit to start our Oktoberfest tradition once again. We have a mini-beer stein from almost every year we've attended and hang them on our Christmas tree every year with all the other goodies we've collected on our journeys. It's a great way to remember all the great times we've had as a family.