About 6 months ago, I was thrilled to get a brand new Doxie One scanner. If you are not familiar with them, they are totally cute, super portable scanners that have revolutionized the way I think about paper and living my life without it. In fact, where we were in the middle of our move, one of the pieces of office equipment that I felt was absolutely essential to keep with me and carry in my suitcase was our Doxie scanner.
The fact of the matter is that I really dislike paper. Yes, there are always going to be times when you need to have hard copies of things. But for the most part, you don't need the paper that comes into your life on a daily basis. Whether it's business cards, magazine or newspaper articles, party invitations, Mackenzie's artwork or whatever. It all piles up and then starts floating around your home. Plus it become really hard to sort through and organize…and it seems like I can never find the things I need quickly enough. So which is why using my Doxie scanner and Evernote together just totally rocks.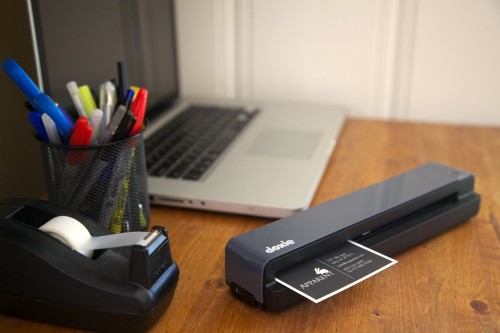 The Doxie One makes it really easy to scan in any and all types of flat paper — and one of my favorite features is that it recognizes how big the paper is, so you don't need to crop all the scans down later. There is also a great Doxie application for your computer, which allows you to import all of your scans by connecting to your Doxie via a USB cable, or just pulling out the SD card and sticking it in your card reader in your PC or laptop.
The Doxie app also has a staple feature, so you can select the items you want to bundle together into a single PDF or series of images, and then save it immediately within seconds. It's way more practical than the scanning I used to do with our big flatbed scanner which got to be a bit cumbersome with resizing images, creating bundles of files and so forth. The app also lets you trim scans if you end up with a bit of black on one side of the other or rotate the image slightly if it is a bit crooked.
The Doxie One can even handle being dropped on the floor from the desk…multiple times. I found that out thanks to Ayla pulling it down by the cord. Twice. That dog just has no control over her tail whatsoever. And apparently, even after 7 years, I still don't always completely think through how beastly she is and what she might be able to destroy.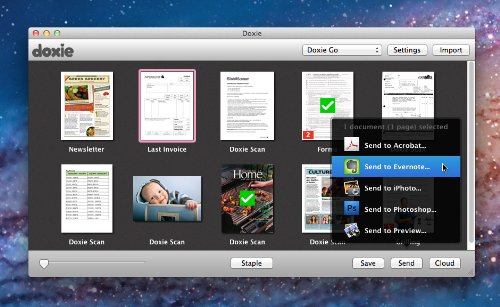 The downfalls are that you have to feed in paper one sheet at a time and you can't scan oversized pieces of paper…but if you have a child, it's likely that they will LOVE feeding in the paper. Which then makes scanning and going paperless a family affair which is fun!
For an extra cool, super easy wireless option, also check out the Doxie Go. With it's integrated wireless feature, you can use an Eye-Fi Memory Card and never even need to connect your Doxie or memory card to a computer. You can send everything directly to Evernote if you life.
So if you are considering getting a scanner to help eliminate paper in your life, it's a great option. I'm not even kidding — I don't have a filing cabinet anymore and only one small desk drawer that holds all our paperwork. And it is amazingly liberating. Then one you have all your old papers scanned (believe me, that can take a while), all you need to do is scan about once a week and you'll stay caught up and (mostly) paper free!
Feel free to visit my disclosure page if you have questions about this post or any other posts on NOH.