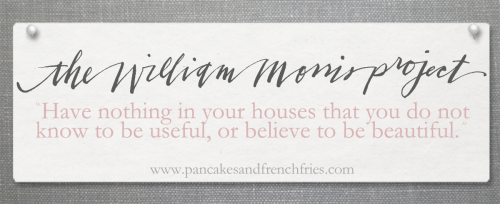 I feel like I've written this post before. And in fact, when I looked back at the archives of NOH, I realized that I have talked about getting rid of stacks of books twice already — and once put it on my To Do list right here on the blog. So apparently we have a book problem around here. Or at least used to!
I'm fairly sure that at this point, we have managed to get rid of several hundred books. As with most things in life, we didn't get as much money out of the books as we paid for them. But we're happy that we got something for many of them (more than expected in many cases) and thrilled that we won't be lugging them around with us anymore. Some of them have been with us for many, many years, and many moves, and generally have never been opened. So it was more than time to let go of many of these books.
Like the ones with all the bartender recipes. Seriously, we have used them about 5 times. And if we do decide to mix a drink we don't know the recipe for (a VERY rare occasion) we go to Google. Are we ever going to be like Tom Cruise in Cocktail with our shaker skills? Definitely not. But I can tell you where to go here in Berlin if you want to pick up skills like that (they actually trained the guys for the movie) — or just drink some deliciously killer cocktails!
At any rate, here's my new system on how to get rid of books:
Put books in a bookshelf (or stack/box/whatever) that you walk by at least once daily.
When you walk by, take a moment to pause and look at the books.
Remove any books you think you'll never read again, are totally outdated or that you can't remember why you got it in the first place. Place in a discard stack or box.
Keep doing this for at least two weeks.
Analyze the books you have left. Are there any that you might prefer having as an ebook? Or that might have an update out by now and likely would be more beneficial with that info? (Business and marketing books are especially time critical, for example).
If yes, go find the ebook version of the book and download it. Then toss the paper book in your discard stack.
Take discarded books and see if you can get money for them online. My favorite sites in Germany are Momox (also accepts DVD's, CD's, video games, old phones and more) and BuchMaxe (takes DVD's and CD's also). Find a box, pack up the books they want and let someone come pick it up from you (I love that part since it's so low hassle.)
For anything you can't get money for, find another way to recycle it. DO NOT TAKE IT BACK INTO YOUR SHELF! 😉
Now as I mentioned before, we have done this a few times. And contrary to point 8 above, we did not get rid of all the books we discarded. Most of them we discarded — but a few we hung on to. Interestingly enough, some of the books that we had been looked up in the past which weren't being accepted then, were now interesting and we got a few bucks for them. But this was definitely not true for the majority of them and I don't recommend keeping a pile of books around just for the "what if" happens and they want to pay you 10 cents for the book.
Here's a quick glimpse of the stacks of books we purged in this round: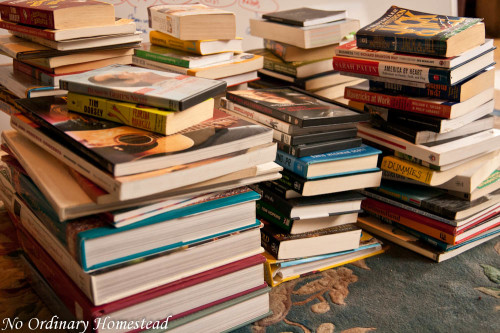 And everything that couldn't be sold? It found its way to the curb. You may have seen me post this on the NOH Facebook page recently. Since we're in the city and there is always a lot of foot traffic around here, we piled a bunch of the books into an old laundry basket and set it downstairs. It's incredible how quickly things disappear that are interesting. Unfortunately, someone apparently couldn't read too well and ended up taking the laundry basket after a few days of us putting random things downstairs (not just books — our neighbors either love us or hate us.) So now we're back to just using boxes, which also tend to disappear at times.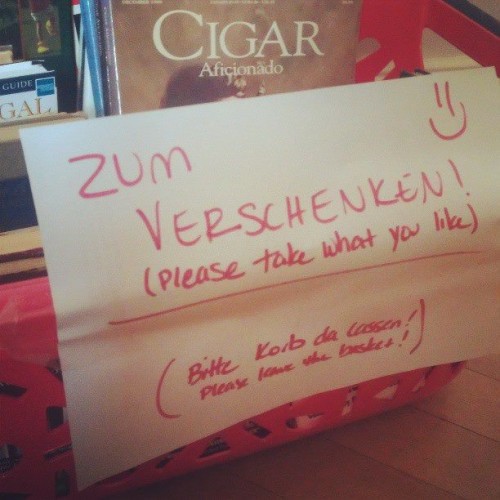 In certain parts of Berlin (mostly in the East I think) there are actually some old phone booths that are no longer in operation and they have been converted to book drop zones. There are also organizations like Der Berliner Büchertisch that will accept donations of books and supposedly don't sell them but give them away via various channels.
In your own area, you can also try hospitals, senior care facilities, schools, local coffee shops and other similar locations to see if they might want some of your old books.
Do be careful when packing up your books, though. Sometimes things sneak into the boxes that you DON'T want to get rid of.
Like small children. 😉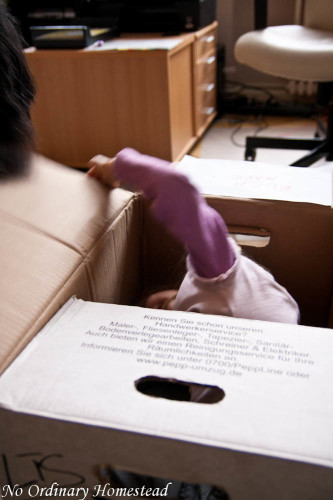 And do you know what I'm now left with in my hallway???
A completely empty bookshelf. It feels AWESOME to have one of those.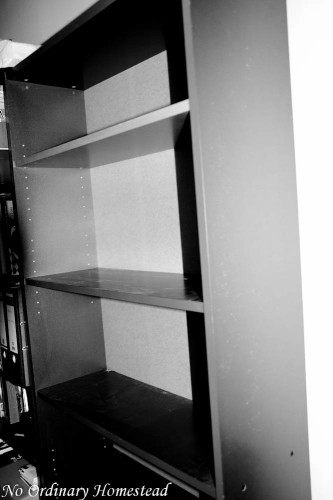 But it will be finding its way to Freecycle in the very new future. Because the last thing I want to do right now is fill it back up with stuff that we apparently don't need…otherwise it wouldn't still be sitting in a box, waiting to be unpacked!
The next two things to tackle….DVD collection and CD's. Those are going to get interesting…
When is the last time you had a book purging? Or are there other things in your home you need to declutter first?