About a year ago, I hosted the Made in Germany giveaway here in NOH. It was a pretty huge event with tons of cool prizes, and one of them was from the German firm, kiddy, which makes the car seat that saved Mack's life and some really cool strollers. So when the company offered me a stroller while I was visiting their HQ in Hof, I jumped at the chance. We still have Mack's first stroller, which was a cool jogger that has held up through the worst of weather (even though it's not the prettiest thing anymore), and had been considering getting something a bit more presentable for trips out and about…so this was just perfect.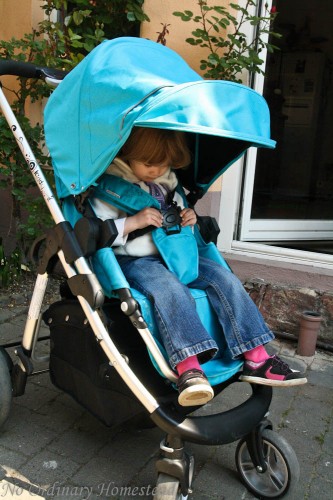 I'm not the type to use something once and then figure I can write a thorough review of it. So I wanted to make sure I really had some road time under our belts with this stroller. We've used it at least once or twice a week for little jaunts around town over the past year. And for that amount of use, it's help up really well.
The kiddy click n move stroller is way more sleek and trendy than our old jogger (which I really must review one day), and also has a rather hefty retail price to match. Although I agree that there are some things in life worth spending a small fortune on, I find it pretty hard to swallow a $500 retail price on a stroller that I may get 3 or 4 years of use from (if I'm lucky). Thankfully, you can usually get them for $200-250 on amazon, which I find a lot more tolerable…but it's still nearly double what we paid for the jogger.
What I really like about the kiddy click n move
Mackenzie loves it and seems to find it very comfortable — She has a great liking for both of our strollers, but there are times when she specifically asks for this one. I think she finds is very comfortable, despite the fact that I don't have it reclining like our jogger (which doesn't actually let you sit perfectly upright at all).
It's great for cruising around the city — This is a really city-friendly stroller that can be manuevered quite well in the city…although it does jolt you a bit if you just try to cruise up onto curbs. (see more about that below)
Hardcore harness — Your child will feel very safe and secure in this padded harness because Mack totally goes nuts if I just tell her we'll leave it off while we pop down the road for a sec. But I also feel that you can't have a child ride in here without closing the harness at least halfway, because the seating is a bit more shallow than others strollers.
Nice looking design — This stroller looks very similar to some of other high end brands and I think the quality of it is really good.
Cool colors — Unfortunately, they seem to have phased out a lot of the super bold and bright colors they were offering when I got this stroller. But there was lime green, candy apple red, the turquoise I have and a few other bright ones that really improve your mood just looking at them.
The integrated hood is really practical — I like that the hood can be attached to the back seat of the stroller and be brought most of the way forward

Lots of little extras part of this stroller — The foot bag to keep kids warm and the mega hood I was talking about are standard in this. There is also an armrest sort of thing that goes across the front but we've never used it.
We love the peephole in the hood — It's perfect to checking to see what your child is doing without stopping and leaning around…plus it can be a very fun game of peekaboo since it has magnets which help it to close on it own once you flap it back in place.
Integrates seamlessly with your kiddy infant car seat or carry cot — We had the same sort of feature for our jogger & infant car seat and it's a feature that I think kiddy did really nicely on with this stroller, because the carrier fits so well into the stroller frame.
What I don't like so much about the kiddy click n move
There's no cupholders or tray for the kiddo — For some people this won't be a deal breaker at all, but I'd grown so used to having places to stash things, or a place for Mack to set down a cup of fruits or veggies while we walked, that I really miss those when we take this stroller. But it does have a nice roomy cargo space down in the bottom of the cart with a zipper closure which I like.

It doesn't do so well in off-road terrain — The wheels are standard hard plastic (vs inflatable tires like a small bicycle on our jogger) and there is no comparison for the two when walking the bumping dirt paths around here. This stroller really just wasn't built for that sort of torture, and while you will be able to get down the path, it's just not ideal nor does it seem comfortable for the child.
It's really only meant for kids 3 and under (or they have to be pretty short) — Mackenzie is not short by any means but I've been noticing in the last month or two that her head now touches the inside of the hood when it's all the way open. So even though we like this stroller (and she's been super lazy about walking anywhere lately), this will probably be the first stroller to leave our house.
Not something I would lug around in my car — The Click n Move is not what I would consider to be compact or lightweight, at least not like those tiny umbrella strollers that you buy for $50 or less. Granted, an umbrella stroller holds few things aside from your child — but it can also be carried with one hand and stashed quickly in your car. The Click n Move is just not that kind of stroller, IMO, even though they promote it that way on the website.
The foot rest is a bit wonky — There are supposed to be 7 different positions for the foot rest, but for a bigger kid, none of them seem very useful. Mack's legs now totally hang down (which you can see in the first photo also, taken last May) but I do like the fact that it's covered in heavy duty plastic to make it easier to clean.

It was a bit tricky to put together — Even though we speak German, the manual to put this stroller together was lacking. We looked at both the German and English texts and were kinda stumped by some things. There is a little bit of assembly required; it's not just an open the box and pull the stroller into usable position…but you also don't have to put together every screw and spring either.
We have huge issues folding it together and setting it back up — I'm not sure if this is something they have remedied in newer versions or if it applies to the Sport n Move also, but getting this thing to fold up is a huge pain in the butt. I have no clue how one person is ever supposed to be able to reach the safety catch once you get the folding started AND push the stroller down to the closed position at the same time.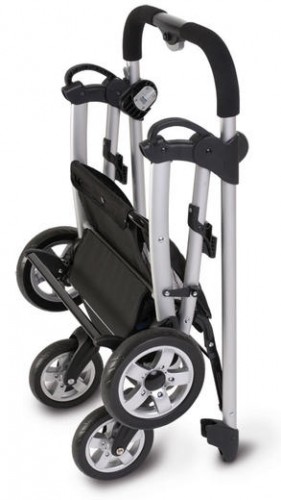 Crossing over curbs & bumps is rough — You must tilt the stroller back to get over the tiniest of curbs, which I honestly find a bit extreme. Obviously some finagling to get over a curb is expected, but this stroller will jolt you to a halt if you aren't paying attention or think you can just glide over it.
I couldn't find the Click n Move in the US, and I seem to recall that it was possibly being phased out for the Sport n Move… but don't make me swear to that.
Final Words About the kiddy Click n Move
If I was shopping for a new city-friendly stroller that looked really nice but wasn't quite as pricey as the other brand name counterparts, I would definitely give a lot of consideration to the Click n Move stroller…as long as you aren't planning to fold it up all the time just so you can fit it in your house or something along those lines. We leave ours set up pretty much all the time because we have plenty of space for both of our strollers in one of our storage rooms.
Is the kiddy Click n Move the ideal stroller for someone living a slightly more country life, walking a dog multiple times a day in rain, snow and sunshine, through mud and cobblestone paths? It wouldn't be my first choice. Instead I would definitely suggest a 3-wheel jogger with big inflatable tires & some shock absorbers to soften the ride.
Note: I received this stroller from kiddy so that I could test it out and review it. No compensation was received for this post and the opinions are entirely my own.