This year our Lantern Fest celebration was a bit more subdued than in other years. We didn't have as many people visiting and we just weren't as excited as usual about the festivities leading up to the weekend…but we did still manage to have a lot of fun. And it's nice to take it more slowly during celebrations than feeling rushed and crazy the whole time.
We recently got ourselves a slack line…which is a favorite past time of rock climbers. We'd never actually tried it until we bought ours and did get in a little practice over the last few weeks…but just because it looks like it should be easy, I will assure you, it's not! It is really, really fun and addictive, though. You just want to keep trying it until your legs start to ache and you can't stop the sewing machine motion in your leg anymore. So we set it up during the party and let our guests try it out. They did pretty well but not even Stefan and I can stand on it long… hence all the spotters standing on the sidelines.
Ayla was very skeptical about our behavior and kept a close watch on us from a safe distance. She only interfered when we looked like we were about to hurt ourselves or she thought we needed some nursing from her.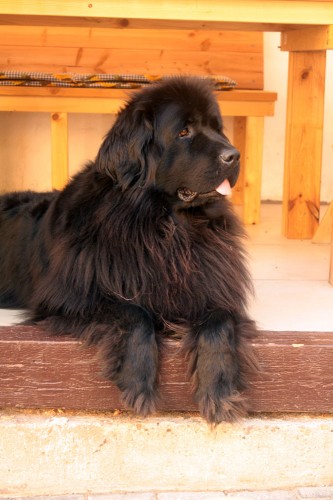 One of our favorite things about our little local festival are the bands. Most of them don't travel more than an hour to be here…but some of them are just incredible. So when they all sounded off on Saturday afternoon, we decided to head up there and check them out. We had a leave before they all finished since it was Mack's bed time, but I still had a lot of fun shooting them with my big lens (70-200mm). I've mentioned before that I'm getting more and more into photography…and since I have a fabulous Canon DSLR that makes taking photos fun, I'm always happy to find opportunities to use it a bit more.
One of our favorite bands are the Fanfarencorps Königstein (http://www.benjamin.end-res.de/) which have these huge, awesome black fuzzy hats on all the time.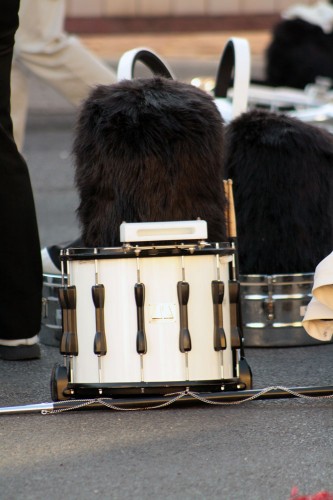 Here's a little video of them I grabbed from YouTube. They put on a really awesome marching band show! They actually even do some of the formation stuff while marching down the parade route…it's too fun.

Apparently they're so good because they start training them young!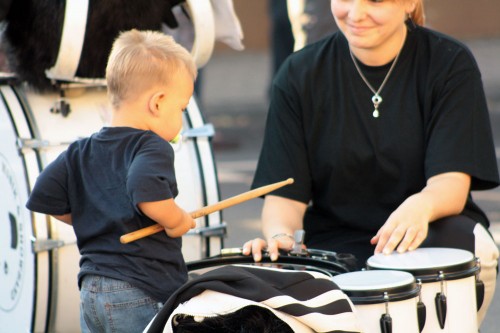 Shortly after we took our positions, one of the bands, Fanfaren- und Spielmannszug Altenstadt, marched right up to us and I was able to get som really nice close shots of them from the ground.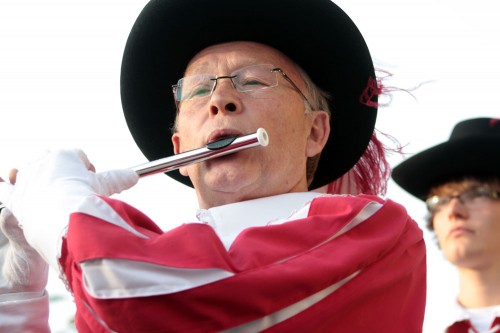 And then I spotted Papa Hemmingway. I had no idea he had snuck off to Germany and is playing trumpet for the Drumband und Musikkorps Wölfershei 1997. 😉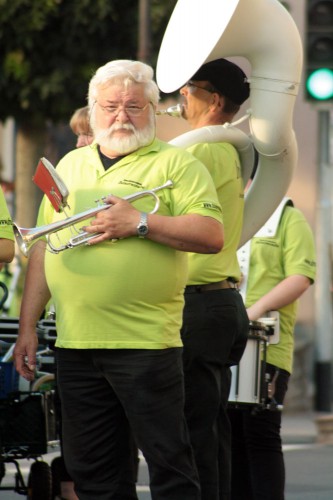 Of course I also didn't know that there are things like rolling drum kits so you don't have to have them strapped to you. I unfortunately do not recall seeing how this guy pushing these around while he was marching, though. I can't imagine how one could push those and play at the same time.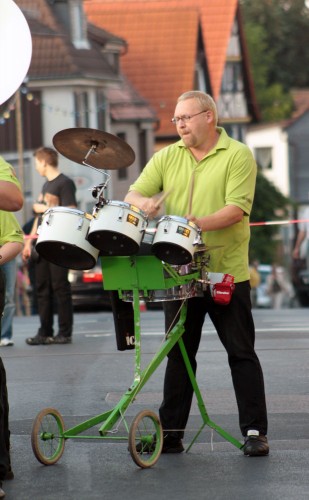 And probably our biggest highlight of them all, the Drumband from Büdingen (www.drumband-buedingen.de) which just totally rocks. These people are totally professional about what they're doing, but still have a great time. And I guess it's no wonder they are so good since they were the drum masters of Germany in 2007 and ranked just second place in 2009.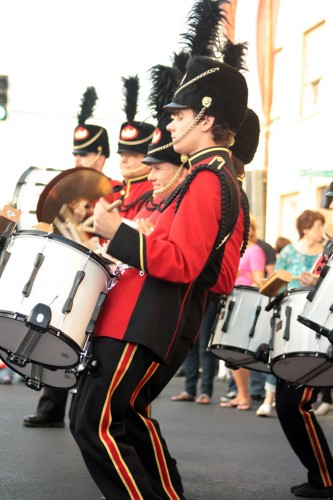 Here's a clip of them from YouTube.
The guy on the left is actually the drum major…so don't think that he's just up there leading them around — the guy really can play! These guys were having a bit of a duel…first side by side and then facing each other. I think pretty much everyone in the crowd caught their enthusiasm and happiness during this session.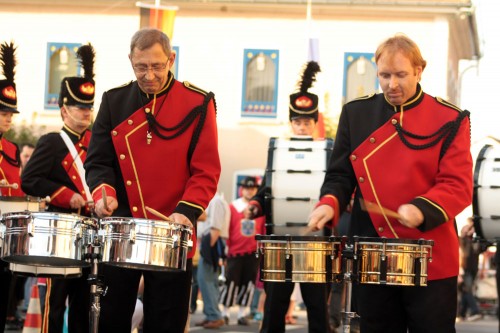 And apparently, they get Chris Kattan to perform with them sometimes too…or is it Ted from How I Met Your Mother? 😉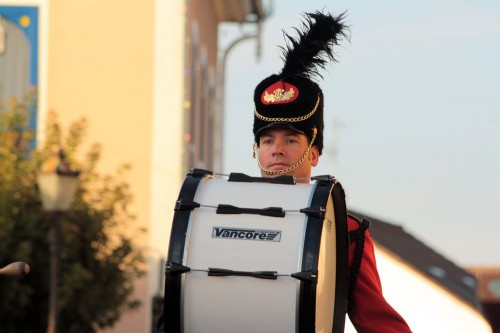 By the time the fest rolled around this year, people were totally energized all over town. A lot of our neighbors patched exterior walls and painted right before the big event…and nearly every house on the main street parade route had strings of lights up. I've rarely seen a community that has more fun than this one when it comes to a party. Almost the entire town joins together to celebrate and it's just an awesome energy.
This was one of the biggest turnouts so far at the Saturday night parade…and although we didn't go on Sunday, we could hear them going totally nuts. There were lots of teenagers hanging out this year at the fest…and unfortunately things did seem a bit more rowdy than usual. But aside from a few broken bottles in front of our house on Friday (broken by our neighbor who apparently was too drunk to function at 10pm already), nothing much went down. I did find 3 Red Bull cans and a beer bottle in one of our planters Monday morning…but I don't mind collecting those since I can actually get money back for them when I we return them with the rest of our empty drink bottles.
Photos from the parade will hopefully be coming up on Thursday so be sure to come back and check them out.