Because we're taking on new web design and consulting contracts here in Germany, I decided it was finally time to do something good for my home office. It's been a bit of a mess for a while. And although I have managed to mostly keep my desk clean (which really is not all that easy when you have a 2.5 year old sitting at the desk next to you drawing and throwing paper all over the place as soon as she decides her work is finish), there are still some things I would like to do in the office to make better use of the space. And also make it appear a little more friendly & stylish –but without investing in totally new furniture.
Now, before you start throwing ideas at me, I want to mention that the space is fairly small. I know that some people put incredible offices in their closets, but we don't even have those over here! Another thing that really makes me laugh about this room is that it used to be the kitchen of this house — until we knocked a huge hole in the wall and created an entirely new kitchen and dining room. But it's maybe 3 meters wide (about 9 feet) and 4.5 meters long (not quite 14 feet). I know it's bigger than a broom closet — but it's really not all that practical. Both of the narrow walls are occupied — one by the heater and a window and the other by the door. So basically you've got these long narrow channels to work with and once that space is filled (and it is) the only place you can go is up!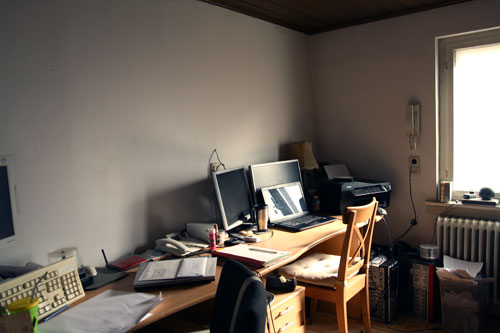 We tossed around the idea of renting an office somewhere nearby. And we've also talked about building out a space here on the farm somewhere — like our attic in the main house, or the really nice space above our storage rooms that used to be a hay loft. Or even the huge expanse above our wine cellar in our barn. But none of them is exactly perfect and it would be a significant expense. But of course if we build something out here on the farm, we know we're also improving the value of the house in the long run and would have paid out that much rent in less than two years time versus the cost of the renovation. So it's an interesting prospect to think long and hard about.
I've rarely mentioned this fact, but office supplies here in Germany are a wee bit different than office supplies in the UK or the US. The American reading this may recognize the filing cabinet in this photo — but I actually bought that while Stefan and I were still living in Miami and we moved it over here with us. You have no idea how glad I am that I did that — but I also now cannot get replacement hanging file folders or the inset folders. Which means I am doing a lot of re-using of all of those supplies! And it also encourages me to clean the file cabinet out periodically since I can only fit so much stuff in there.
Here in Germany, everyone uses two-ring-binders to store all of their paperwork, and then they put them on bookshelves. It's actually rather practical when you get down to it — but it does take some adjusting. And my shelves generally end up catching a bunch of other stuff too. So one of the goals will also be to simplify the amount of stuff on these shelves and make sure it's relevant to this room — and maybe get some doors from IKEA to close these shelves off which will make everything look a lot more clean but still leave it very accessible. I'm also hoping to put a shelf to the left of the big printer so we have somewhere to set our binding machine, paper cutter and so on since they don't fit on the thin Billy shelf very well.
Since we have no idea if we really need another office, or if we might just be able to build out one of the space here at an affordable price, I'm convinced that I can make our current office work spectacularly in the meantime by adding some new shelving on an otherwise bare wall above my desk — plus free up some space on the desk itself by adding a small shelf to put the monitors on top of. If we build it high enough, it will also allow us to put all our external drives under there, the router, our Internet box and so on.
I didn't want to get too carried away with my sketch (and this is seriously the first time I have gone all out like this about redecorating our house); but I drew out a little plan of how the new shelves will appear. I not only intend to use these for storage and binders, but hopefully also a bit of deco stuff just to make it look a bit nicer. The bulletin board looking thing on the left by the first computer screen (our server) is just what it looks like — and I intend to build it out of some foam insulation boards (which we have here already) and a bit of fabric.
Anywho, that's the general plan. It won't look nearly this empty I'm sure, because there are a few computers we need to gut and get rid of…which could take us a while. And of course chairs which sit in front of the desk, and I hope to put some stuff that looks nice and is also functional on the shelf. So we definitely have some work cut out for us.
What do you consider to be the most essential part of an office? Plenty of storage space, the overall feeling, well lit, or something else?