As you have probably heard by now, I recently became a running junkie. It all started rather innocently, when my dear husband suggested we run the Berlin Marathon in 2013. Together. Which was kinda funny at the time because I don't run. Ever. In fact, I thought I hated running.
Until I actually started doing it. And then I discovered I really enjoy it. And although I don't want to always be training for a marathon or running 80 miles a week, I definitely would like to continue running for many, many years to come.
At any rate, when I started running, I began pulling all sorts of gear out of my closet that had gone unused for a long while…and I had to start adding new running gear to the equation as well. Luck for me, we spent last Christmas in Florida. And some crazy guys in my family decided we should go for a few runs since the weather was so nice and we had a babysitter at home in the form of Mackenzie's Oma. And considering Mack was waking us up at 5am anyway, it sounded like a good idea. But I had nothing at all to run in.
So we headed down the road to TJ Maxx and I bought some shoes, sports bras, shorts, pants and so forth. I was set. And then, the next day, Mackenzie stopped getting up early and the interest in running evaporated. Thankfully. 😉
But I digress.
One of the great things about running in this day and age is tech fabrics. There are SO many things on the market now that have the ability to wick away sweat, keep your skin happy and dry, and just make running a more comfortable and enjoyable process in general. One such product (which is really for far more than running) is the Hoo-rag.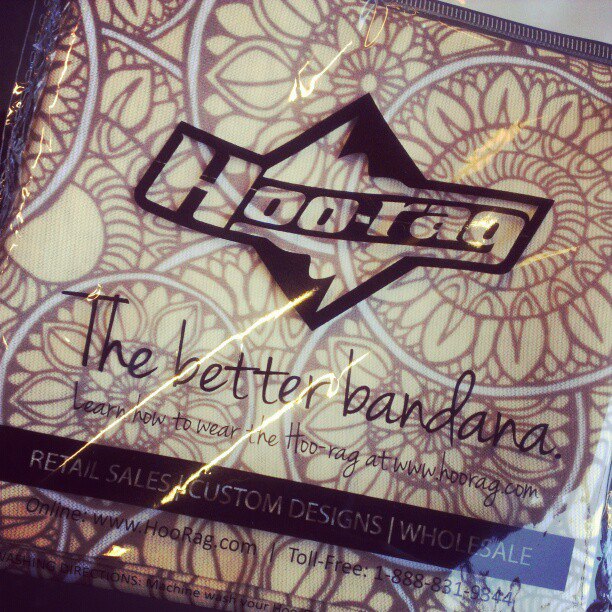 Like most of these similar multi-purpose bandanas, there are quite a few ways that you can actually wear Hoo-Rags, making them really practical in a variety of situations. So far, I really have only used them like a headband over my ears (to keep them warm and prevent sweat from running all over my head) and a variation of that as I had the rag pulled over most of my head so that it deflected the massive amount of snow that were falling from the sky. Both of these options work awesome for me and have really been all I needed, even in really cold weather, along with my running jackets (which have nice zip-up necks.)

Pros
One nice thing about the Hoo-rag, especially for running, is that it's seamless. So you don't have to worry about something poking you in the head as you're cruising along for the next 14 miles.
They have a variety of fabrics, including both prints and solids, which both guys and gals will find suitable. Plus they have specialty ones for outdoor fans, chefs and so forth.
I find their pricing to be very reasonable, especially considering that some of the similar name brands charge almost twice as much for their multi-purpose headwear.
Very versatile which means you don't need to take a bunch of extra gear to a race, regardless of how you need the band to function for you later on.
I've worn my new Hoo-rag a few times while running and really liked it. It's wider than some of the other multi-functional headbands I have which gives more coverage over the top of the head. And while I did find it a bit chilly to wear in temps below freezing, when it's close to freezing or up to 55°F, it's really great to wear. I'm definitely going to see if I can try out a few new styles of wearing it, whether it's the pony tail holder or a simple headband with my hair down (I usually run with my hair in a pony tail and the Hoo-rag covering just my ears.)
Linking up at:
Note: I received a free Hoo-rag to review but all opinions expressed in this post are my own and in no way influenced by the company's actions.