Berlin, Germany is a family-friendly city with lots of activities for families with children of all ages. After living there for 18 months, Berlin is still one of our favorite cites and we always enjoyed spending quality family time while exploring this remarkably fun city. I travel a lot for business and I enjoy bringing my family with me whenever I can. It becomes a family vacation with opportunities to do all kinds of interesting things!
Berlin offers plenty of fun for children of all ages, including teenagers. While sightseeing is great, it's tough to spend the entire day seeing sights when you have kids in tow. Plus, other family members may get bored pretty quickly! If you have smaller children, they will need to run around and burn off some energy at some point. But where do you go if you don't know the city very well? You will also probably want to know where some good family-friendly restaurants are.
The best way to find things to do with kids in Berlin is to book a host from Withlocals. Your host welcomes you and your family, and they give you a 100% private tour showing you Berlin's hidden gems. They will help you get the most out your family trip to Berlin, showing you all the cool attractions and hidden gems. Our host, Milena, was local to the area and knew the best ways to explore the amazing surroundings of Berlin. Plus, it was easy to book our tour, and our guide greeted us with a warm welcome and planned unique local activities that my family loved.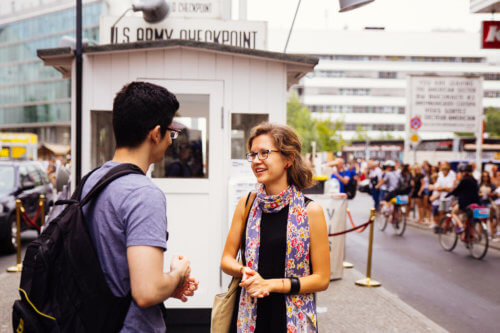 Kid-Friendly Ways to Spend a Day in Berlin
Whether you're going to book a tour with an agency or plan to explore on your own, here are a few fun stops to make with your kids when you visit Berlin.
Zoos and petting farms — The Berlin Zoo, located near Tiergarten Park, is great for children and adults alike. The zoo is home to over 1,200 different species of animals from all over the world. Tiergarten Park offers many child-friendly play areas as well as cafes that are family-designated. If you have younger children, consider taking them to one of the many petting zoos in the area.

Museums — Take the family on an awesome discovery tour underground. The Berliner Unterwelten-Museum offers tours into the city's tunnel systems and bunkers. You and your family can learn all about the numerous facilities beneath the streets in this exhibition. Many of the museums in Berlin cater to little ones. The Jewish Museum teaches children about the Holocaust in a way that is appropriate for kids.
Shopping — If you are traveling with your teen, chances are good that they will want to do some shopping. What better than to do that than with a local guide? They can tell you the best spots to try great products at the best prices. Go on a shopping spree at the amazing flea markets and second-hand stores. Clothes, shoes, arts & crafts, food or souvenirs – you can have them all!

Filmpark — If you and your children are film buffs, check out the Filmpark Babelsberg just outside of Berlin. Here, you can explore this working studio and the sets, costumes, and props. Since it is an actual studio, you can get an exclusive look at behind the scenes of everything related to moviemaking.
LOXX Miniature World and LEGOLAND — LOXX Miniature World features an incredible model railway complex that adults and kids love. It is so lifelike and even simulates thunderstorms! LEGOLAND Discovery Centre Berlin is perfect for those who love LEGOs – there are more than 4 million of them to play with! Ride the "Merlin´s Apprentice" carousel, or make your own LEGO pieces in their very own factory.

Traveling to Berlin, Germany was an unforgettable experience, thanks to Milena and Withlocals for the fun and interesting tour. If you're looking for a fun place to visit, be sure to check out all of the Berlin experiences you can enjoy with your own personal local host!