Fall is setting in here in Frankfurt. The weather has cooled down a bit and it was raining a lot more last week. Been a bit overcast the last two days but no rain and I'm certainly not complaining. The fall weather has been absolutely glorious and I'm actually looking forward to the fire red, burnt orange and sunflower yellow leaves on the trees; even if it does mean winter is coming soon. Our salad seeds are starting to sprout and grow again, happy that the 90 degree weather has passed. And our IBC tank in the courtyard has been "modified" (read: "a hole cut into one corner so the spout of the rain gutter feeds into the tank") so the rain is helping us fill it up again.
I posted a while back about having a problem with algae in the tanks. Because they are clear (well a cloudy white color but still rather transparent), algae was growing in these things like crazy. So we thought and we pondered what to do to end the problem permanently. Using a bit of bleach in the container seemed to help the algae die down, but we didn't want to risk adding too much and killing anything we water. Here's what the tank looked like before we got started.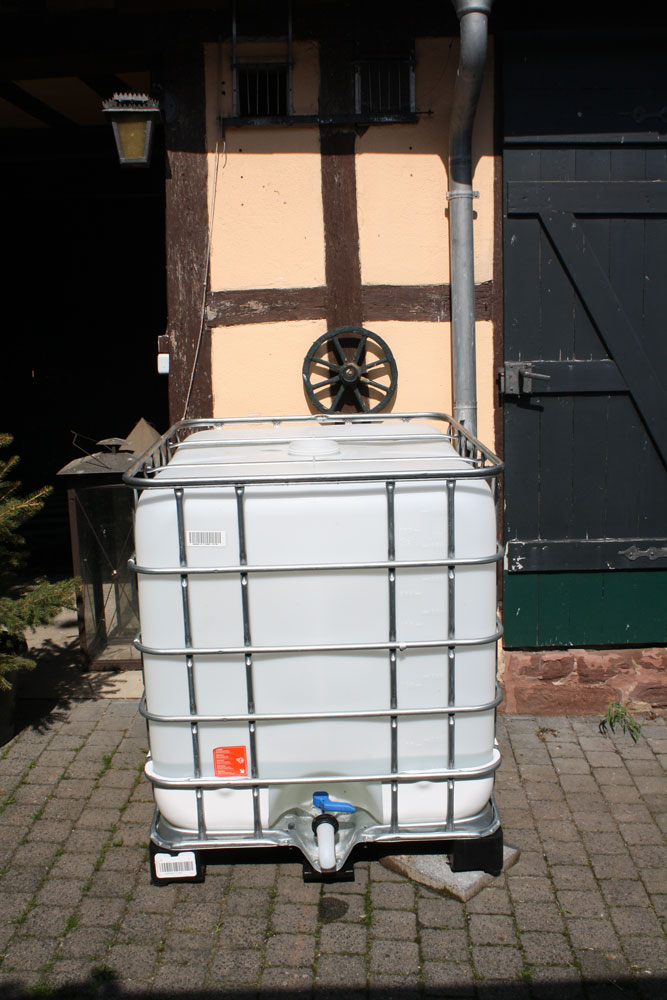 Not so pretty to look at and not useful to us when it was full of green gunk. Algae thrives in sunlight so the key was to find out a way to block out as much light as we could. We considered painting the tank. Unfortunately this seems to be a rather unsuccessful method judging from tanks we've seen in gardens near our house. We did locate a paint specifically for plastic, but it was fairly expensive (about 35 euros for a 3 liter can which might have covered one tank). So we decided to buy some black plastic pond tarping and attempt to cover the tank with that. Luckily, the black duct tape I just had to buy a few weeks ago became our new best friend for this project.
Two metal bars hold the tank down tightly in the metal frame so we unscrewed those and just slid the tank out. Then we laid the tarp down in the courtyard and turned the IBC tank upside down in the middle of it. We folded two opposite sides up onto the tank and taped them down, stretching the plastic as much as possible. There's not a whole lot of play between the metal frame and the tank, so we wanted to get everything as smooth as we could. We feared the tank wouldn't fit back inside otherwise. It just looks nicer too.
Once we had those sides stuck down, we made cuts in the plastic to take out the excess and folded up the second set of flaps to tape them down. Because the black duct tape is so expensive, we used gray on all the parts you couldn't see and the black along the outside seams. What do you think? I'd say we did a pretty good job, right?
As you may notice, we also used the occasion to expand our container garden and have planted some newer cucumber plants around the tank, as well as a small okra plant. We thought these would do well because they like warmth, get plenty of sun here and the cucumbers can climb all over the place. Stefan even hooked up a little Gardena pump in the IBC tank so the plants always get watered right out of the tank. Next year we might add a couple more containers on top of these for herbs or loufa — or maybe we'll just stick with cucumbers. We can never have too many of those, especially in places where they won't be devoured by slugs (as they are in our garden!)