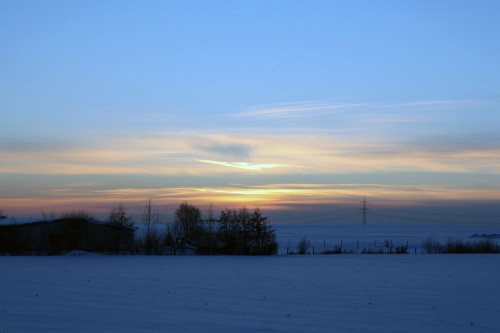 Last night we had our own quiet little celebration at home as we held Ayla close during the fireworks barrage of the neighborhood. The war zone of last year was not quite met (I guess a lot of people spent more on their Christmas budgets instead of their fireworks budgets this year) but we did have to wonder a bit the flashes that lit up our courtyard during the course of the evening were anything remotely like people in war torn countries experience without all the fear of their homes exploding.
Stefan fired up the grill for us despite the fact that it was freezing and we had a wonderful repeat of our Christmas dinner of T-bone steaks, lobster tails, baked sweet potatoes and salad. We even opened up a bottle of wine for a change (and barely drank half of it). But on a day when a lot of other people are out celebrating and partying long into the night, we were just happy to go to bed once the fireworks had died down. And pleased that Mackenzie slept through all the noise.
Maybe our lack of excitement has something to do with the fact that Mack is still too young to drag us out into the cold to set off fireworks. Right now she'd just cling to us, cover her ears and keep saying, "Loud. Loud." Or maybe in our minds the slide into 2011 is just a formality. In the corporate world, 2010 was over weeks if not months ago. And we've been looking forward to 2011 with open arms for a while now, expecting great success and possibly even some changes to come.
In 2010, we really wanted to have a nice garden and make an effort to grow the majority of our own produce. But due to a horrible growing season and our wild car accident, that just didn't happen. We've also realized that having our entire garden back behind the barn is impractical for so many reasons; the major one being that we are never back there and knowing that we need to get back there to weed and garden is not enough motivation. Gardening with a toddler is also an interesting challenge and when she was stumbling all over in the wet grass and mud, I was not really focused on what I needed to be doing.
So this year we will reexamine what we want to grow in our back garden and will fill up the beds we've built in the courtyard for everyday vegetables like tomatoes, bell peppers and so on. One of our neighbors offered to give us a playhouse that he built for his kids when they were smaller so I think we will take him up on that offer and put it in the back garden. And we have to put our greenhouse back to a usable state so we don't need to start seedlings in our kitchen this year. We've also got to get our garden pump running properly and running water going to the back garden again because without it, anything we plant back there is doomed.
We have a LOT of stuff to declutter that we have collected over the past 10 years together so we will be making a conscious effort to get rid of excess. Our streamlining of the living room has shown us that we are happier with less stuff around us and appreciate the things we do have more when we can find them. So I'm vowing to list 20 items on ebay every month to get rid of what we don't need.
We have some projects that we need to finally finish up as well…
We need to build the last two shelves in our mudroom and install a counter top in there so we have a place to put many of our daily things away. The room is just piled high with all sorts of trappings and it's awful to walk through there.
We've got to get a grip on our barn and find some sort of storage solution. Walking through the barn to get to the workshop becomes a bigger challenge with each passing month as we keep tossing stuff in there every month that we just don't know what to do with otherwise.
We've got to build new shutters for the front of our house before one of them comes crashing down on top of a passerby. Our neighbor has offered to help but with the onset of the cold, we definitely don't want to do any work out in the insanely cold and drafty barn.
So from the sound of things, we need to win the lottery. And find a bunch of people willing to help us just because they enjoy the work. We're actually working on several ventures to fuel our fires and it entails a lot of hours in front of the computer doing loads of work…but in my experience, nothing in life is just given to us. Sure, sometimes we get lucky. But in most cases, we have to desire those things and work very hard to achieve our goals. So we're focused and ready, already hitting the ground running and bracing ourselves for great things in 2011.
What goals are you setting for yourself this year?