When I started putting this list together, I had no idea just how many great chicken recipes I've tried over the last few years. I rediscovered a few that we really loved but somehow forgot about once I'd made them the first time (thanks to millions of other fantastic recipes out there that I always want to try) and also included a bunch of them that are just staples in our house. I probably could have added another 10 great chicken recipes to this list, but at least these will get you started with a few meal planning ideas for the next few weeks!
I better go get in the kitchen and start making some of these dishes again so I can photograph them. Blogging without an awesome DSLR was just not nearly as exciting! 🙂
Chicken & Gravy
Oh how I love this dish. I make a bunch of biscuits at once, freeze them and then thaw a couple as needed for breakfast sandwiches or this. Stefan looked at me pretty strangely the first time I made this, but now he can't get enough of it. And it's super simple!
Cajun Chicken Pasta
This is one of our fall back recipes that we make when we don't know what else to eat for dinner. The combination of spices with the fresh mushrooms and bell peppers…SO good!
Penne Arrabiata
Ever since the day we discovered this recipe, we have LOVED it. Spicy, full of flavor and simple.
Enchilada Casserole
You can actually make this with beef, beans or any other protein source, but the first time we tried it we used chicken and it was delicious. Now I'm wondering why I never made this again…the hazard of not always printing your recipes!

Arroz con Pollo
After living in Miami, you come to love certain foods. This has a more Mexican flavor than the typical Cuban Arroz con Pollo which is more like a jerk chicken served over white rice, but it still tastes great.
Garlic & Honey Chicken
A really simple way to use up chicken pieces like thighs and wings. Just be sure to make plenty of them because they get eaten up fast!
Rotisserie chicken
Chicken fresh off the spit is some good eatin' in my book. And it couldn't be much easier to make if you've got the right equipment!

Chicken soup with veggies and rice
Fairly simple, delicious, you can use up an old chicken carcass and leftover rice, warms you up on a winter day…what could be better?
Homemade chicken noodle soup
If colds are running rampant in your home, whip up this easy pot of soup. Not only will you be able to eat off of it for a while, but you'll all be feeling better in no time.
Balsamic Chicken with beer rice
Wow, looks like we cook nothing but soup and roast chicken around here. But I love the simplicity of putting everything into the oven and then just forgetting about it for a while.
Chicken Pot Pie with cheddar crust
I just couldn't resist adding one extra recipe that is SO good. A bit more involved than some if you're making your own cheddar crust, but absolutely worth it!
Stop by oh Amanda for more Top Ten fun!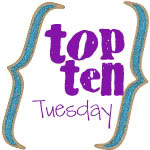 0