The season of major Christmas sales and heavy discounting on Christmas decorations has begun…and some of you may be stocking up while others are just wondering what they will do with all the holiday decor they already have. But don't forget that this is also a great time of year to get rid of things you aren't using or just aren't in love with.
Christmas comes and goes each year. And as it approaches, we bring out boxes full of decorations to put around the house giving it the holiday feel. The Christmas tree has been reclaimed from the storage room and put up in time for all the holiday festivities. Around the house, lights and other ornaments hang colorfully. However, putting out all the decorations isn't as hard as having to reorganize and put them back to storage. When things mellow down and the holiday spirit is fading, you can't help but start to worry about the hassle of having to remove the decorations one by one, disassemble the tree, organize your gift wrapping materials and put everything (and more) back into storage.
It can be an arduous task because sometimes we quickly forget how we were able to arrange everything the previous year and fit it into their respective storage containers. Aside from that there is the fact that you have almost certainly picked up a few more ornaments here and there and finding a place for it or fitting it in the storage can be difficult.
So I've perused the Internet for what I think are a few great organizing ideas for all your Christmas gear.
Organizing Christmas Décor in Trunks
This blog post features organizing Christmas décor in trunks. If you have a few of those at home sitting empty, this is a perfect idea to help you out. Or you can start looking around for some at garage sales or consignment shops to use for the future. I love how accessible everything remains when it's in the trunks, especially the books and DVD's which I know our daughter loves to read and watch at the strangest times of the year! But since I also love to listen to Christmas music in July, I can't really blame her. 😉 Plus the trunks make great decor pieces and coffee tables!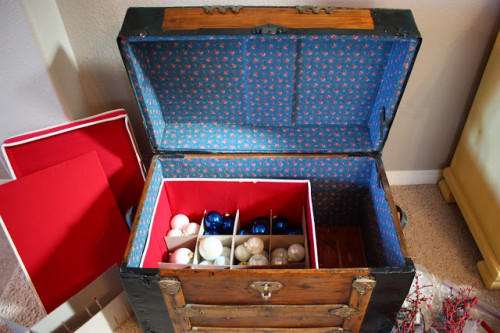 Organizing Ornaments and Such
You will find a lot of great ideas in this blog post, from organizing ornaments to displaying Christmas cards. Plus I love her brilliant idea of taking a picture of the boxes as you open them so you remember how everything fits back in there!
Organized Home Challenge: Christmas Decoration Storage and Organization
Although this one features a challenge on storage and organization it has quite a number of good ideas on how you can go about that. It contains tips and ideas on decluttering and getting rid of decorations that have no value to you anymore, assessing and categorizing the ones you have left, getting the right storage solutions as well as storing your decorations until such time it has to come out again the following year.
Decluttering & Organizing Christmas Decorations: A Step-by-Step Plan
As the title says it, this one is a step-by-step plan that can really help you out when it comes to organizing your Christmas decorations. And although the first step of decluttering assumes you are about to put everything up, it's also really smart to take a look at the things which you may have left in boxes over the holidays and determine if you really still need any of it.
Christmas Storage Solutions and Holiday Organizing Ideas
If you are one to go all out when it comes to holiday decorations, then you have come to the right place. This one contains a wealth of information and ideas on storage solutions from lights, ornaments, Christmas trees, and wreaths down to your gift-wrapping station storage.
Do you have any smart storage ideas to share with us?