When I first started dabbling in essential oils well over 10 years ago, I was on a mission to eliminate nasty products around my home that were chock full of chemicals and an alternative way to clean caulk build ups and my kitchen floor. That's when I started to realize that I could do the job better with simple things like baking soda, vinegar and essential oils. And at the same time, I was also able to eliminate a whole bunch of bottles underneath every sink in my house which was a definite plus.
From there, I started to delve more into all the uses of herbs and essential oils, which really blew me away. Not only were there more oils than I ever imagined, but their uses were very wide ranging. Naturally, I was skeptical at first. Could they actually do the things these books and sites claimed? Sure, there are some parts of modern medicine that will always be needed — but when you're talking simple things like bee stings, blisters and even surgery scars, essential oils can help. I've even managed to convert some of the biggest skeptics in my family that you truly can treat a bee sting with just vinegar, chamomile and lavender.
The following oils are my favorites because they are versatile and powerful, yet still suitable for most children. But as with all medicines, essential oils are not to be played with and should rarely be consumed internally. Pregnant and nursing women should always check for warnings before using essential oils. When using essential oils on or around children, you generally want to have a much lower concentration of oils to other ingredients.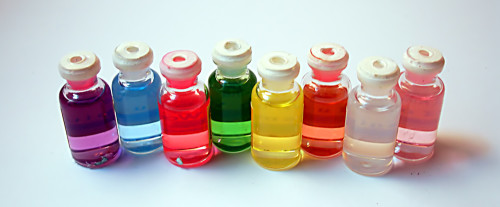 Lavender (Lavendula officinalis) is your new best friend. It will help calm wound up kids, it relaxes you after a long day, it will help heal your children's cuts, bruises and burns…and it will even help you cut down the number of flies in your house. Lavender is one of the most versatile essential oils out there and I use it all the time.
Roman Chamomile (Anthemis nobilis) when combined with lavender is the world's best blister healer and will put you to sleep in no time. Chamomile is also great for easing nerves, lessening pain in teething babies and can be used for all sorts of skin problems.
Tea tree (Melaleuca alternifolia) oil is practical for your household as well as your health because of its antibacterial, antiviral and antifungal properties. If you have a mold problem in your home (kitchen, bath, etc) just mix up 2 teaspoons tea tree oil with 1 cup of water in a spray bottle and start spraying away. It will kill all molds and remove the smell of it…although it won't remove the black funk. The smell can be very overpowering but tea tree oil can be used to get rid of all sorts of fungus, ringworm, head lice, scabies, cold sores, thrush and can even be used as a bronchitis treatment.
Thyme Linalol (Thymus vulgaris, type linalol) is absolutely great against all sorts of infections, from colds and the flu to pneumonia. I mixed up a cold remedy massage oil for my daughter when she was about 16 months old with thyme linalol and a few other oils — her runny nose and other symptoms started clearing up the next day. NEVER use plain thyme oil on children.
Lemon (Citrus Limonum) is a fantastic essential oil to use in the home. It smells great, it has antiseptic and antibacterial properties, and a few drops of it in your water will even improve its drinkability. You can cook with it, clean with it and even help get rid of cellulite and wrinkles when you combine it with other oils. Avoid using it on children under the age of 2 years old.
Eucalyptus Radiata (Eucalyptus radiata) is another one of the milder, kid-friendly versions of the popular eucalyptus essential oil. You can combine it with other oils to make a natural air freshener which will also clean the air or the oil to treat coughs, colds, fever, headaches, rashes or even acne.
Helicrysum (Helichrysum angustifolium) is great to help relieve pain, bruising, coughs and circulation problems. I'm even using it in conjunction with several other oils right now to speed up the healing process of a surgical scar on my arm after I broke it in a car accident. Helicrysum shouldn't be used with children under the age of 2 years old.
These are just a handful of fantastic essential oils that you can use in and around your home to help heal yourself and your family naturally. These oils are really only the tip of the iceberg and there's far more to be learned.
A variation of this post was originally shared as a guest post on Life on the Roof. 
0