We were blessed enough to have discovered an apartment situated between two lovely weekly farmers' market locations: Winterfeldtplatz, which is the largest most magical farmers' market in Berlin…and Wittenbergplatz, which is small but still has everything you need 3 days a week. So that allows me to get fresh produce from the market 5 days of the week without going to a grocery store — something which is pretty darn awesome in my book!
Although I'm going to write a whole post about our two local farmers' markets at some point later on, this week, I want to showcase a super tasty bit of the Wittenbergplatz market.
One of the cool things about markets in this area is that they are a hodge podge of fresh food and produce, freshly prepared foods, homemade wares, clothing, flowers and more. And I have been doing my best to work through some of the food stands during the week — but I usually end up distracted by one stand in particular: Carnivore.
With the sign screaming "hot meat wraps" at me every time I go by, and the delicious smells of grilled chicken wafting out of the place, no one else stands a chance.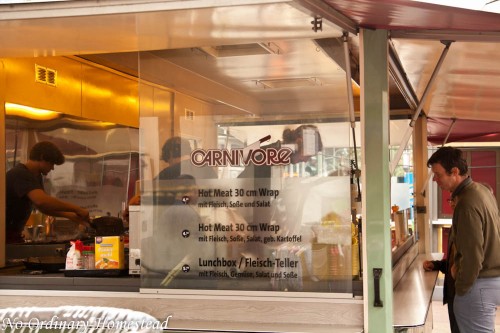 Carnivore has a really neat concept, which basically involves a limited selection of fresh ingredients and your choice of add-ons, served one of two ways. You can choose either a wrap or a lunchbox version, the latter of which you'd each with a fork.
When you approach the counter, you will find 4 types of marinated chicken (Spicy, Thai, Honey and Chicken Schnitzel), a Schweinebraten and some marinated tofu.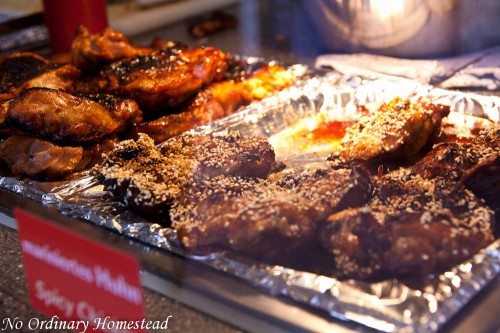 Then, you can elect to have your wrap with or without roasted potatoes and carrots (which is an extra 50 cents) and add a sauce of your choice and/or mayo. Sauces include BBQ, Sweet Chili and Peanut (and I may have forgotten one).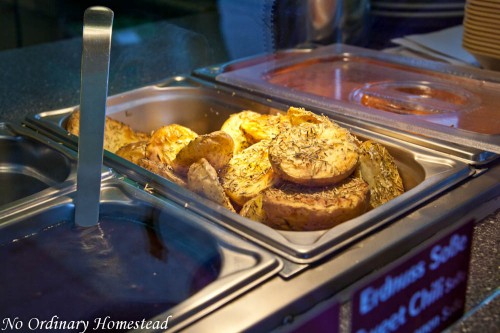 Every time I've gone by Carnivore, there's been a line and the guys inside are super busy. They are cooking up chicken, marinating things, chopping up salad, roasting veggies and otherwise preparing to please your tastebuds. But if you ask for their advice about what to select or have special wishes, they have always been happy to accommodate.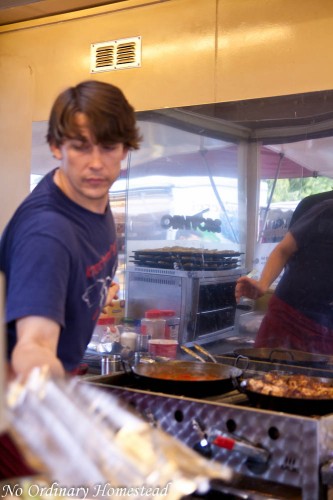 To date, I've tried the Spicy Chicken and the Thai Chicken, both accompanied by the Sweet Chili Sauce and mayo. I also add on the roasted potatoes (but ask them to leave off the carrot which I just don't feel blends well with the Thai flavors). Each wrap also includes fresh iceberg salad and shredded carrots.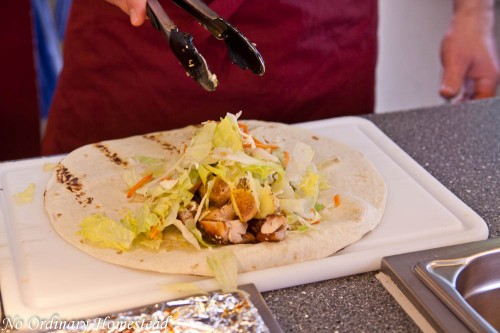 The potatoes are a dream…roasted to perfection with just the right amount of salt & thyme. I could quite possibly just make a meal out of those. They're very similar to the oven roasted potatoes we used to make all the time when we were at the farm, with a few steaks on the grill.
The chicken is also cooked to perfection and juicy, tender and flavorful (although not overly saturated with spices). Being a Texas girl, I have to say that the "spicy" chicken has very little "heat" to it at all. If you're looking for something to set your mouth on fire, try getting the Thai Chicken but ask them to throw in a roasted chili or two on top.
The balance in the wrap of meat to veggies is good and the tortilla wraps are fresh and soft, just like they should be. And for €4 base price, you really can't complain. I've seen curry wurst that cost more and, when you're done with these wraps, you are definitely full.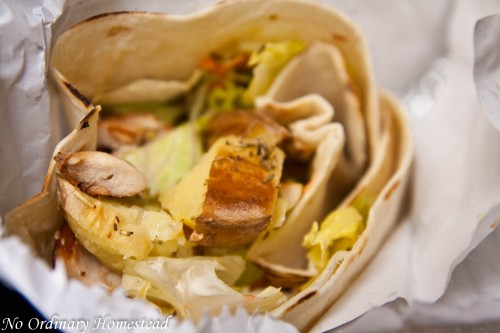 Next time I will try to remember to try the BBQ sauce, but unfortunately the Sweet Chili usually just calls out to me. The wraps are not overly flavorful and wouldn't suffer from having a bit more spice added to the marinades, but they are still really tasty and I'll definitely keep going back. They are a fairly healthy alternative to many other types of fast food, only take a minute to prepare and will dressed up just the way you like.
You can also find Carnivore wrap wagons at Boxhagener Platz, Hackesche Markt and Fehrbelliner Platz.
0