I'll bet that one of the first thing that comes to a foreigners mind when they think of Germany is people wearing funny outfits and Lederhosen. After living here for over 10 years, I can assure you that most people across Germany never wear those sorts of clothing…but when you visit Bavaria, especially lower Bavaria and Munich, you are almost certain to see a few people on the street in Tracht.
Tracht is the term which describes certain styles of clothing, accessories and even hair styles or beards, which were originally reserved for people of certain professions, social status, marital status or even denomincation. At the start of Oktoberfest, you can often catch the Trachten parade on TV which has groups of people dressed up in all sorts of traditional clothing. Many of the styles go back hundreds of years, and are quite expensive to put together!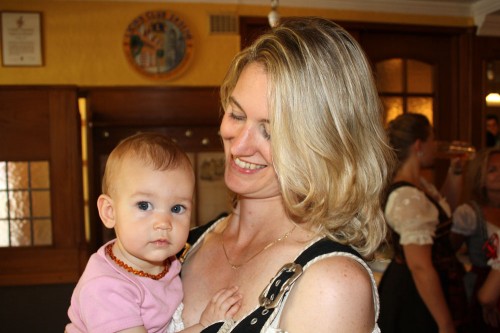 Most of the Dirndln (the dresses and skirts) and Lederhosen (the leather shorts or pants) worn today are far more modern and fitting of the generations which now wear the clothing. (By the way, please don't ever call it a costume!) Tracht can be informal or very fancy, depending on the occasion and styling. We've been to weddings in Bavaria where everyone was wearing Tracht, as well as several birthday parties. And people even wore Tracht to our wedding, along with one woman in a sari and of course the other usual attire.
I personally think Tracht is fabulous and actually wish we lived closer to Munich so we could wear it more often. Not only are there tons of ways to wear Tracht and lots of different styles, but it is just as acceptable to wear it on a daily basis when you are going out to dinner as it is to a special occasion.
Before we even moved to Germany, Stefan's parents bought me my first Dirdl. It was a short skirt and fitted top, with cute little suede boots. I can actually still wear everything but the skirt — because I am just not quite as tiny as I used to be. But that's the great thing about Tracht — if you select well, you will be able to wear it for years. Which makes it easier to stomach the price tags, which can be steep. A pair of short Lederhosen will cost €100-150 — and long ones usually €200 and up. It's all a matter of the company making it and the amount of detail found on them.
I now own a Landhaus-style long skirt & top, a pair of very short Lederhosen and the longer dark brown Lederhosen in the photo above. If I had it my way, I would own about 15 Dirndln like my mother-in-law — but she has way more occasions to wear them. I'm pretty sure that if I wore something like that here in Hessen to a regular, non-Oktoberfest event, they would look at me like I was nuts. There are really not many places outside of Bavaria that have a way of keeping with tradition in the form of their clothing.
By the way, Oktoberfest is not just a reason to get totally hammered nonstop for 16 days…although it does seem to be what the visiting foreigners try to accomplish. It is actually a celebration which has been held since 1810,with over 5 million people now attending each year, that began when Crown Prince Ludwig (who would later become King Ludwig I) was married to Princess Therese. The citizens of Munich were invited to attend the festivities held on the fields in front of the city gates to celebrate the happy royal event. The fields were subsequently named Theresienwiese ("Theresa's meadow") in honor of the Crown Princess, although the locals have since shortened the name to "Wies'n".
The wedding was originally held on October 12, 1810 — but because the weather can become less predictable and colder in October, the event was moved forward a bit. It originally took place during the sixteen days up to and including the first Sunday in October. In 1994, the schedule was modified in response to German reunification so that if the first Sunday in October falls on the 1st or 2nd, then the festival would go on until October 3 (German Unity Day). Thus, the festival is now 17 days when the first Sunday is October 2 and 18 days when it is October 1.
I decided to start putting together a few styles of Tracht that I really like and would ultimately like to get if I find a good reason (like if we moved to Bavaria or something). You can check them out on my Tracht Pinterest board. I've also decided I'm going to be talking more about Dirndln over on Who is Tiffany later today, because I truly do love the styles.
If you're living here in Germany, do you have Tracht? Would you buy your own if you came to visit?
This post is part of the German Expats Stammtisch, started by Grounded Traveler. This month's theme "misconceptions" was chosen by Sabrina at Country Skipper. See more posts on myths & misconceptions via the links below:
0