Welcome to the second week of the Garden Life link up on No Ordinary Homestead!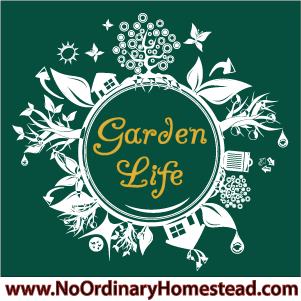 How's your garden growing this week?
A few things are finally starting to ripen here which is pretty exciting. The summer has been so cool and mild this year, I think a few of the plants are already confused about what time of year it is. It certainly feels like fall, especially with all the rain we've had. But the plants are mostly enjoying the constant watering — except for the mildew. I did come up with something to treat that, by the way, and hope to give it a first try in the next week. We definitely need it. Will let you know how it goes.
I thought I would start off this week by showing you a few pictures of our actual growing space so you can see that it really isn't that huge, yet we've got a lot growing.
This is the first of three beds, by our front gate.
Then there's one on the other side of our front door and those steps.
And finally a bed further away by our guest house with a roof over it — and that is where our tomatoes are since the rain generally has not been friendly to them in the past.
We've also got a few very small beds under other plants that we use for flowers or lettuce, but they're at most 2 ft square.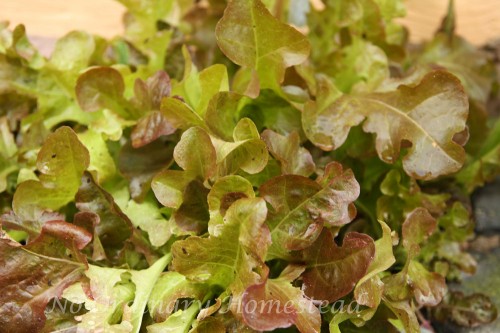 Now I'm not saying that you should end up like that poor woman who neglected to read her local subdivision regulations and got slapped for growing edible food in her front yard, but anyone who says they have no space to grow anything isn't looking around hard enough.
By the way, the hand in these pictures was my own. My helper elected not to assist this week because she was too involved with something else — but hopefully I can get her back on the job next week. 🙂
Hopefully you remember the pictures from last week, but if not, go hit up the first Garden Life post. I am truly amazed at how much most of this stuff has grown! This thing was maybe a quarter of this size 2 weeks ago. Now it's nearly finished and has to weigh at least 5 pounds. It says on the tag that turban squash is edible, so if you have some recipes, please shoot them over to me! We've got two of these on the plant about this size, and I had to remove two other tennis ball sized fruits because they were all moldy and gross.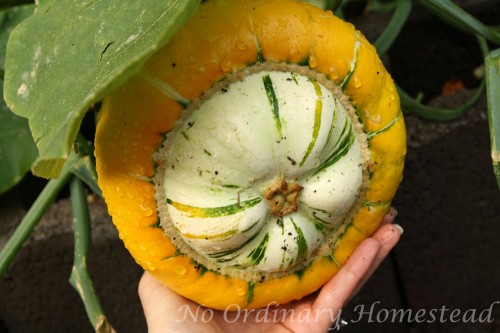 Lots of blossoms on our zucchini plant but nothing growing yet. Can't wait til this guy starts producing. And since the plant is still relatively small, I'm hoping the zucchini don't grow quite so quickly on us!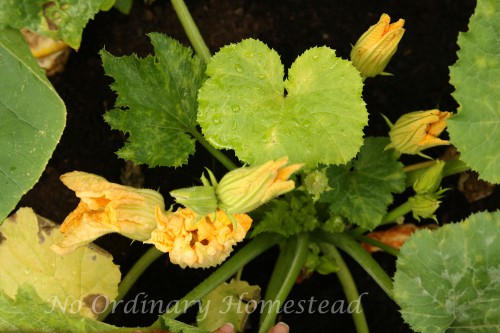 The first of the onion plants is blooming. They are definitely going to be a small crop but I am so excited that they are actually growing. I just hope all this rain won't be too much for them since I've read that usually watering them once a week is plenty.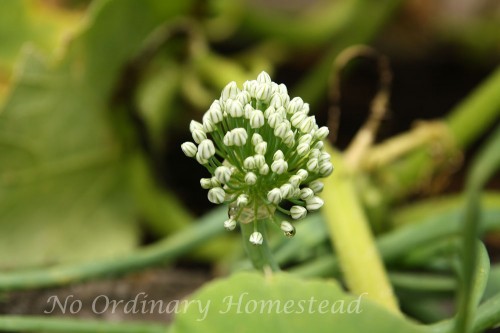 I cannot believe how many tiny little goose neck squash there are on this one plant. It is insanity. I am going to have them everywhere! What does one do with goose neck squash besides using them for decoration? Can you eat them? I've always only used them as deco — and squash are sickly expensive here in the fall.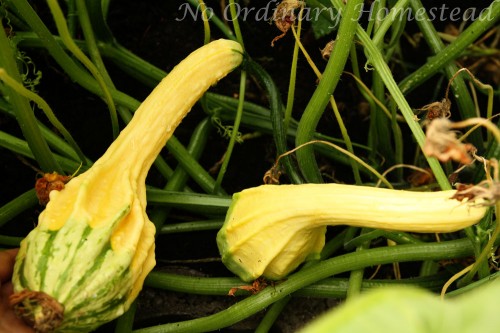 These are the newest additions to our garden, a couple of hanging strawberry plants that I plan to replant. We don't have nearly enough strawberry plants around here, and there are 3 plants in each pot. They were marked down to €2 each so I had to take them.
I have quite a few calendula flowers up — and I had to kinda laugh when I was at the home improvement store yesterday because they also had some calendula plants there, pretty much the same size as mine, for €2.50 each! Insanity.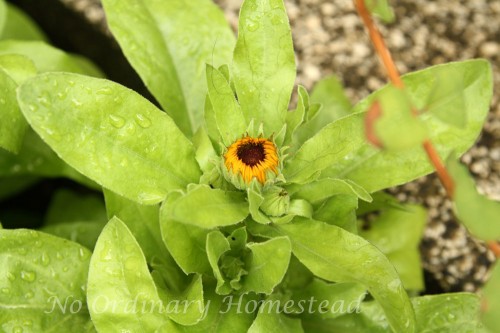 No garden of a Texas girl would be complete without jalapenos! We have two plants of them this year and I'm a bit surprised they are doing so well considering it's been rather cool. But this bed gets tons of afternoon sun which is HOT, and that seems to be keeping them happy. By the way, jalapenos are wildly expensive in Germany — especially when you can find fresh ones. Something like 2 euros for a couple peppers is the going rate. Just insane.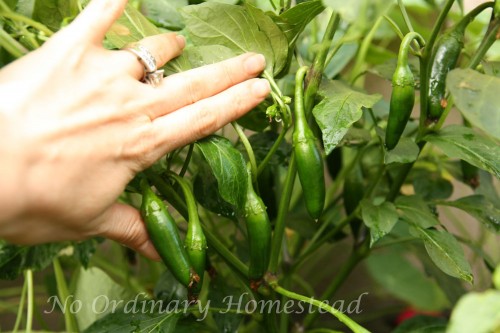 The romaine is nearly ready to harvest. It's probably tripled in size since 2 weeks ago. Just loving all this rain and cool weather.
There are FIVE baby eggplants on our biggest plant now. I am ecstatic. I have been helping them pollinate by bending the blossoms around to each other, a male to a female. The female eggplant flower has a thicker bulb at the base of the flower and the male is a bit more shrunken in. So I've just been rubbing the stamens and the pollen on each other and it seems to be helping a lot.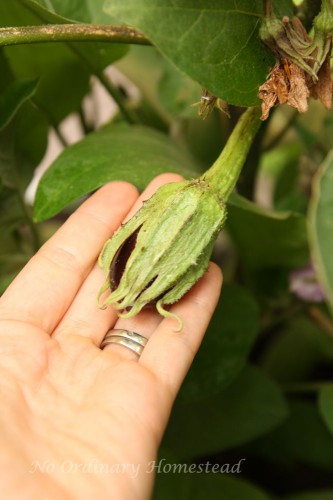 We also have two pumpkins about this size and one that is about the size of a tennis ball. I'm really interested to see how long it takes for these to mature and just how big they will get — they're already larger than I had imagined they would get but doing so great back there in that bed by the guesthouse.
The first of our real tomatoes are ripening –not that strange little cherry tomato bush thing I bought that was cool but is now dead. I was asked last week what kinds of tomatoes we are growing and I'm not really certain. It's whatever they had at the nursery for sale. Next year, if this is successful, it will be Big Rainbows and Black Krim's again — some of our favs!
The cucumbers are also coming along. Harvested the bottom one, and there are two which look nearly done on one of our 3 plants — but they are supposed to turn purple so I'm not really sure what the deal is. Will leave them on there a few more days to see what happens. But speaking of cucumbers, have you seen those crazy forms you can buy to make them heart-shaped? What is that all about?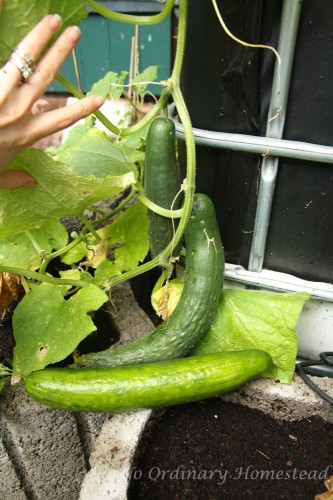 Share your garden with us by linking up below! A link back to NOH is highly appreciated and you're free to grab the image above as well. Read more about what you can post in this Garden Life link up page.
Just copy and paste this code or save and upload the image to your blog:
<a href="https://www.noordinaryhomestead.com/garden-life-link-up/"><img title="garden-life-300″ src="https://www.noordinaryhomestead.com/wp-content/uploads/2011/07/garden-life-300.gif" alt="garden link up" width="301″ height="301″ /></a>
301 Moved Permanently
---
nginx
0