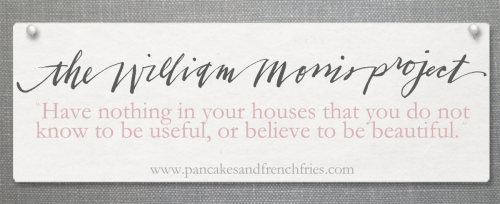 My husband and I have been together for 12 years — and in that time period, I have to admit that we have rarely gotten rid of things. Instead, we were just constantly adding to our collection. When we moved from Florida to Frankfurt, we got rid of a few things that we thought we no longer needed or wanted (and later regretted it) but basically have only been collecting since then. We've moved 3 times in the Frankfurt area, and every time we had more stuff to move. And one of the things we just love to collect are books.
To me, books are (and probably always will be) very special. Although I love the instant world of ebooks where you can just download a book about any topic within minutes, I also appreciate the simple pleasure of taking a physical book somewhere and getting lost in it for hours. Maybe if I had an iPad or e-reader, I would feel the same about ebooks already. There is something brilliant about ebooks and being able to store hundreds or even thousands of them on a simple memory card or computer. But I just don't get that same cozy feeling when reading on a computer screen.
At any rate, over the last 10 years we have collected a bunch of books. Our primary problem was that the vast majority of them were in boxes in our attic — and have been there for a couple of years. In our last rental house, we had huge book shelves which allowed up to put all our books on display and access them. But when they're off in a box, you just never give them a second thought.
So in the spirit of William Morris, we decided to get drastic around here and start thinning down our book collection. To be honest, we have one shelf by my office that is full of books we actually read and reference often (the shelf you see in the picture which is right in front of me). But the others — well, I couldn't even remember most of what was in the boxes.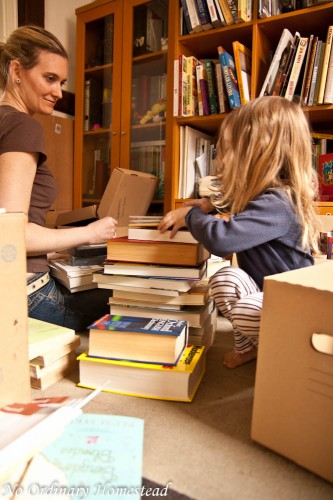 Thankfully, I had my two best helpers with me…and we got down to work! First I pulled all the boxes of books out of the attic that I could find (and I'm pretty sure there are others up there I missed in all the clutter) and started pulling them out a few at a time. Then I made 2 stacks: to keep & to sell/trash.
In the keep pile were are our classic Florida novels by authors like Carl Hiaasen and Randy Wayne White — books that are just wildly entertaining every time you read them. And also Stefan's diving manuals and some stuff about aquariums (which should come in handy when we finally set up the one we bought for Mack).
And in the sell/trash pile was everything else. All the books that we read once and never again looked at. The books that related to our wedding but just totally aren't relevant now. And a bunch of books we collected when we bought this house, as well as when I ran an online magazine. Plus all the books and Xbox games we already had listed on Amazon but that just weren't selling.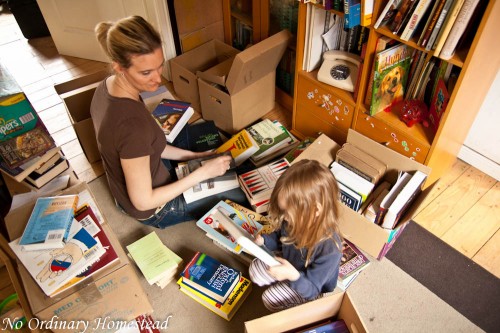 What to do with old books
Did you know that the market for used books in Germany is basically horrible? We've had about 50 books that we didn't want listed on Amazon for the last year or three (that was one of our projects to start decluttering a while back). We did sell a few things that way, but the vast majority of books are so oversupplied, that the books just sat there. So this time, we knew we had to find a better alternative.
One of our thoughts was to actually give the books to a local library. And while you might be able to give your used kids books to a local preschool, most libraries don't want your old used books either. Why? Because everyone else has the same idea. And they only have so much space to store the books, meaning that they have to keep only the most interesting ones.
So we started looking for other alternatives online and came across Momox.de. It's a relatively new website here in Germany that has created an instant buying market for used books, CD's, DVD's, games, cell phones and tablet PC's. In most cases, your older books are not going to fetch a lot of money. But they will buy them from you quickly (we're talking about a week or two turn around) instead of you having to sit and wait for them to sell on Amazon for 1 cent. And if they don't have a use for your book, they will also take it and recycle it for you.
Basically you go to their website or download their app for your Android or iPhone and then need to input each ISBN. You can apparently also use your webcam to scan the numbers too, but we just went old school and typed them in since using the Android was taking forever. They tell you right there if they'll pay for it or not and how much. If you want to sell it, you check a box and say yes. Then you go on to the next book. There's also a form to do multiple books at once which does make it go a tad faster. And you can put books of all languages in there. The vast majority of ours were in English, and it found them all, as well as all of my lesser known CD's. In fact, you get a much better return on CD's at 40-90 cents each — and more if they are actually popular.
Once you've got all your books and such in the system, you finalize your sale and they tell you how many boxes you need to package everything up in. And you can choose whether they should send you shipping labels so that you can drop the boxes off at your local shipping station — or they schedule a pick up for you on the day of your choice. That's right — they pay for the shipping. This is SO revolutionary in Germany. (Even the Netflix-equivalent here makes you pay shipping to send & receive DVD's here on top of your monthly service fees.) So next Monday, our 3 big boxes of books will be heading out of here.
A problem we often encountered was that they accepted certain books, but they had so many in their warehouse already that they wouldn't pay for them at that time. Instead of waiting and hoping we'd get 9 cents down the road, we just sent the books to them anyway. We're in purge mode and it's worth more to us right now to just have the stuff out of here.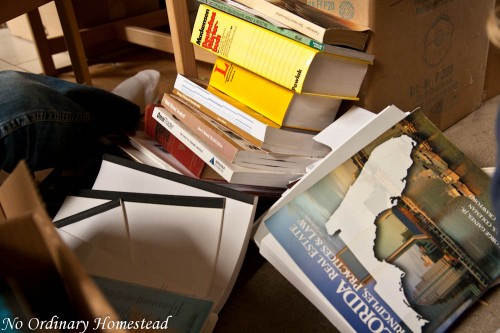 And there were also a few books that we had to throw away. I honestly have to say that throwing away books makes me want to cry because it makes me feel wasteful — but sometimes there is just no other alternative. And I've been telling myself that at least if it gets recycled it can be turned into something new and wonderful that others will love. Maybe even a new, awesome book.
We ended up getting rid of 99 books, CD's and DVD's. I am truly astounded. I pulled 9 boxes of books from the attic — and now we have just 3! I'm loving that. And the books we have are ones we read and re-read or are using for reference. So as you might imagine, we're pretty thrilled with this success.
Where to sell used books & other stuff
Momox.de (Germany only)
Amazon Trade-In Store (for newer items)
Craigslist
Freecycle (You can't sell stuff here, but there are some people who will come take your junk and make something useful from it. I'll be talking more about that site very soon!)
0