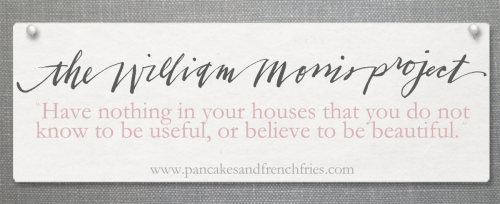 Have you ever entered into one of those situations where you start decluttering in your home and you find that you just want to keep going? You get rid of stuff and stuff and more stuff…and somehow there is still even more to get rid of?
Since we moved into the apartment here in Berlin, we've been experiencing this over and over again. Needless to say, before we moved (which is always an awesome time to declutter) we got rid of TONS of stuff. Like a whole dumpster full of trash in fact…and then there was the house-full of furniture that we gifted to various people over FreeCycle. And a ton of stuff that our neighbor bought/was given as well… It was pure insanity.
So when we got to Berlin, we were fairly comfortable with the amount of stuff we had and the fact that somehow everything would have to find a home. Needless to say, there was another round of purging glassware and a big box Tupperware stuff that just wouldn't fit in the apartment (and in the long run really wasn't vital to our survival since we're doing wonderfully without those things now)…and then we got rid of even more random stuff as well. And I hate to say it but we still have a bunch of the stuff from that list which we haven't yet put on Freecycle but I swear I'm going to start tonight just so I don't have to look at it over Christmas.
But even as that has taken place, there's more purging going on. It's actually rather addictive…
Through the Books Again
Since the beginning of 2012, we have gotten rid of over 100 books (actually it could have been way more but I really wasn't keeping track), and I felt fairly confident when we got ready to move from Frankfurt to Berlin that we had brought our number of physical books down to a reasonable level. We will not even remotely begin to talk about the numerous ebooks we have floating around our computers, Kindle and iPad, because let's be real — they don't take up much space or virtual storage…and I LOVE books all the time on all kinds of subjects. If I had the time, I would read a new book every week…but so far, I've not managed to make the time for it, although perhaps that's a habit I will take on strongly in the new year.
But we moved in and I did another purging of about 30 books. And I walk past our 3 very full bookshelves multiple times a day as I head back and forth to Mackenzie's room, thinking all the time that there are things in there we are just never going to use. We all love books quite a bit in this house, and it's really easy to find your shelves consumed by them in no time. But the good news it, it doesn't have to stay that way.
I've got a new stack of about 30 more books that I just will never read again — or have already gotten on my Kindle or in ebook format so that there's no need for the print versions anymore. Sure, I love real books, and many of them I will not part with like gardening books or my favorite cookbooks. But I have to be honest with myself that I'm not going to be re-reading the Harry Potter series again soon (since I rarely read a book twice, even if I can't remember anymore what exactly happens) and if Mack wants to read them one day (far down the road) she'll probably be way more interested in the electronic versions anyway.
So one of my goals for the weekend is to get all of these sold and on their way to a new home. All kinds of services have popped up across Germany that allow you to sell your used books, games, cell phones and more easily online. Some of them offer wildly low prices because they have so many of the books in their warehouses already, but we've found Momox to be quite fair with the pricing and very quick with payments. And as far as reselling old phones goes, the process couldn't be much easier. Another great service is Buch Maxe, which often pays far more for the books and will take many items that Momox seems to have many of already — so I suggest checking out both if you can, even though it can be a bit more time consuming.
Now if I could just find a service that made it as easy to write descriptions for eBay or answer the door when Freecycle people show up, I would be all set and we'd have nothing left to declutter at all! 😉
0