Tuesday, October 5th, 2010, marked my 5 year anniversary with my Land Rover Defender. My Defender (unlike most cars) is a dude…and his name is Prince Edward. Why, you ask? I have no idea…but I just called it that one day and it seemed right. So it stuck.
You may have never heard of these beastly vehicles but if you've seen Tomb Raider with Angelina Jolie, you have at least seen the baby version of my truck, a Defender 90. Of course the Defender in Tomb Raider has very little to do with a real Defender that you'd find on the street. But hers was very cool in its own right.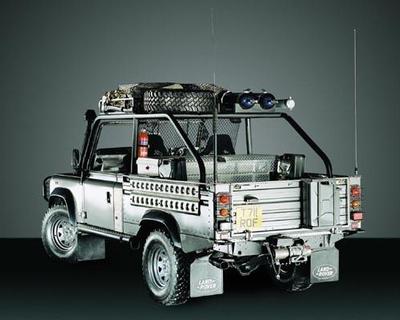 Why aren't they over in the US, you ask? I mean they are just so unbelievably cool you'd think someone would be importing them left and right!! Well a few people do, but you end up paying a fortune for them. And I guess the truth of the matter is that they have very few air bags and apparently no one has been willing to donate their Defender to research so that the Americans can do crash tests…so they just assume the truck is therefore unsafe and won't allow it in. Now I know a lot of people in America drive unsafe rust buckets of cars, but if it's a fairly new car we're talking about; well that just won't fly. Maybe that's why Land Rover has made new sissy versions of the Defender that no longer have the safari flaps and air conditioning has become a standard feature.
This is my Prince Edward. This photo was actually taken the first weekend we had the truck and not too much has changed on it since then. It has gotten quite a bit dirtier though! 😉
We have had some incredible adventures in my Defender and love using it for long road trips. When you have to drive a bit slower than everyone else on the road, you tend to look at your surroundings more. Plus you're a lot higher off the ground so you often see things you would otherwise miss.
We've taken several rock climbing trips in the Defender to Locarno, Switzerland, which is actually like visiting Italy with the politeness of the Swiss. Most of the people speak Italian there because it is on the Italian border and the food is fantastic with lots of Italian influence.
In 2006, when Ayla was just a wee little pup, we drove the Defender all over Italy and found out we just adore that country. Good food, good wine, good olive oil…what could be better?
We took the Defender to Alsace and drove around in Vosges with our friend Jenny. It was a fantastic, mostly unplanned trip that involved lots of driving and struggling to order food with patchwork French. We've longed to go back ever since…especially since the French will still let you drive off-road in a lot of places, which just can't be missed in a Defender.
We also did some random camping in Germany and Holland with the Defender, all experiences we will never forget!
One of the things that is awesome about camping with the Defender is that it's just so easy to fit all of your junk inside…and then some. We did a lot of planning and organizing before we went on our big Italian road trip for two weeks, and actually got ourselves so well coordinated that we can set up or break down our entire camping site in just 30 minutes.
We haven't done much camping these days. The weather just hasn't been something you could plan around…and with a toddler, it just didn't seem very safe or practical. But we do still hope that we can start making a few trips again next year. There's no doubt that the kiddo will sleep well after long excursions in foreign cities and running around the camping site playgrounds for a few hours. 😉
But what we have done a lot of since we bought our farm is haul around stuff. Moving all our extra small junk out of our previous house was a breeze with the Defender…and we have hauled an uncountable number of bags of soil and concrete in the Defender. The roof rack has also been quite handy for hauling wood, drywall and pipes for all sorts of projects around here. So to say we've gotten our monies worth out of the truck versus what we would have paid for delivery charges and rental fees for moving vans is an understatement. 🙂
This was absolutely one of the best purchases we ever made and I just love driving it. It doesn't hurt that other Defender drivers on the street all greet each other with a wave or flash of the lights. So whenever you see another person driving a Defender (which strangely enough are usually women in our area), it's sort of like seeing a friend even though you've probably never met them. And the looks from people on the street as you go by, looking ready to head to Africa are just priceless!
P.S. If you like this post and enjoy reading NOH, please go vote for us daily as the Best Blog in Germany.
0