The Senckenberg Museum of Natural History in Frankfurt is a place that we've driven by often in the 10 years we've lived in Germany…but we never quite made it inside. It's hard to overlook the Bronotsaurus and T-Rex that are standing outside in the middle of all the classic buildings and trees. But anyone who thinks the Senckenberg is just about dinosaurs is in for a huge surprise.
Seldom have I walked into a museum and felt so immediately blown away by their exhibits in the main hall. Perhaps it's because you're in a beautiful old villa in the middle of Frankfurt. Or maybe I just haven't been in a museum in a LONG time. But all three of us thoroughly enjoyed this visit.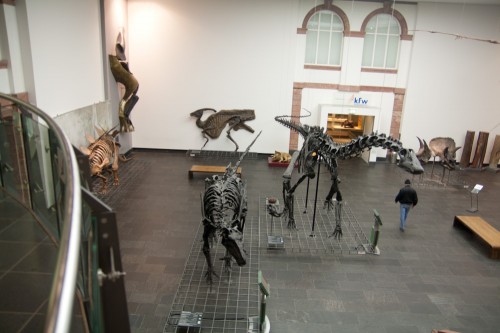 After you pay the €6 entry fee for each adult (kids under 6-years-old are free and they also have some other well-priced family cards), you will walk through a tunnel (with dino footprints underfoot) and into this expansive room of dinosaurs. Trust me, my photo here definitely doesn't do it justice — plus this is really only half of it. See that huge foot hanging on the left wall? Let me just state for the record that it is huge! Like at least 1 story tall…and it's the smaller one in the room!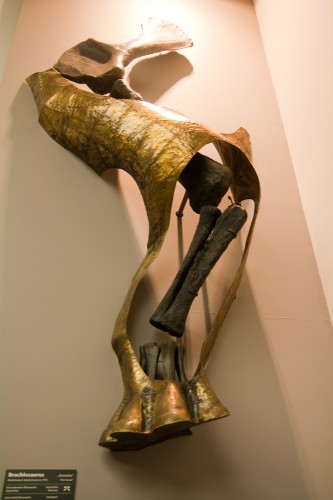 There are dinosaurs of all shapes and sizes in here, and it was pretty funny to watch Mackenzie get so amazed by these fossilized dinosaur bones, but also so attached to them. A few other little girls came in with their parents, and Mack was very concerned that they would steal the bones. We tried to explain that was virtually impossible and there were plenty of things we could see while they looked at the other stuff, but at least no one made a scene. 🙂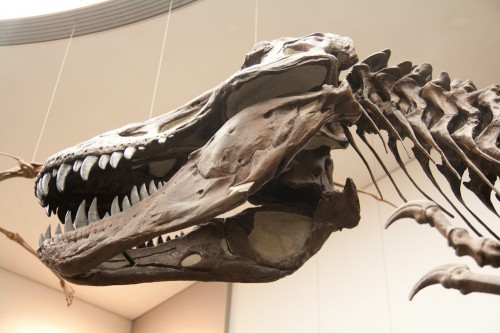 We probably spent 45 minutes in this room, just going from one dinosaur to the next. And they truly were incredible when you consider how enormous these creatures were. One of the legs hanging on the wall is 3 stories high, and you can just hardly fathom that an amazing animal that humongous once roamed the earth. Seriously, I don't know whether it's the fact that I haven't seen dinosaur bones since I was in high school, or just because they display these things so well….but I was pretty blown away.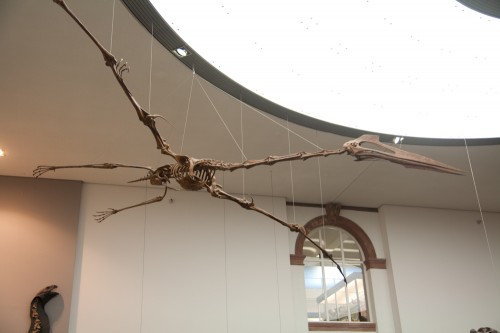 But that's not even remotely everything there is to see! For one, there's a very cool side room about mummies just off the dinosaur area, where you can learn all about mummification of not only people, but also cats, the powerful ibis and other animals.
And then you can wander over into the room for aquatics and elephants. I seriously don't think I've ever seen a collection of skeletons like these, even in the Smithsonian. There are just so many of them to look at, every where you turn.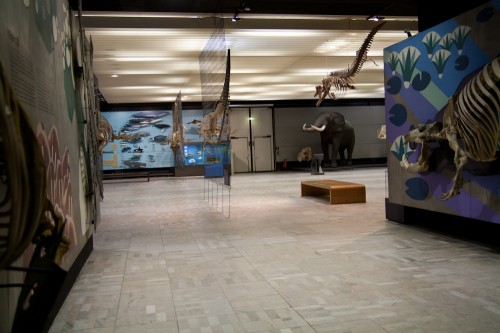 But not only are you blown away by the sheer size of them, but each exhibit also has a lot of information about the animals (mostly in German) as well. See that case at the bottom of the whale? That's a heart!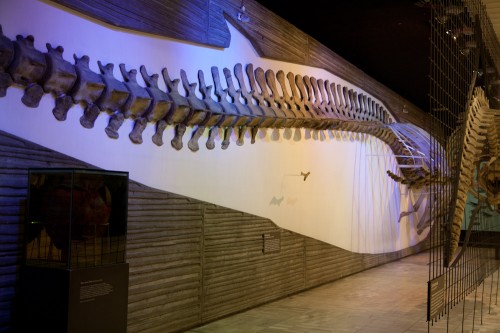 And then there are the tiny cases with things like whale fetuses and cross sections. The Senckenberg is not just a museum but also a natural history research facility — and they have hundreds if not thousands of these incredible cross sections. Most of them are only available to you if you're a scientist. But they have several of them on display in various rooms so you can look inside a baby whale, or within a whale eye, and I honestly don't think I've ever seen something like that before.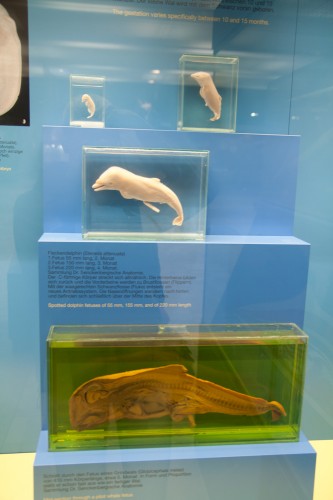 Maybe we would have been less astounded by this museum if we'd researched it more online — but I was pretty glad we just got to discover things as we went around. The next area we stumbled into was the stuffed animals — and I'm not talking about teddy bears. From birds to bears to deer to lions, there are hundreds of animals in these glass cases waiting to be examined close up. Two wings of these display cases just lead you through animals of all shapes and sizes. And they are so amazingly preserved that you still notice the iridescence in the feathers of some of the birds.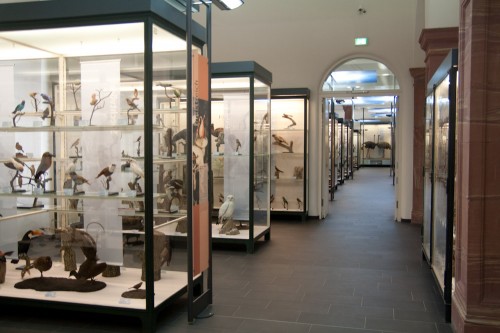 Did I mention this place is just gorgeous? Because it's in a historic villa, it's just an amazing building. And I think that really lends to the whole experience. By the way, those cases that I'm walking toward — some of the coolest geodes I've ever seen with just incredible colors!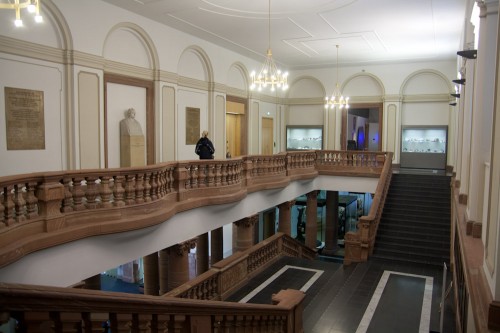 To be honest, I got so caught up in the exhibits that I didn't even photograph in a good portion of the rooms. There is a space exhibit, a volcanic eruption and other info about tectonic plates (these are a bit outdated but Mack still through they were very cool) and a 3D map of the world showing the peaks and valleys of the Earth's surface which was really impressive. There is also a little corner which has displays about human babies and their growth in the womb. I thought this would be really cool to explain just what it going on to little kids that are soon going to have little brothers and sisters. There's another room with all sorts of fish, and snakes, and some displays of stuffed animals in their natural habitats. Oh and some underwater coral, jellyfish in jars and other creatures that were just out of this world. Plus you have got to look for the yellow leaf fossils in that room — they look like goldfish and have the most vibrant colors I've ever seen!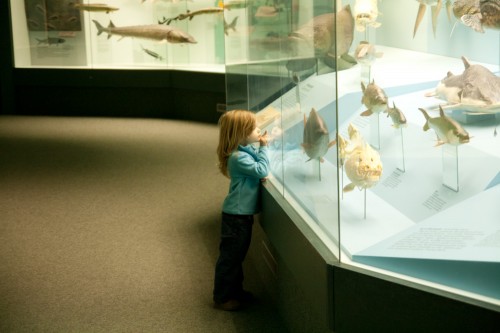 Overall, I am looking forward to our next visit already and this is a great place to take the kids on a rainy or cold day. You can easily spend an entire afternoon in there, and the price is extremely fair. Since we went on Friday for Mack's birthday, we had some time constraints of people coming over and Thanksgiving desserts to back. But we were there for about 3 hours and certainly could have stayed longer if we'd had more time. But we still easily saw everything there was in the museum in that time frame, while just strolling around at a very relaxed pace. There's also a cafe connected to the museum so you can stop in to grab a bite of food or something to drink if the urge strikes.
The one thing the Senckenberg doesn't have right next door is parking (this is Frankfurt after all) but the Marriot now has a parking garage in their building, and it's only about 2 blocks away. Another option is parking at the MesseTurm which is close by — and the kids will get to see the hammering man in front of the building which they may get a real thrill out of. Mack really enjoyed photographing him with her new camera!
0