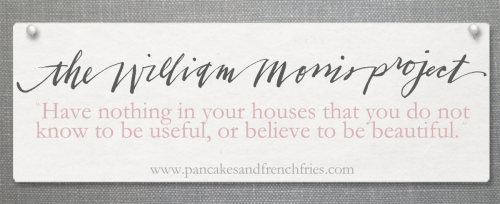 Our "pantry" is a far cry from the one we used to have at the farm. There it was a fabulous walk in pantry with wrap around shelving. A dream to say the least. But here at the apartment, we downsized  quite a bit. And we also had to get really creative. Since we don't have a garden anymore (or our canning kitchen) it wasn't as necessary to have a large place to store lots of food (although we could probably do that in the basement if we wanted to) but we do love to cook — now more than ever. And it's necessary to keep some things on hand throughout the week, unless you plan on going shopping every day. And believe me, I am not one of those people who enjoys that in the least.
There was absolutely no built in storage space (as is common in German apartments), so we had to figure out what would work as an alternative. And what we came up with was an old buffet that I had been dying to restore and bring with us. When they unloaded it from the moving truck into our dining room, I wasn't entirely sure what I would use it for. But it has really worked beautifully for its purpose.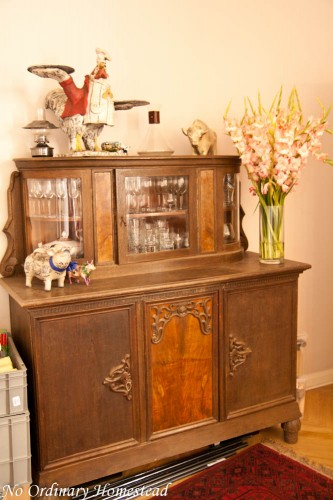 As you can see, up above we have a myriad of glasses, and in the bottom is a lot of storage space. On the left side are some baking dishes and a few extra spices. And the middle and right sections open up together, which are the "pantry." We do currently have some extra storage bins in another room which additional stuff since we downsized so dramatically. And of course we have the spices, vinegars and oils we have open in the kitchen, along with two drawers full of our dry staples and junk food. But the hope is that one day we'll only need this space in the buffet for our extra canned pantry stuff and nothing else.
For the last few weeks, after adding a bunch of random stuff to the mix thanks to fantastic family sending us yummy US goodies, I have been starting to wonder just what is lurking in here….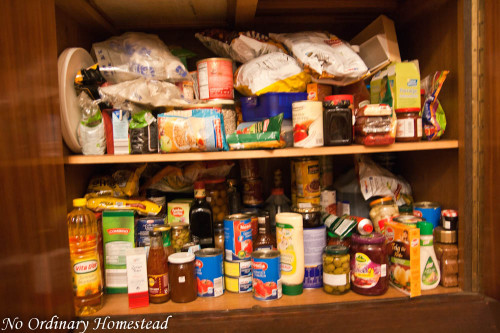 So I knew it was time to take action.
I basically took everything out and started again from scratch. Then I started putting things back in slowly and deliberately, grouping together certain things like noodles & rice, the few pre-packaged foods we have and other staples. As I put things back into the cabinet, I was also making an inventory list of what I have in there. That list has been put into Evernote and I will reference it each week as I make meal plans so that I can use up some of the goodies we have had in there a while…like green olives. God only knows how we have end up with as many jars of green olives as we have, especially since we never buy them…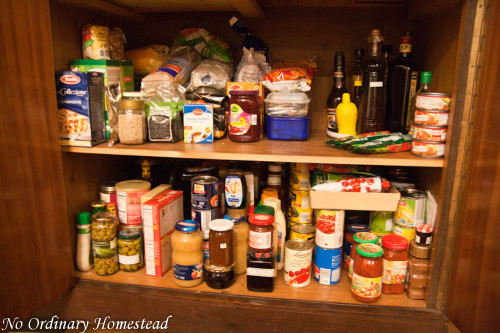 Since I had two turntables laying around from my old spice cabinet, I have been looking for a place to use them. So I decided to add one in here for some of the larger bottles of things that I never seem to find when I need them. It keeps them easily accessible and doesn't really take up much extra space.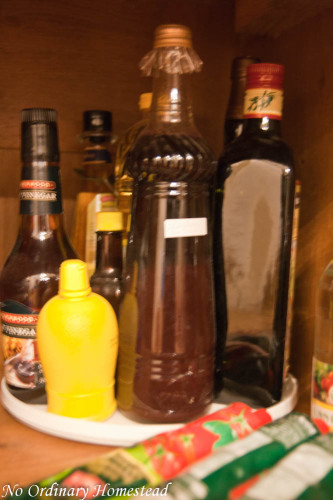 All in all, I'm thrilled with the results.  It's like night and day in there. And Stefan can actually find things in the pantry which is a MAJOR accomplishment. I always know that if he asks about something and I tell him to find it in a drawer or shelf, and he can find it within 15 seconds that we've made a huge improvement. And the whole process didn't take more than 30 minutes, including making out my list. Plus I have some really great stuff in there that I'm looking forward to eating. 😉
More tips to organize your pantry
Store things according to use — Put your napkins, serving platters and things you don't use on a daily or weekly basis in the harder to reach parts of your pantry, or even in an entirely different room. The things you use most often should be at eye level and the stuff you use slightly less often within a bend or slight reach upward.
Put all your dry staples in airtight containers — Not only will they stay fresher and not take on the smell/flavor of other things in your pantry, but it will also keep bugs out (or in if you run into pantry moths.)
Stack canned goods or use racks to maximize space and make them accessible — I've personally split several of my shelves with metal racks from IKEA, but there are lots of other alternatives. Magazine racks can be really helpful

Use a Lazy Susan or turntable where ever you can! — So smart in nearly every area of your home, turntables can really change the whole way you access things. The one in the photo below is a great use of otherwise hard to use corners where stuff always gets buried.
If you can change the spacing of your shelves, do it! — That way you don't end up with a lot of wasted space. While I think the turntables above are smart, I also think the shelves leave a lot to be desired since there is so much head room and all are spaced equally. But here's a great visual guide for how much space certain items usually need:

 
While I was collecting ideas over on Pinterest, I came across this DREAM PANTRY! It's seriously beautiful. Although I'm not too sure I would keep all my breads and veggies in the pull outs like that…