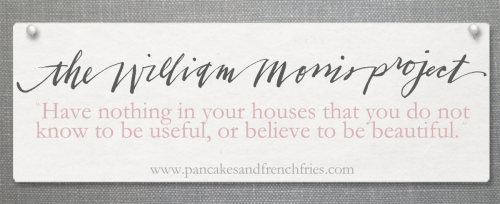 Some days it feels like every where you turn, there's something that is going haywire and looking chaotic. Actually, I feel that way about many areas and corners of our apartment on any given day of the week because having a four-year-old at home all the time can really create a lot of chaos. As I type this, I have about half a Playmobile world on my desk amongst drawings she's made this week and so on. And it's not that I never get around to cleaning things off — it's more that she just produces more chaos than I manage to put away in the same given time frame. Bless the hearts of the preschool teachers that get to start dealing with her next week! 😉
At any rate, I noticed the other day that our junk food drawer was starting to get a bit out of control. To the point that one might KNOW there was something in the drawer…but you still couldn't find it when you were looking for it without taking out everything else first. Not cool.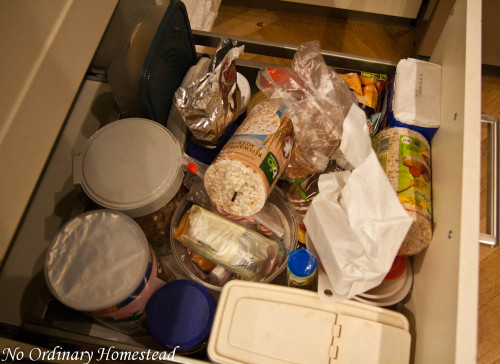 So as I was waiting for some pasta to cook on the stove the other night, I tore into this drawer and made use of a big plastic storage container that I literally have barely used in the last few years even though I bought it with the intention of using it to help organize our big trunk freezer (one of the bins made it into the freezer trunk and it was awesome, the other just set in the pantry). Since I love the containers because they are super sturdy, I just couldn't toss them during our move (plus they're basically new) but I hadn't quite figured out just what to do with them either. Until I was working on this drawer and realized how many open packages of crackers we have that leak crumbs everywhere and go stale. Voila — a new purpose for the container was found (it's at the top right of the pic with the blue band around the lid.)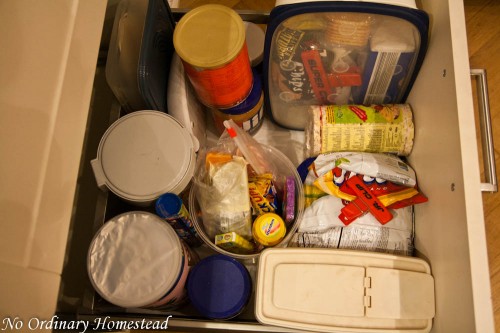 I also recently added the cereal container which now has something in it finally and straightened a few other things out…plus a couple of candies got trashed because no one is eating them — and I'm sure a few more will find the same fate also.
Can you see the difference? I certainly can every time I open it. But with these photos it looks like the smallest of victories. The other good news is that I know what is in there as far as snacks goes…and more of this has already been eaten up which is exactly the purpose.
I also find it really funny that we have 4 majorly American things in this drawer that aren't even sold over here (Jif, Country Time lemonade mix, Fritos and Almond Roca) which has to be the highest concentration of American foods in our home. Of course they're all snack things, most of which are a pain to make yourself (especially Fritos and yes we've tried) but it kinda also is a reflection of how our view of convenience foods changed when we moved to Germany. Now we eat very few packaged things, aside from those few items that we just don't want to go without, like Fritos in our chili. On the other hand, the lemonade mix has just been hanging around here for a while and won't be replaced when we are done with it…and I'm actually starting to appreciate "real" peanut butter without high fructose corn syrup in it.
Perhaps at some point this drawer will be filled with snack foods I've actually made myself — but unless I start spending one whole day a week in the kitchen to make that happen, I really don't foresee having homemade crackers or loads of handmade candies and chocolates in our future. Which reminds me — time to go buy some chocolate to refill the koffers! 😉
0