We've been meaning to do this for a while now but other stuff just kept taking priority…so I'm making a point to do it today so it will be over with and the photos will be preserved should anything happen to them in the frame. I'm sure that IF something were to happen to them, it would have nothing to do with the culprit sitting next to them in this photo.

There are 12 photos overall, most of which were taken in the 1930's and 40's. I'll only post a few at a time so the post doesn't get too long but I figure I'll start with two of the most interesting ones…
Here's the house as it looked in the early 1900's. You can tell from several of the other photos in the collage that it still looked the same in 1953 which was when the most recent photo was taken. There was a bus stop outside at this time and it appears that the well had already been covered up. The photographer we talked to a while back told us he thought it was about 1954 when they covered it because typhoid was going around and they thought it might be in the ground water.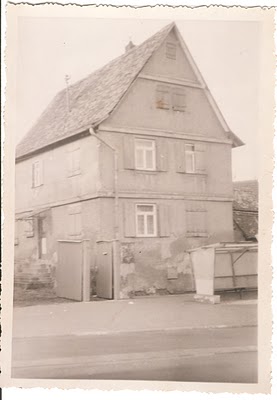 This picture shows essentially how the house looks now…or at least will when we get the window boxes planted and everything is green. We seem to recall that the PO had the house for about 30 years before we bought it so it is possible that they did the renovation to the timbers themselves which is an immense amount of work. We do know that they added the horse stalls and the outhouse around 1975 and they told us they added the bathroom inside in the late 70's or early 80's (hence the lovely avocado color scheme). The glass awning over the front door and the railings on the wall have apparently been there since at least 1930. We figure they were probably on the house when it was built.
0